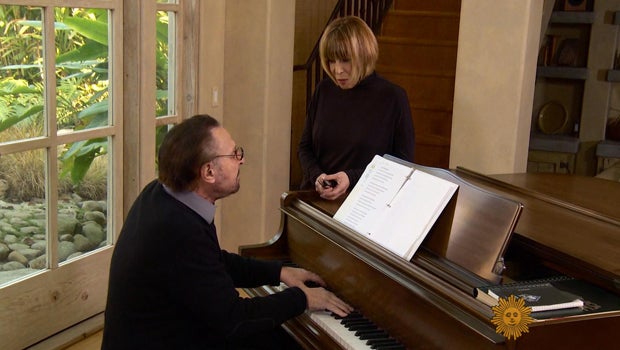 ​Barry Mann and Cynthia Weil still have that lovin' feelin'
"You're My Soul and Inspiration" was a huge hit for the Righteous Brothers back in 1966 -- not to mention for songwriters Barry Mann and Cynthia Weil, who are being honored by the Recording Academy with a "Trustees Award." "All hits, all the time" sort of sums up their career. Rita Braver caught up with them at one of their favorite spots:
Broadway (where they say the neon lights are bright) has special meaning for Barry Mann and Cynthia Weil. They co-wrote that famous song right here "On Broadway" . . . along with dozens of other hits of the 1960s, like "Blame It On The Bossa Nova," "Bless You," "He's So Shy," "He's Sure The Boy I Love," "You've Lost That Lovin' Feelin'," and "(You're My) Soul And Inspiration."
It all started in 1959 and, said Weil, "It all went so fast."
He was a fledgling composer, she an aspiring lyricist when she first set eyes on him.
"You wanted him for a writing partner?" asked Braver.
"No, I wanted him for another kind of partner even more," Weil replied. "Then I found out he was a good writer, and that helped."
They were married in 1961. And the hit Broadway show, "Beautiful: The Carole King Musical," chronicles THEIR story, too. They are portrayed as both best friends and chief competitors of King and her husband and songwriting partner, Gerry Goffin
How realistic was that? "That was absolute truth, replied Weil. "It was the most conflicting relationship I think we've ever had with anybody. Because we loved them, we hated them, we were competitive with them, we cheered for them, we cheered for ourselves."
Barry and Gerry even wrote "Who Put The Bop In The Bop Shoo Bop" together.
The show features some Mann and Weil classics, such as "He's Sure The Boy I Love."
It was kind of a family reunion when they met up with Anika Larsen and Jarrod Spector, who play Weil and Mann in the show.
Larsen said, "You think you don't know who these other characters are, and yet we'll show you how they created the soundtrack for your lives in a lot of ways."
And according to Weil, regarding the actors' impersonations, "Anika is a better me than I ever was!"
From the beginning, Mann and Weil were fearless. When asked if they were intimidated that their songs might be played on their radio, Mann said no. "Never intimidated at all; we deserved it."
To which Weil added, "We deserved everything!"
One of their hits, "You've Lost That Lovin' Feelin'," has been played on radio and television more than any other song in history.
You never close your eyes anymore when I kiss your lips.
And there's no tenderness like before in your fingertips.
You're trying hard not to show it, (baby).
But baby, baby I know it...
You've lost that lovin' feelin',
Whoa, that lovin' feelin',
You've lost that lovin' feelin',
Now it's gone, gone, gone, whoa.
- Phil Spector, Barry Mann & Cynthia Weil
"I came up with the opening line for some reason," said Mann, "And that kind of got us rolling, didn't it, Cyn?
Weil said, "You look very worried."
"I do! I look very worried that I said that."
"And you should be!" she said.
Mann explained, "She has this look in her eyes like, 'You're gonna tell 'em that you came up with that opening line? I can't believe you did that!'"
"Everyone says it's the greatest opening line ever written," said Weil.
"Well, did he come up with it?" asked Braver.
"I think so," she replied.
They wrote "You've Lost That Lovin' Feelin'" in 1964 with producer Phil Spector for his new duo, The Righteous Brothers. But there was a problem: One of the Righteous Brothers didn't think he had enough to do.
Weill recalled, since the singing duo's Bobby Hatfield only came in on the choruses, he asked Spector, "'What am I supposed to do while the big guy's singing?' And Phil said, 'You can go to the bank.'"
Their songs captured the tenor of the times. But over the years, as musical tastes changed, Mann and Weil adapted. "We weren't conscious that the sound was changing; we just wrote what came out," said Weil.
In the Sixties, The Animals sang what became an anti-Vietnam War anthem, "We Gotta Get Out Of This Place." In the Seventies, Weil & Mann gave Dolly Parton her first pop music hit, "Here You Come Again."
And in the Eighties, they helped James Ingram launch his career with "Just Once."
So, what's it like to write hit after hit? "We just took it for granted," said Weil.
Or, added Mann, "We were not enjoying it. Because after we had the hit, we had to have another hit. We had to be on the charts."
And they were. Their songs have sold an estimated 200 million records. But life was not perfect. In the early '80s Mann got hooked on cocaine. The couple separated, and he went into a deep depression.
"I've never said this before; I was hospitalized for a few months," said Mann. "And I also joined the program at the time, the 12-step program. That was very helpful. And little by little, we ended up slowly coming back together."
Mann and Weil, who have one daughter, rekindled both their marriage and their songwriting partnership. And in 1986, along with composer James Horner, they wrote the songs for Steven Spielberg's "An American Tail."
"Somewhere Out There" -- recorded by Linda Ronstadt and James Ingram -- was nominated for an Oscar and won two Grammys, including Song of the Year.
"We were up against real rock and roll stars," said Mann. [Their competition that year was Ritchie Valens, U2, Suzanne Vega, and Michael Masser & Will Jennings.]
So maybe, Weill said, they thought, "'Give it to the old geezers, they're in their 40s! They're on their way out!"
And five years ago, they made it into the Rock and Roll Hall of Fame. "I thought you guys would never ask, but I'm really glad you did!" said Weil at the induction ceremony.
These days, they have more than music to occupy them. Barry is an accomplished photographer; his pictures hang amid all the music awards in their Beverly Hills home.
And Cynthia has just written a young adult novel, "I'm Glad I Did" (Soho Teen), about making music in the 1960s. It's part mystery, part love story.
"I would describe it as a young girl's adventure into songwriting, into the music business, and into adulthood," she said.
And the love story of Barry Mann and Cynthia Weil seems like the stuff of one of their songs.
"I don't know much,
But I know I love you,
And that may be all I need to know."
-- "Don't Know Much," by Barry Mann, Cynthia Weil and Tom Snow
"I mean, I can honestly say that I love Cynthia more now than I've ever loved her," he told Braver.
And that's really all you need to know.

For more info:
Thanks for reading CBS NEWS.
Create your free account or log in
for more features.