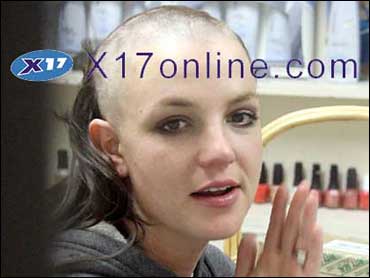 Bald Britney Makes Headlines
Pictures of Britney Spears with a shaved head and reports of her Friday night visits to a California hair salon and tattoo parlor are rivaling Anna Nicole Smith headlines in the tabloids.
The pop singer and mother of two appeared Friday night in a tattoo parlor in the San Fernando Valley with her head shaved completely bald.
Video on KABC-TV showed the newly-shorn Spears with tiny tattoos on the back of her neck as she sits Friday night for a new tattoo: a pair of red and pink lips.
"She just wanted something real small on her wrist, something dainty," Max Gott, the tattoo artist at Body and Soul in Sherman Oaks, told the TV station. "She got some cute little lips on her wrist."
Derrik Snell, who works at the tattoo parlor, said Spears showed up without notice and stayed for about 90 minutes as about 60 fans, photographers and gawkers gathered outside.
"She seemed fine," Snell said. "I didn't really notice (the hairdo) at first, she had a hood on when she showed up."
E!, Us Weekly and People magazine are reporting that Spears had her locks shorn at Esther's Hair Cutting Studio in Tarzana, Calif., where she also arrived unannounced Friday after the shop had closed for the night.
According to reports and pictures taken at the scene, Spears grabbed the clippers and did much of the shaving herself.
The salon's owners told E! that they saved the pop singer's locks and may auction them off for charity. People magazine is also reporting that the salon is offering a BritBuzz Special – at $200 a head.
The haircut came the same day as reports on TV and Web sites that Spears, who has drawn criticism for her recent partying and sloppy behavior, had briefly checked into rehab.
Larry Rudolph, Spears' manager, couldn't be reached for comment.
Syndicated entertainment TV show "Extra" first reported that Spears had entered a treatment facility. Celebrity Web site TMZ.com then said the singer had entered a treatment center but had checked out one day later. Neither revealed their sources.
People magazine's Web site, citing "a source," said Spears had gone in and out of rehab, and identified the facility as Eric Clapton's Crossroads center in Antigua, in the Caribbean.
"Access Hollywood" then said the reports weren't true, but didn't cite a source.
Since filing for divorce from Kevin Federline in November, Spears has been under the microscope for drinking, partying and sloppy appearance. The latest criticism reportedly came from the singer's former assistant and was posted on a gossip blog.
---

Photos: Britney Spears

---
A woman who answered the phone at Crossroads told The Associated Press that she couldn't confirm or deny anyone's presence at the facility.

The singer's website, which frequently carries comments on her life and other updates for fans, is silent on this latest development. It is, in fact, silent on everything: with the site taken down and nothing left except a "Stay tuned! Britney's new web site is in the works" notice and links to sign up for her fan club.

Angelique Uram, a Spears fan who stood on the tattoo parlor's sidewalk for Friday night's spectacle, was aghast at the singer's new look.

"We could see her in the mirror, and her head is completely shaved," she told KABC. "It looks terrible."

Police arrived to control the crowd and helped Spears' bodyguards guide her into a waiting SUV, her head covered by a hooded sweatshirt.

Thanks for reading CBS NEWS.
Create your free account or log in
for more features.