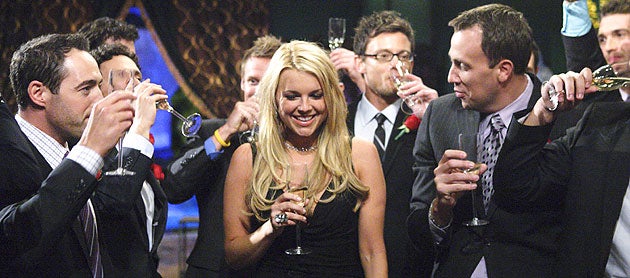 "Bachelorette" Ali Gets Tag-Teamed by "Rated R" Wrestler Justin, Who Is Sent Packing

NEW YORK (CBS) Uh, oh, "Ali-holics"! Looks like one of the "Bachelorette" boys was harboring a secret woman. Make that two women.
Entertainment wrestler "Rated R" Justin sneaked this little tidbit of info past the producers of ABC's reality dating show. The double bombshell was revealed while the two were on a date in Turkey. What did Ali do? Well, let's get ready to rumble.
Host Chris Harrison spilled the beans on the unlikely tag-team tryst to Ali at the start of the Istanbul, Turkey, episode. Harrison let Jessie explain the situation to Ali. It involved a woman whom Ali knew from her prior appearance on "The Bachelor" with Jake Pavelka - who recently split with his fiancee Vienna Girardi.
Jessie revealed Justin had a girlfriend during a phone call to Ali in Toronto, since the girl was sitting right next to her! And, conveniently, "other woman" Jessica was put on the phone.
"Me and Justin have been dating for the past two years now. He assured me that he would come back and we would be together, and finally get our plans together to get married," Jessica told Ali. Jessica also found out that Ali wasn't the only one getting conned.
"A couple days after he left, I found out he had a girlfriend for the past two months," Jessica said. "I don't know what else to say Ali, I'm sorry."
Ali was screamingly angry and confronted Justin right on the spot.
"Justin was acting the entire time he was here," Ali said. "Everything he said was basically a lie. He was so sweet and so nice. He said, 'I'm here for the right reasons' so many times. What a jerk. I'm just pissed."
So I guess it was true what the guys were saying during the first episode when they initially voted to send "Rated R" packing. Ali, finally, listens.
"Justin, you're going to regret this," Ali called out, before turning to the cameras. "He got up and walked away. What kind of man does that?"
Well, the Final 5 are Roberto, Chris, Ty, Frank and Kirk. Let's hope Ali can spot a fake in the next episode.
Thanks for reading CBS NEWS.
Create your free account or log in
for more features.