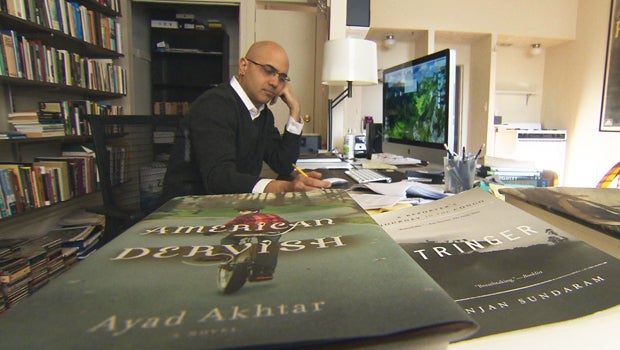 ​Ayad Akhtar on his Muslim experience
A Pulitzer Prize-winning play is going into its final weeks on Broadway. But the issues it raises will stay with us for some time to come. Anthony Mason talks with playwright Ayad Akhtar:
With his drama, "Disgraced," now on Broadway, Ayad Akhtar has had three plays produced on the New York stage within a year. "This is a dream come true," he said.
The Washington Post called the 44-year-old playwright "a dazzling new voice in American theatre."
"Disgraced," which premiered in Chicago three years ago, put Akhtar in the spotlight when it won the Pulitzer Prize.
"We never did the show for more than 100, 150 people, whether it was Chicago, Lincoln Center or London," said Akhtar. Now, on Broadway, "it's 900 a night. It's insane.""
All of Akhtar's plays confront perhaps the most polarizing issue of the day: the Muslim experience in America.
"For a lot of people to see or hear the word 'Muslim' is not too dissimilar to hearing the word 'Cancer," he said.
"So that's something you're up against as a playwright?" asked Mason.
"As a playwright, as a novelist, as a whatever," he replied. "Yeah, I am. But what am I gonna do about it? Keep telling really great stories and hopefully enough people catch on, and they're like, 'You know what? It's not about that. It's about something else, like being human.'"
The main character in "Disgraced," Amir, is a Pakistani American corporate lawyer trying to run from his Muslim roots:
Jory: "I had to read the Koran in college and what I remember is the anger."
Amir: "Thank you. It is like one very long hate-mail letter to humanity."
But in hiding his identity, he can't suppress his bitterness -- and a friendly dinner party disintegrates:
Isaac: "Did you feel pride on September 11th?"
Amir: "If I'm honest, yes."
Emily: "Honey, you don't really mean that."
Amir: "I was horrified by it, all right? Absolutely horrified."
Jory: "Horrified about what? About the towers coming down, about people getting killed?
Amir: "We were finally winning!"
Jory: " We?"
Amir: "You see, I forgot which 'we' I was."
Jory: "You're an American."
Amir: "It's tribal, Jory. It's in the blood. You have no idea how I was brought up. You have to work real hard to root that s--- out.
Jory: "Well, you need to keep working."
If critics were impressed, Akhtar admits some Muslims have complained: "I get a bum rap from a lot of folks in my particular community for 'airing dirty laundry,' as it were."
"You're writing about a highly-charged subject matter right now. Do you feel like you have to tiptoe around a lot of things?"
"I don't. And I think that's why the work seems to have resonance, but also has, you know, a lot of detractors, and there's a lot of misunderstanding."
"Do you consider yourself a Muslim?"
"Culturally, yes," said Akhtar. "I have a non-denominational religiosity about me. But I think there's probably a very deep Islamic cast to my inner life."
Mason caught up with Akhtar at Yaddo, the writers' retreat in Saratoga Springs, New York, where he says he's gotten a lot of work done. "The last time I was here, I was here five weeks and I finished a 180-page three-act play."
Akhtar first wrote about his roots in his 2012 novel "American Dervish." But for years, he says, he denied his Islamic heritage.
"What part of these plays is you sorting out who you are?"
"All of them. All of it."
"And what answers have you found?"
"I don't know. The great thing about being an artist is you don't have to find any answers. It's also why the pay is limited!" he laughed.
A graduate of Brown and Columbia, Akthar grew up in Milwaukee, Wisconsin. His parents, both doctors, emigrated from Pakistan in the '60s.
He described his upbringing: "It was great. A great place to grow up, as long as you loved the Green Bay Packers, which I did!"
"You're a Packers fan, it's okay?"
"Yeah, exactly. I was an outsider because the things that I saw in my house were very different than the things I saw in my friends' houses. But I was not an outsider because people made me feel like an outsider."
His parents hoped Akthar would become a doctor, too: "My Dad made me give him a shot when I was three. Toughen this kid up, right?"
But his father, a cardiologist, called when he won the Pulitzer Prize.
"He said, 'This thing you did, this Pulitzer, I didn't know what it was. But everybody's coming up to me, patients, nurses, everybody. 'Do you realize what your son has done?'" It's a very, very humbling moment, you know?"
Akhtar said at one point, though, his mother came up to him and said, "You gotta stop it with this Muslim thing."
"What did you say to her?" asked Mason.
"I just tell, 'Mom, I'm just happy anybody's paying attention.'"
Akhtar also works as an actor. In the HBO film, "Too Big to Fail," he played Neal Kashkari, the head of the financial rescue program, TARP.
And finance plays a big role in his own work. In "The Invisible Hand," an American banker taken hostage in Pakistan pays off his ransom by teaching his captor how to play the market.
Mason asked, "How do you mix money and religion in a play?"
"Well, I think in a way you can look at free-market capitalism as a kind of ideology that has connections to religious thought," Akhtar said.
Ayad Akhtar says no one voice can speak for American Muslims in the theater. But at the moment there is no other.
Mason asked, "Do you worry that you could end up being a target in some way?"
"My agent has at times worried about that," Akhtar replied. "If I have that fear at times, it's likely paranoia. And to the extent that it's not, it is the duty and calling of an artist to speak truthfully. That's it. There's no further discussion beyond that as far as I'm concerned. Consequences are what they are."
To watch a trailer for the Broadway play, "Disgraced," click on the video player below.

For more info:
"Disgraced" (Official site), at the Lyceum Theatre, New York City, through March 1
Yaddo, Saratoga Springs, N.Y.
Thanks for reading CBS NEWS.
Create your free account or log in
for more features.