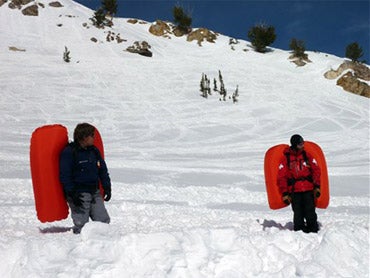 Avalanche Air Bags Come to U.S.
Europeans are bringing expertise on avalanche safety to Utah.
A Swiss engineer and leading avalanche-safety expert Manuel Genswein was at a Wasatch ski resort east of Salt Lake City this weekend to show off a device meant for surviving a deadly snow slide - a set of air bags designed into a backpack for floating atop avalanche debris. Skiers hit a rip cord to activate the air bags.
Genswein said the $1,000 air bag system is making its introduction in North America after years of use around Europe, where he says it has proven 98 percent effective.
"It's about being a bigger particle" in piles of moving snow, said Genswein, who held a demonstration at Snowbird resort for members of Wasatch Backcountry Rescue.
Snow-safety experts credit the concept to a German hunter and forestry official who in the 1970s found himself held aloft in an avalanche by the carcass of a deer he was carrying around his shoulders. By 1985, European-based manufacturers including Snowpulse SA were developing variations on a skier's air bag system.
Commercial sales took hold in Europe about 10 years ago.
"It's only now hitting America not because you don't make good things, but in Europe we have a larger market and concentration of people involved in skiing," Genswein said.
The Swiss electrical engineer and geologist improved on the system with a network-connected handle that can be programmed to trigger the release of every air bag in a group of skiers when just one rips a cord.
That feature safeguards skiers who - whether frozen in fear or unable to grab the handle - fail to activate their air bags.
"With all the other safety tools we have - beacons and shovels - even if you're rescued you stand a chance of suffocating" in the meantime, said Dean Cardinale, director of Snowbird's ski patrol.
Cardinale has survived two avalanches. Once, years ago at Snowbird, he was pulled over a cliff face and tumbled 1,000 feet in an avalanche that broke away four feet deep from a slope.
"I tried to grab a tree, but the slide hit me so hard I had no choice," Cardinale said. "I was completely out of control, cart-wheeling and rag-dolling."
Cardinale is president of Wasatch Backcountry Rescue, which is made up of nine Utah resorts and 16 search-and-rescue organizations. He brought Genswein to Utah for an all-day course Saturday on avalanche safety that involved helicopter practice runs and demonstrations on how to quickly shovel a six-foot trench in an emergency. He also met with ski patrollers Sunday.
Genswein teaches avalanche safety in four languages and more than 20 countries. He was in Utah several years ago to introduce the use of long-range helicopter transceivers for detecting the location of buried skiers quickly. That device is now standard aboard Intermountain Healthcare's LifeFlight and other Utah rescue helicopters.
Thanks for reading CBS NEWS.
Create your free account or log in
for more features.