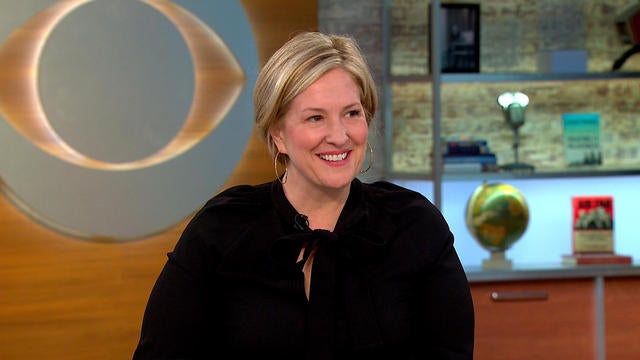 Author Brené Brown on the difference between belonging and fitting in
Social scientist and bestselling author Brené Brown has the fourth most-watched TED Talk of all time. It's called "the power of vulnerability" and it has nearly 31 million views. Brown, who has spent more than a decade studying vulnerability, courage, shame and empathy, has written a new book called "Braving the Wilderness: The Quest for True Belonging and the Courage to Stand Alone."
"The greatest barrier to belonging is fitting in," Brown told "CBS This Morning" on Tuesday. She joined the table to discuss her seemingly contradictory findings, the dangers of "ideological bunkers," and why we need daily reminders that we are inextricably connected to each other.
Brown's research surprised her at first. She thought belonging was something people externally negotiated with the groups they seek to belong to.
"As it turns out, men and women who have the deepest sense of true belonging are people who also have the courage to stand alone when called to do that. They are willing to maintain their integrity and risk disconnection in order to stand up for what they believe in," Brown said.
Brown said that when we "fit in" as opposed to "belong," we acclimate to the situation instead of standing for our authentic self.
"We are more sorted than we have ever been in the history of the U.S. We have built ideological bunkers. We are more likely now to live with, worship with, and go to school with people who are politically and ideologically likeminded," Brown said.
While logic may suggest that this "sorting" results in more people feeling a sense of belonging, Brown warns these connections are "counterfeit."
"It's not real connection. All it is – I call it 'common enemy intimacy,' the only thing we have in common is we hate the same people," Brown said. "We're becoming more lonely as we're becoming more Balkanized."
The solution, as Brown sees it, is to focus on what connects us as humans. As a Houston resident, she recently withstood Hurricane Harvey and lent a hand to her neighbors. The catastrophic flooding that brought the city to a halt and destroyed thousands of homes also brought out the best in many people.
In the shelter, nobody said, "'I'll help you, what is your political belief?'" Brown said.
For Brown, human connection is not breakable but it is sometimes, sadly, forgotten.
"We need to hold hands with strangers. We need reminders – collective joy and pain – reminders that we are inextricably connected to each other."
Despite the positive stories coming out of Houston, there remains a deep political divide marked by heated rhetoric on both sides. Brown warns that dehumanization is a "subtle process" and it starts with language.
For that to happen, "We have to slowly move groups of people out of what we consider moral inclusion. We have to move them out of what we see as humanity," Brown said. "If you go on Twitter today, or Facebook, or any social [media] we see people on the left and right using dehumanizing language about each other like that. And it is terrifying."
"We are connected to each other in a profound way and the thing that moves us away from that faster than anything else is not politics – but fear."
Thanks for reading CBS NEWS.
Create your free account or log in
for more features.