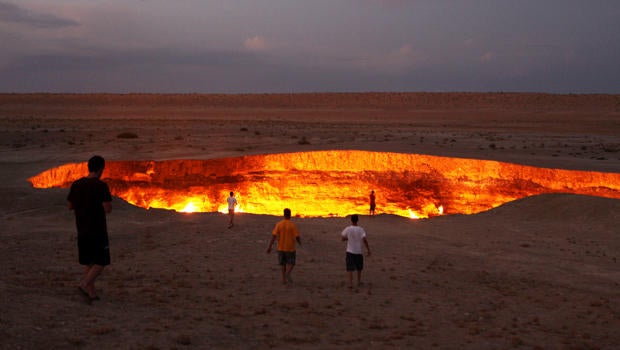 Atlas Obscura: Mapping the world's hidden wonders
Today is the day for New Year's Resolutions. And if one of YOURS is to embark on unconventional travel, you could do worse than follow the lead of two authors we'll be introducing you to this morning. Serena Altschul reports our Cover Story:
Josh Foer and Dylan Thuras can usually be found looking for adventure. But today they're just looking for some peace and quiet. And they've come to the right place.
Used to test the volume of a wide range of products, the room at Orfield Laboratories in Minnesota is about 16 times quieter than the silence at your local library, which makes it the quietest place on Earth.
"We could hear each other swallow across the room," Thuras laughed. "You can hear your eyebrows moving. You can hear your scalp go, like, krrrrch! After that experience, it changes your perception of the world. You think about your own body and sound totally differently."
Which is exactly their mission: to make people think about the world differently.
The world's quietest room is just one of more than 600 obscure and unique spots featured in their new book, "Atlas Obscura: An Explorer's Guide to the World's Hidden Wonders" (Workman).
It's not your typical travel guide. "We try and highlight stuff in the world that makes you feel like the world is a bigger, weirder, more wonderful place than you imagined," Thuras said.
The book is an off-shoot of their website. Founded in 2009, it's an online encyclopedia of weird and wondrous places that gets more than five million visitors each month.
"We always joke that the Eiffel Tower could never be in Atlas Obscura," said Foer. "But there is a little room at the top of the Eiffel Tower that Gustave Eiffel built as a secret place to entertain guests. Like, that's Atlas Obscura!"
But it was the website's vast network of users that submitted many of the book's most awe-inspiring destinations.
Altschul asked, "Is there one that was really surprising to you?"
"The wonderful thing is they come in every day," Foer replied. "I remember the first time somebody submitted The Gates of Hell in the middle of the Turkmenistan desert. This giant flaming hole in the ground that was created through an industrial accident in the 1970s."
Closer to home, they found an organ unlike any you've heard before: Virginia's Great Stalacpipe Organ.
"This guy took an entire cave, attached little mallets to different stalactites and stalagmites, and set it up to play them," Thuras said. "And so when he plays the organ, the entire cave was played as a musical instrument. And you can still go and they still play the cave for you!"
Being an intrepid pair, Foer and Thuras discover many of the sites themselves. While exploring South America in 2010, they walked across one of the last Incan grass bridges, and hiked to the top of Gocta Falls. The Peruvian waterfall wasn't even on any maps until 2006, when it was measured and found to be the third tallest in the world.
"Dylan and I got a chance to talk to villagers," Foer recalled. "What they said was, 'You know, we knew it was amazing. We knew it was beautiful. But we just didn't have any sense that it could be that amazing relative to everything else that might exist in the world.' And in a way that's the lesson of Atlas Obscura. What are the wonders all around us that we don't take the time to acknowledge and celebrate and revel in? What are the waterfalls that we're missing?"
And Thuras and Foer are betting that, by highlighting those wonders, they'll prove that world still has plenty of surprises.
"I think everybody's curious about the world," Foer said. "Sometimes they just need a little spur to actually go out and explore. And hopefully we are giving people that spur!"

For more info:
Thanks for reading CBS NEWS.
Create your free account or log in
for more features.