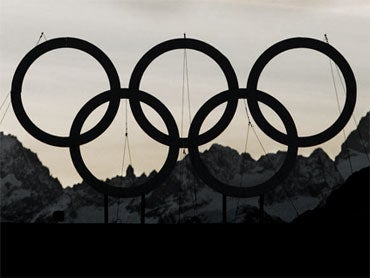 Athlete Deaths Rare During Olympics
Updated at 5:05 p.m. ET
A Georgian luger's death hours before Friday's opening ceremony of the Winter Olympics adds another name to the brief list of athletes who died during the Games.
Nodar Kumaritashvili while training in Vancouver. At least five other Olympians have died during the quadrennial meeting of the world's greatest athletes.
Special Section: Vancouver Olympics
Tragedy at the Olympics
Two athletes - including a luger - died while training at the 1964 Innsbruck Winter Olympics, historian David Wallechinsky told The (Montreal) Gazette. Kazimierz Kay-Skrzypeski, a Polish-born British luger, died while training on the Olympic course in Austria two weeks before the opening ceremony, Wallechinsky told the newspaper. Also at the '64 Games, Ross Milne, a 19-year-old Australian downhill racer, died after slamming into a tree when he flew off course during a training run.
During the 1992 Albertville Games, Swiss speed skier Nicolas Bochatay died after colliding with a snow-grooming machine during a practice run.
In competition during the Summer Games, Knut Jensen, a Danish cyclist, died after fracturing his skull when he collapsed during a road race at the 1960 Rome Olympics. It was found that Jensen took stimulants before the race, Wallechinsky told the newspaper. In Sweden's 1912 Olympics, Francisco Lazaro, a 21-year-old marathon runner representing Portugal, died a day after he collapsed from sunstroke and heart trouble.
To be sure, Olympians don't die only from accidents on the playing field. During the 1972 Munich Olympics, the Palestinian terrorist group Black September killed 11 members of Israel's team after holding them hostage.
Thanks for reading CBS NEWS.
Create your free account or log in
for more features.