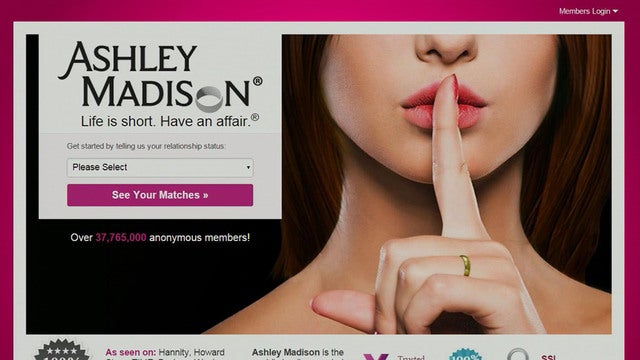 Report: Women's accounts on Ashley Madison were fake
An analysis of the user data on millions of people exposed by the massive hack of AshleyMadison.com has concluded that a vast majority of the accounts supposedly belonging to women were inactive and possibly fake.
Despite its popularity among men, with 31 million male users (including some using official government email addresses), the site for people looking to have an affair had only 5.5 million registered female users. Now, an investigation into the user data by tech site Gizmodo reveals that even that small proportion of women was probably wildly inflated by the company.
The names, email addresses and other personal information on the site's users was dumped online earlier this month after Ashley Madison executives refused to give into demands by a hacker group calling itself "Impact Team."
Annalee Newitz of Gizmodo downloaded the data and looked at the trends of both male and female user accounts on the site and wrote an extensive analysis of the records.
"When you look at the evidence, it's hard to deny that the overwhelming majority of men using Ashley Madison weren't having affairs," Newitz wrote. "They were paying for a fantasy."
She looked for clues about which profiles were fake versus real, which was a challenge because many Ashley Madison users were probably trying to hide their real identities.
Newitz began by searching for traces of the company itself creating female profiles; for instance, users with @ashleymadison.com e-mail addresses, those tracking to IP addresses at the company, unusual name patterns and login dates.
The most compelling evidence that most of the female users on the site were fake, or at least inactive, was the fact that they rarely -- often never -- actually used the tools on site.
Out of those 5.5 million purported female users, Newitz says only 1,492 had ever checked their inboxes, a sign that they were active users. The chat feature was another telltale sign: while 11 million men used chat, only 2,400 women did. The third strike that flagged most of the female profiles as fake was the fact that only 9,700 women ever replied to messages they were sent, versus 5.9 million men who had.
"Ashley Madison employees did a pretty decent job making their millions of women's accounts look alive. They left the data in these inactive accounts visible to men, showing nicknames, pictures, sexy comments," Newitz wrote. "But when it came to data that was only visible on to company admins, they got sloppy. The women's personal email addresses and IP addresses showed marked signs of fakery. And as for the women's user activity, the fundamental sign of life online? Ashley Madison employees didn't even bother faking that at all."
There was one area where the investigation found a sign of real-life activity for a small group of 12,108 women: <paid_delete>.
The company made almost $2 million a year selling a $20 option to users that promised to fully and permanently delete their personal details, but some of it still remained in the data released online by the hackers.
Ashley Madison's parent company, Avid Life Media Inc., announced today that CEO Noel Biderman was stepping down and leaving the company, effective immediately.
Thanks for reading CBS NEWS.
Create your free account or log in
for more features.