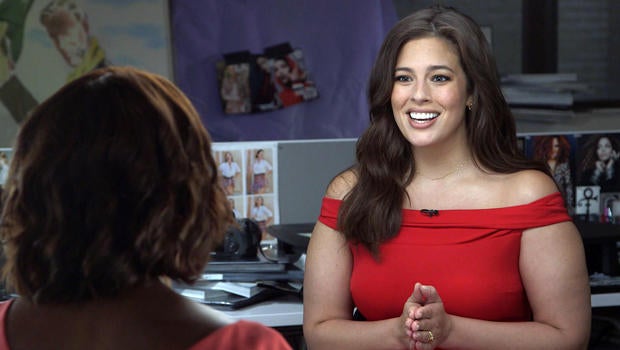 Ashley Graham, a supermodel turning heads as a role model
We're FASHION FORWARD once again this Sunday, this time with a woman who's a role model in more ways than one. Gayle King, of "CBS This Morning," has just paid Ashley Graham a visit:

King asked, "What are you thinking when you're walking down the runway?"
"First of all, don't fall!" she replied. "And also, you have to think about your hips being forward, your shoulders being back, and not giving too much expression on your face."
"Would you tell me why models never smile? Why they always look like they're pissed off about something?"
"We're there to just show the collection, right? We're not there to be like, 'This is my collection, and I'm the 'Ashley Graham Show'!'"
She may not have her own show (yet), but Graham is sure having her moment. The 30-year-old author, businesswoman and model was named one of Time magazine's 100 Most Influential People.
There's even an Ashley Graham Barbie doll.
But she will tell you she's not an "overnight success"
"I worked my butt off," she told King. "I'm talking 17 years in the industry, and blood, sweat, tears. I've had agents tell me, 'You're not gonna be on the cover of anything; you're a catalog girl.' I've had clients tell me, 'You're too fat, and we can't book you any more because you don't fit into the jeans.'"
Instead of changing to fit in, it was the industry that changed to fit her.
For starters, there's size. She's a 14, but don't you dare call her "plus-size."
She says the term is divisive to women: "I think that when you use the word 'plus-size,' you're putting all these women in a category: 'You don't eat well.' 'You don't work out.' 'You could care less about your body.' 'You're insecure.' 'You have no confidence.'
"And that," she said, pointing to her body, "is none of this!"
Born in Nebraska, Graham says she was often bullied for being big. "People called me 'cottage cheese thighs' all through school," she said. "People would do the sound of a truck backing up -- beeeep, beeeep -- as I was sitting down."
It was her mother who helped Graham learn to love her body and herself.
"I remember going home one time, crying to my mom. And I was sitting cross-legged. And I said, 'See this fat? This fat that's bulging out of my hip?' And she said, 'That's just your hip. And honestly, if you didn't have that, you wouldn't fit into this family.'
"She really made me feel better about being a curvy, bigger girl in a world that was constantly judging me.
How Graham was discovered sounds like a Hollywood movie. She and her father were walking through a mall when she was approached by man: "And he says, 'Hey, you're really pretty. Would you want to be a model?' And I was taken aback. I look at my father, and he goes, 'Well, what do you mean?'"
As it turned out, the man worked for a modeling agency. A year later, Graham was appearing in ads and catalogues.
She got steady work during high school, and by 18 had moved to New York, a full-time model living fast … and out of control. "I started going into a spiral downfall," she said.
"Your parents said no sex, drugs, or alcohol," noted King. "And what did you do?"
"I went and had sex, drugs, and I had lots of alcohol," Graham replied.
"There [were] a lot of things that happened to me from 17 to about 20, 21 years old, that my parents should've plucked me out of New York City and brought me home, but they made me stay and figure it out."
She figured it out .. and also had fallen in love with cinematographer Justin Ervin. She remembers the first time she took him home to Nebraska to meet her family, and left out one little detail.
"My mom tried to not make it a big deal, but Grandma made it a big deal," Graham said, of Irvin's race. "She couldn't even look him in the eye. I mean, it was horrifying.
"And I will never forget that feeling of just sitting there with Justin, thinking, 'I'm so embarrassed that I had to bring him in to meet these people, these people who raised me and taught me how to live, and he's being treated so terribly.' And he said to me, 'Racism is never surprising, but it's always disappointing.'"
The bond only grew closer for the couple. They've been married since 2010.
"And when you're married, you have to stay together," Graham said. "And I don't mean that just as, like, 'Oh, we're stickin' together.' No, you have to, like, have sex. You have to be in the same home. You have to -- I mean, there's so many things. Every couple is different, they have their own rules. But I feel like, if more people talked about what they were going through in their relationship, it would make it easier on them in the long run."
All the while, Graham's career continued to climb -- and it skyrocketed in 2016, when she made history by becoming the first so-called "curve model" to appear on the cover of Sports Illustrated's iconic Swimsuit Issue.
It proved, Graham said, that anything can happen: "Anything you want can happen, and I thought, 'Yes! Sports Illustrated decided to have curvy women not only in their magazine but on the cover of their magazine! Now that means that size diversity is here, and it's real, and it's not a 'trend.'"
From wearing a bikini, to showing off her lingerie line, to the daily affirmations she tells herself in the mirror ("I said to myself, 'You are bold, you are brilliant, and you are beautiful. You are worthy of all, and I love you,' and I repeated it to myself"), Graham's message is simple: every woman should be happy in the skin she's in, which may be easier said than done.
"I got naked in front of the mirror and I started touching my body and saying, 'Lower belly fat, you're kinda cute! Thick thighs, you are so sexy you just can't stop rubbing each other!'"
"Did you?"
"I did! You don't even have to get naked. You just get down into your grandma panties and, like, bra!"
Along with plenty of advice, Graham also has a warning to anyone who wants to follow in her footsteps:
"The question I get asked all the time from young girls is, 'How do I become a model? I want to be a model.' And I say to them, 'Why would you want to be a model? Why would you want to be picked apart all the time? Why don't you go be the editor? Why not just strive to be, like, the Anna Wintour? Or why not be a designer and tell models what to do all day?"
Ashley Graham is all about style AND substance: a supermodel turning heads as a role model.
She said, "I'm having a moment, but I've been having a moment a little while right now, and I'm so thankful for it. Not only are you seeing women who have my body shape, who are bigger, who are smaller, whatever; you see the industry changing right before your eyes.
"You can have an 'it' moment, but you have to know how to continue to move this movement into something that's bigger than yourself."

For more info:
Thanks for reading CBS NEWS.
Create your free account or log in
for more features.