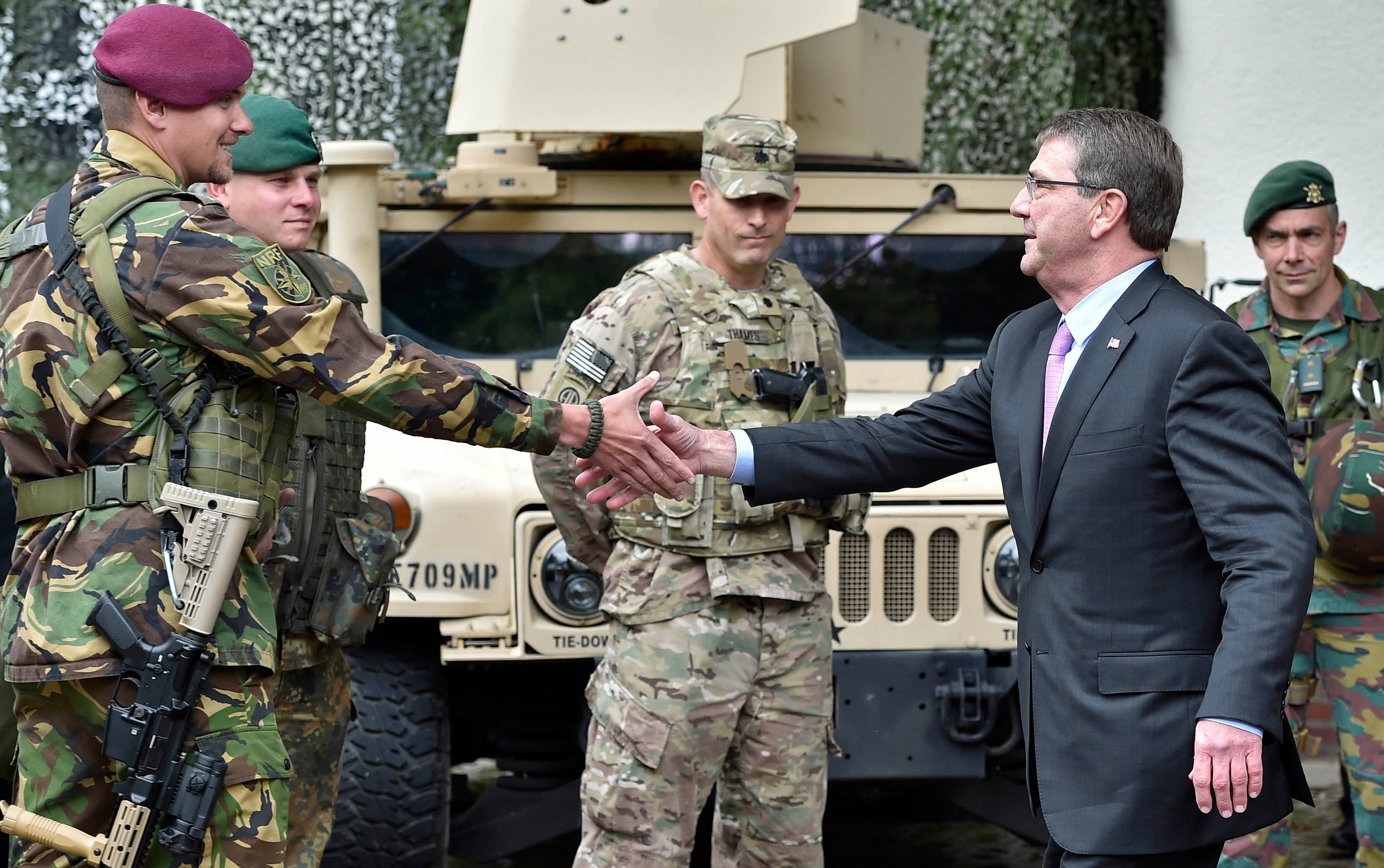 U.S. sending arms to answer "Russia's provocations"
TALLINN, Estonia -- Secretary of Defense Ash Carter confirmed Tuesday that the U.S. is to station heavy military equipment, including tanks and other weapons, in new NATO member states for the first time since the end of the Cold War.
"These are responses to Russia's provocations," Carter told CBS News correspondent Margaret Brennan in an exclusive interview in Estonia, one of the nations the American defense chief said could already "feel" the imminent threat posed by its massive neighbour to the east.
The increased American military presence -- some 250 tanks, armored vehicles and other equipment -- on Russia's doorstep is intended to reassure jittery allies like Estonia, which have been alarmed by Russia's annexation of Crimea and its support for separatists leading the war in eastern Ukraine.
Carter's announcement of plans to permanently station the heavy weapons across seven eastern Europe nations, and a promise of a larger troop and aircraft presence, comes days after Russian President Vladimir Putin said he would add more than "40 new intercontinental ballistic missiles capable of penetrating even the most technologically advanced missile defense systems" to Moscow's arsenal.
The newly positioned U.S. military hardware was to be located, at least for now, in Bulgaria, Estonia, Germany, Latvia, Lithuania, Poland, and Romania.
Carter told Brennan it was that "aggressive rhetoric, aggressive behavior -- the kind of thing that doesn't belong in a Europe" of today, making America's NATO allies nervous.
"We continue to hope that Russia will change course," added the defense secretary. "I don't see any signs of that, but we continue to hold the door open."
Asked by Brennan whether Putin's words were seen as a genuine military threat or merely rhetoric, Carter said he took the Russian leader "at his word."
"What's odd about it is the level of rhetoric," added Carter. "That's what's so out of tune with the times and the way responsible world leaders have conducted themselves with respect to talking about what are very fearsome weapons."
The defense chief told Brennan the American weaponry being added to NATO's "eastern flank" was meant to bolster the alliance's deterrent power in the face recent Russian actions, but called it "heavy combat equipment for training purposes primarily."
He said it will be easier for U.S. forces training their European allies to "fall upon that equipment," rather than spending the added time and money necessary to move heavy weapons into place just for exercises.
President Putin has insisted repeatedly -- most recently during a question-and-answer session with "CBS This Morning" co-host Charlie Rose at an economic summit in St. Petersburg -- that his government is "not aggressive," but merely "persistent in pursuing our interests."
During that session, Putin did not explicitly deny long-standing U.S. claims that Russian troops and military hardware are directly supporting separatist rebels in eastern Ukraine.
Putin has said Russia's increasingly assertive military stance in the region is merely a response to NATO's spread into neighboring countries -- which he said has been, in places like eastern Ukraine, against the will of local populations.
Speaking to Rose, Putin accused Washington of "interfering with our internal political processes" by financing non-governmental organizations in Russia and practicing "interventionist" security measures on the world stage.
"We are in fact being told that the United States know better what we need. Let us define our own interests and our needs ourselves," Putin said.
Thanks for reading CBS NEWS.
Create your free account or log in
for more features.