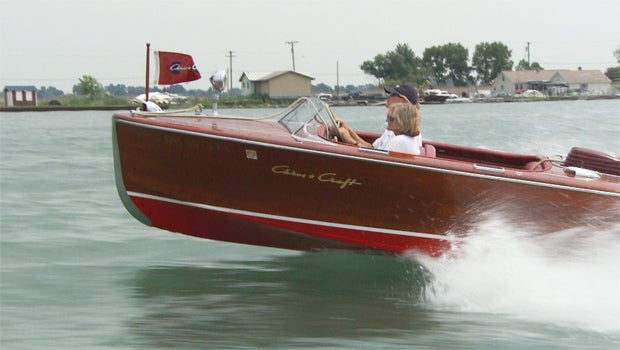 ​Artistry on the water: Wooden motorboats
Cruising in class on a shimmering lake is one good way to beat the heat -- and with Conor Knighton now will be doing just that:
It's a classic sound and sight of summer: A mahogany-clad motor boat, sleek and powerful, cutting across a pristine lake ... an ambassador of a bygone era.
For fans of these elegant craft, it's not about getting from point A to point B. There's a material difference.
"Your boat is out on the lake and the lake is surrounded by woods. There are no fiberglass trees!" says Matt Smith, who runs WoodyBoater.com, a website devoted to the joys of classic wooden boats. "Your wooden boat has permission form the lake to be there!"
"They're beautiful. They're absolutely stunning. It is really like a Steinway, you know? It's a grand piano on the water."
A grand piano that can skim the water at speeds up to 40 miles an hour.
Across the country, enthusiasts gather at shows to marvel at these wooden works of art that flourished in American waters from the 1920s to the '50s.
But to the boating faithful, the annual gathering in Algonac, Michigan, is more of a pilgrimage.
"These are the waters that your power boat wants to be on," said Smith. "In its heart, in its DNA, in every turn of the propeller, it wants to be here in these absolutely beautiful turquoise clear waters. This is the spot."
That's because more than 100 years ago, America's power boating industry was largely born here, when one of its founding fathers, Christopher Columbus Smith (yep, that's his real name) combined boats and engines with mass production. His company, eventually named Chris-Craft, quickly became synonymous with fast-paced fun in the sun.
Pete Beauregard, who owns the Algonac Harbor Club (housed on the site of the original Chris-Craft plant), says that in its heyday, Chris-Craft was like "the General Motors of the boating industry.
"Algonac, to the boating industry, is what Henry Ford and Dearborn were to the car industry."
With Detroit just 60 miles away, Chris-Craft borrowed more than assembly line inspiration from the car industry. It occasionally borrowed parts.
Dave Bortner showed Knighton a boat with a Ford Mustang steering wheel and horn ring with the Chris-Craft emblem in the center.
But by the 1960s fiberglass had become fashionable, and it brought boatloads of new competitors. To keep up, Chris-Craft eventually stopped making wooden boats all together.
A vintage Chris-Craft boat got star treatment in the 1981 film, "On Golden Pond." Suddenly, there was a renewed interest in getting these ­beautiful "old tubs" back out on the water.
"They're in barns everywhere," said Wayne Eversole, who with his team spends countless hours sanding, fastening and varnishing these old "barn finds" back to life.
It's that gorgeous sheen, he says, that can be most elusive.
"Everything has got to be right in the world to get a good varnish job," said Eversole. "Your mother-in-law has to be in a good mood, the moon's gotta be, humidity, heat, dust. You could have a bad varnish job and who knows why."
Eventually, boats found in a barn can be transformed into a craft capable of transporting passengers to back another era.
"When you're out on one of these boats, you're in the time that that boat existed," said Matt Smith. "You are inheriting at that moment all the history that that boat lived. It lives in the wood. It comes out. You feel it."
For more info:
Thanks for reading CBS NEWS.
Create your free account or log in
for more features.