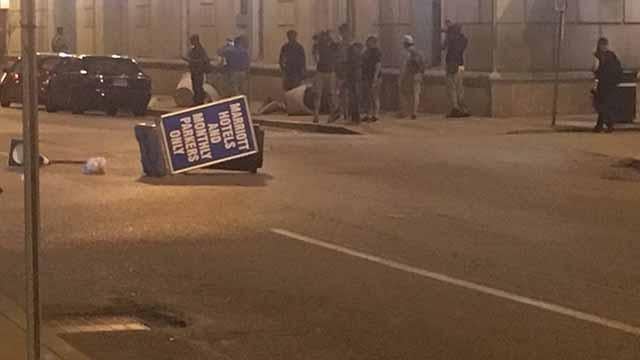 Dozens of arrests as protests turn violent again in St. Louis
ST. LOUIS -- Hundreds of police officers in full riot gear responded to the streets of downtown St. Louis after a third day of peaceful demonstrations over a former officer's acquittal in the shooting death of a black man gave way to property damage and dangerous encounters with officers, the same pattern that unfolded on the previous two days
Another round of protests was in the works for Monday, with demonstrators planning to meet at 7 a.m. near Union Station downtown.
Police said more than 80 people were arrested late Sunday and early Monday, five weapons were confiscated and some officers suffered minor or moderate injuries. All were expected to return to duty soon.
A judge on Friday ruled that Jason Stockley, a 36-year-old who left the department and moved to Houston three years ago, was not guilty in the 2011 death of Anthony Lamar Smith. The ruling set off peaceful protests that turned raucous throughout the weekend.
Hundreds of people marched through the streets of downtown, the posh Central West End, and the trendy Delmar Loop area of nearby University City. Protesters also marched through two shopping malls in a wealthy area of St. Louis County.
Sunday's protest began at the police headquarters downtown. Following the same sequence of events as in the previous days, well over 1,000 people marched peacefully for several hours.
By nightfall, most had gone home. The 100 or so demonstrators who remained grew increasingly agitated as they marched toward the core of downtown. Along the way, they began to knock over large planters, broke windows at a few shops and hotels, and scattered plastic chairs at an outdoor venue.
A reporter for CBS St. louis affiliate KMOV-TV tweeted pictures of some of the damage:
Things got worse when, according to police, demonstrators sprayed bottles with an unknown substance on officers. Police were still trying to determine what was in the bottles.
Police tweeted about it:
KMOV reports firefighters worked to decontaminate the officers.
Soon after, buses brought in additional officers in riot gear, and a police presence was maintained deep into the night.
Police say they made dozens of arrests when people ignored orders to disperse.
Later, officers in riot gear gathered along the side of Tucker Boulevard chanting "whose street, our street," a common refrain used by the protesters, after successfully clearing the street of demonstrators and onlookers.
At a news briefing early Monday, Mayor Lyda Crewson blamed the trouble on "agitators." She tweeted out the same message:
Protest organizers also said they were frustrated that a few people who have caused trouble at night could make it harder to spread their nonviolent message.
State Rep. Bruce Franks, a Democrat who has participated in the protests, said those who are violent and vandalizing "are not protesters," but a group separate from those marching in organized demonstrations.
Others, though, understood the anger that often comes out. Protest organizer Anthony Bell said that while he believes change is made through peaceful protests, such as those led by Dr. Martin Luther King Jr., years of oppression have caused some to act out in violence.
"I do not say the demonstrators are wrong, but I believe peaceful demonstrations are the best," Bell said.
At one point Sunday evening, an unmarked police car was backed up toward a crowd of protesters. It was caught on video. Police said officers in the car felt threatened and there was no other way for the car to drive away. Police said officers making two arrests apparently unrelated to the protests had rocks thrown at them and had a suspect in the rock throwing in the car that was then put in reverse.
The recent St. Louis protests have followed a pattern borne out of months of angry and sometimes violent protests after the 2014 killing of Michael Brown in nearby Ferguson: The majority of demonstrators, though angry, are law-abiding. But as the night wears on, a subsection emerges, a different crowd more willing to confront police, sometimes to the point of a violent interaction.
More than 50 people were arrested over the weekend, all of them late at night. It was after nightfall that people broke a window at the home of Mayor Krewson on Friday, smashed about two dozen windows and threw trash cans and rocks at police in University City on Saturday, and knocked out windows downtown on Sunday.
Many protesters believe police provoked demonstrators by showing up in riot gear and armored vehicles; police said they had no choice but to protect themselves once protesters started throwing things at them.
Democratic Rep. Michael Butler said police should target the agitators and allow others to continue demonstrating. He protested Friday, and after that said police have been doing a poor job of identifying bad actors amid crowds of other protesters.
"There's not been any learning from Ferguson," Butler said.
Stockley shot Smith after Smith fled from Stockley and his partner on a high-speed chase as they tried to arrest him for a suspected drug deal.
Stockley, 36, testified that he felt he was in danger because he saw Smith holding a silver revolver when Smith backed his car toward the officers and sped away.
Prosecutors said Stockley planted a gun in Smith's car after the shooting. The officer's DNA was on the weapon but Smith's wasn't. Dashcam video from Stockley's cruiser recorded him saying he was "going to kill this (expletive)." Less than a minute later, he shot Smith five times.
Stockley's lawyer dismissed the comment as "human emotions" during a dangerous pursuit. St. Louis Circuit Judge Timothy Wilson, who said prosecutors didn't prove beyond a reasonable doubt that Stockley murdered Smith, said the statement could be ambiguous.
Thanks for reading CBS NEWS.
Create your free account or log in
for more features.