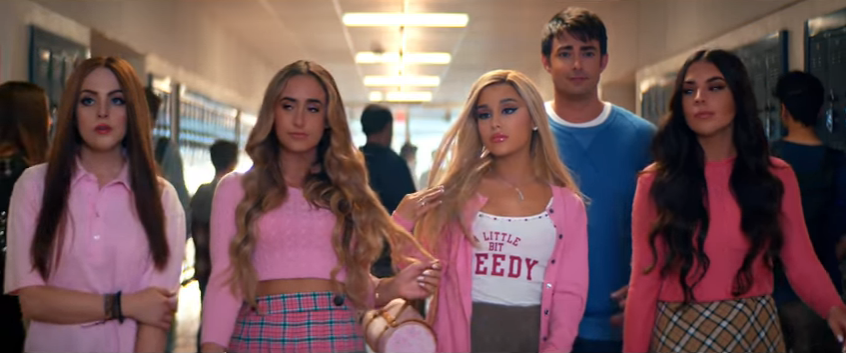 Ariana Grande drops "Thank U, Next" video
After several teases over the past week, Ariana Grande's music video for "Thank U, Next." In the video, Grande recreates scenes from "Mean Girls," "Bring It On," "13 Going on 30" and "Legally Blonde." The video was also filled with cameos, including some from the original casts that inspired it.
The video opens with a "Mean Girls"-inspired montage of people talking about Grande. "Mean Girls" has a similar scene where several students are talking about queen bee Regina George. In Grande's video, YouTube star Colleen Ballinger says, "I heard Ariana was pregnant so I got pregnant so we could be pregnant at the same time. Turns out it was just a rumor."
"Ariana Grande told me my hair looked sexy pushed back. She's not wrong," says Jonathan Bennett, who starred in the original "Mean Girls."
Meanwhile, "Mean Girls" actress Stefanie Drummond makes a reference to Grande's recent split from Pete Davidson: "Ariana broke off an engagement, so I found a guy to propose to me and I broke off an engagement."
Other cameos include one by Jennifer Coolidge, in character as manicurist Paulette from "Legally Blonde." Singer-songwriter Troye Sivan also makes an appearance, as do Grande's former "Victorious" cast mates Elizabeth Gillies, Matt Bennett and Daniella Monet.
Amy Poehler, who played Regina George's "cool mom" in "Mean Girls," does not make an appearance, but another very famous "cool mom" does: Kris Jenner, who wears a velour tracksuit just like Poehler's character. Jenner even gets the last line in the music video, in which she says, "Thank you next, b***h."
"Thank U, Next" received plenty of attention because it is all about her exes. In the song, she sings "Even almost got married / To Pete I'm so thankful." Grande and Davidson had a whirlwind romance that included matching tattoos and an engagement. But it lasted only a few months before they announced two weeks ago they had split up.
Grande also mentioned her ex-boyfriend Mac Miller, who died in September. "I wish I could thank you to Malcolm / 'Cause he was angel."
The chorus of "Thank U, Next" is "I'm so f---ing grateful for my ex."
You can watch the video, which contains explicit language, here.
Thanks for reading CBS NEWS.
Create your free account or log in
for more features.