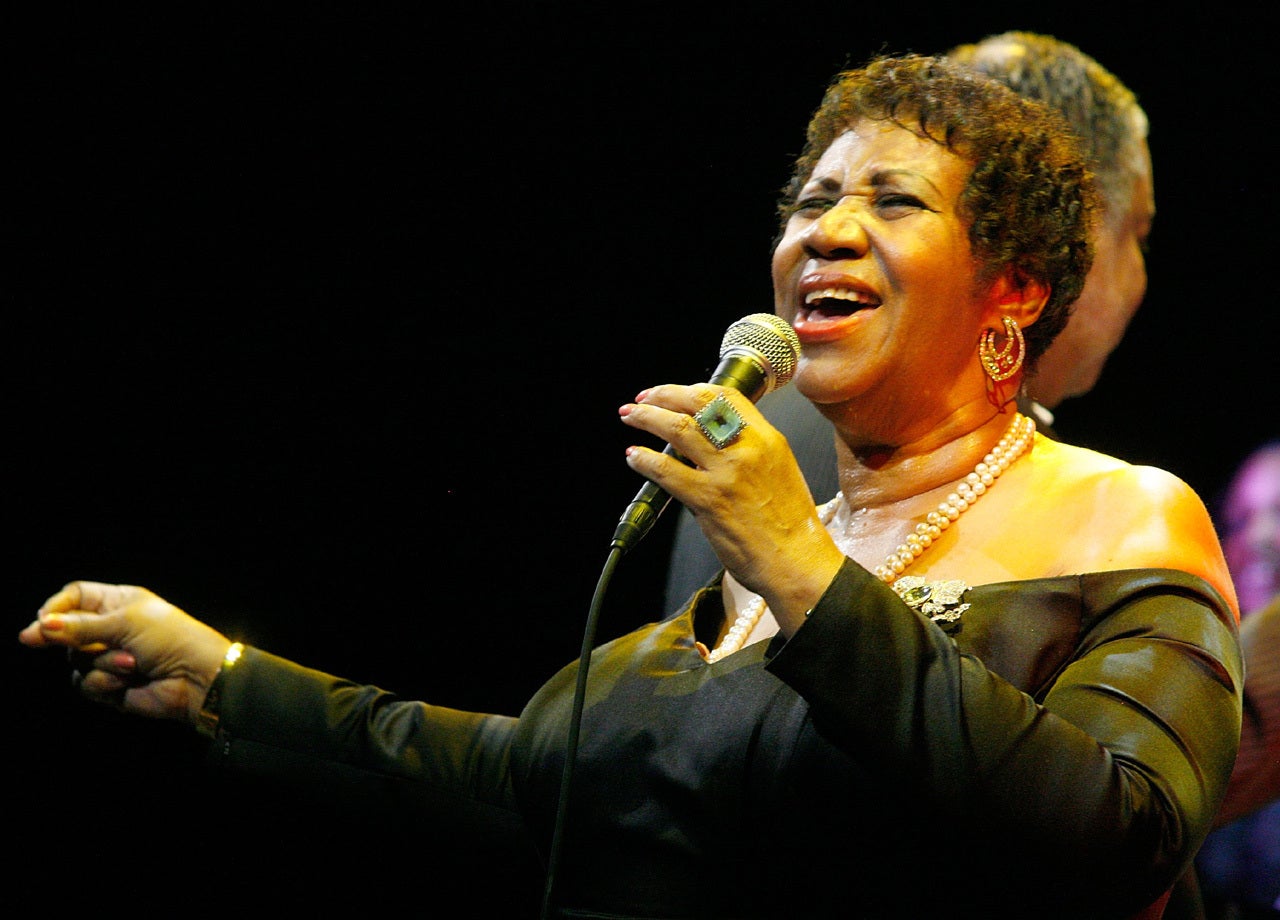 Aretha Franklin: I'm ready to do my thing
For 50 years, fans have thrilled to the sound of Aretha Franklin's voice ... and this past week they had particular reason to cheer. Anthony Mason talks with the Queen of Soul ... For The Record (Originally broadcast May 8, 2011):
Six months after she abruptly cancelled all performances because of a mysterious illness, Aretha Franklin made her first concert appearance at a New York benefit this past week:
When asked backstage how she feels to be back, Franklin replied, "I'm excited. I'm excited. As James Brown used to say, 'I'm ready to do my thing.'"
She is strikingly slimmer - as Mason described her, "a leaner, meaner Aretha."
"Yes!" she laughed. "The queen of mean!"
Aretha says she's lost 85 pounds. But she has not lost her voice:
"My health is wonderful. It is fabulous now."
"People were worried about you," Mason said.
"Yeah, Iwas worried!"
What happened? A relative reportedly said she had pancreatic cancer. Her weight loss led to stories she'd had bariatric surgery. "Well, it wasn't that," Aretha said. "It wasn't that. It just wasn't."
What it was, Aretha isn't saying.
But Lady Soul has a history of mystery. She's always been guarded ... except when she sings.
---
Web Bonus: Click here to stream MP3s and sample audio clips of classic and new Aretha Franklin tracks.
Photos: Aretha Franklin
---
At 69, she remains one of the most influential performers in pop history. Rolling Stone magazine named her the greatest singer of the rock era.
When we visited her on Good Friday in her hometown of Detroit, Aretha took us to where it all started, the New Bethel Baptist Church. She showed us her spot:
"This is where I sit when I come to church. This is my seat," she said. "Don't sit in my seat!"
Her father, the charismatic Rev. C.L. Franklin, who was pastor here, would electrify audiences with his thunderous sermons. Then he'd call his daughter up to the pulpit:
"My dad had to push me to sing, though. I really didn't want to sing," Aretha said.
She was about ten years old, and had to stand on a little box. "Yeah, the pulpit was too high."
Ray Charles once said, "I don't know anybody who can sing like Aretha Franklin. Nobody, period."
Web exclusive: Aretha Franklin performs "He Looked Beyond My Faults"
We went back to the Franklin family home in West Detroit. She said in the day it was a showplace: "It was the most beautiful home I had ever seen."
When gospel greats like Mahalia Jackson or Clara Ward would visit the house, the young Aretha would watch from the top of the stairs:
"I would get up and peek down the steps to see who was coming in and who was going out," she said, "peeping through the railing of the staircase. So it was special, yeah, very special."
"Who did you like to see most of all?" Mason asked.
"Sam Cooke," she laughed. "Any time, Sam!"
The young gospel singer Sam Cooke was 11 years older than Aretha.
"Did Sam give you singing advice?" Mason asked.
"No, I saw Sam in other terms," Aretha said.
"Which means, what? You had a crush on him?"
"Yes, I had a serious crush on him. He had no idea though, that I had that kind of crush on him. My sister liked him. So I said, 'She likes him, so I just won't tell him.'"
Web exclusive: Aretha Franklin's underrated songwriting
In 1961, she toured with Cooke who had crossed over from gospel to become a pop idol:
"For a long time, I was like Sam's twin," she said. "Whatever he sung, I sung. However he sung it, I sung it. And my daddy told me to stop it," Franklin said. "'Don't try to sing like Sam - you sing like yourself.'"
When Cooke went mainstream, "did you think that he was sort of blazing a path as far as you were concerned?" Mason asked.
"Well, I followed. When I saw the success that he had, I thought it might be possible for me."
Aretha signed with a record deal and headed to New York. She also took modeling classes: "I was walking with a book on my head and all that sort of thing."
"And what were you thinking while you were doing that?" Mason asked.
"That this is not me!" she laughed. "That's what I was thinking. That this is not me. I don't like this book. And this is not me."
In 1967, "Lady Soul" arrived. In two years she scored 9 top ten hits - the biggest, "Respect," a song written by Otis Redding.
"And 'R-E-S-P-E-C-T,' which Otis did not sing."
"No, he didn't say that. I thought I should spell it out."
In a summer of racial unrest, it became a civil rights anthem. The Rev. Martin Luther King, Jr. would present her an award in front of 12,000 people in Detroit.
"They declared it Aretha Franklin Day," Mason said.
"Yeah, they did. But when Dr. King walked on the stage, the rafters were shaking."
Aretha wrote her own songs, too, like "Think," and "Day Dreaming," which was inspired by Dennis Edwards, the lead singer of the Temptations:
"I was daydreaming about him, yes," Aretha said.
"I think he said he made a mistake in not marrying you?" Mason asked.
"Yeah, I said, 'You sure did! You sure did!' Too late now buddy. Too late."
"You would have married him?"
"I would've married Dennis in a heartbeat," she said.
"But from what I read, he said he was kind of intimidated by the whole Aretha aura."
"Really?"
"Do you think you're intimidating?" Mason asked.
"I could be. I could be. I've seen that a little bit with some men. But the real men step up to the plate."
But then the wall goes up again ...
"How's your love life these days?" Mason asked.
"My love life is all right," she replied. "It's okay."
"That's all you're going to say?" Mason asked.
"Yes, it's okay."
Twice divorced and mother to two songs, Aretha also shies away from some of the sorrow in her family life. Her mother, who moved away when she was six, died 4 years later.
In her autobiography, Aretha wrote: "I cannot describe the pain."
In 1979 her father was shot during a burglary in their Detroit home. He lapsed into a coma and died 5 years later. Aretha asked the city to dedicate a local park to him.
Aretha wanted us to see Lasalle Park, dedicated to the memory. But as we approached the park she was overcome by emotion.
It took a minute for her to compose herself:
"It's a beautiful park," she said. "I'm glad they dedicated it to him."
Rev. Franklin envisioned a great career for his talented daughter. But likely even he did not imagine she would live to perform at the inauguration of the first African American president:
"That was history," she said. "And I'm thankful that I was a part of that."
Aretha made news another way that day: She got a lot of attention for her hat.
"Yes. That hat took on a life of its own," she said.
She's donating it to the Obama Library.
"And so I'll go down in history with him!"
Now, after a half-century of recording, Aretha Franklin has just released her 38th studio album. The Queen of Soul is back to remind us that while she may have given up her hat, she has not surrendered her crown.
For more info:
For more information on Sony's new 11-CD box set, "Take a Look: Aretha Franklin Complete on Columbia," visit www.myplay.me/65r.
Her new album, "Aretha Franklin: A Woman Falling Out of Love," is available for purchase exclusively at walmart.com

For more information about Franklin's performances on "Soul Train," go to timelife.com/soultrain
Thanks for reading CBS NEWS.
Create your free account or log in
for more features.