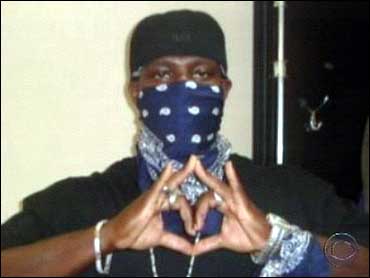 Are Gang Members Using Military Training?
Like most American cities, Columbia, South Carolina, has its share of problems, but nothing prepared the Sheriff Leon Lott for what his department discovered last August.
Four U.S. Marines – who proudly snapped pictures of each other – were recruiting local kids, some as young as 13, into the Crips street gang. The leader was a lance corporal.
"We have enough problems with local kids and what they are doing," Lott, the Richland County Sheriff, said. "But to have the Marines – someone who is trained – to come up here and recruit and give them the training they've had in the military, it scares me to death cause it tells me we're at war with these gangs."
It's a concern also raised by the FBI. In a recent report the agency warned: "Military training could ultimately result in more sophisticated and deadly gangs ... as well deadly assaults on law enforcement officers."
CBS News has learned that military police have briefed local authorities in major cities, including New York, about the rising danger that gang members in the military could share their skills with gangs on the streets. That could include combat, logistics, and even emergency medical skills.
"We heard about it in other places," Lott said. "We didn't think Columbia, South Carolina would be a place where the military would have influence on our gangs, but we had it."
Army investigators tell CBS News that there is absolutely no evidence that soldiers are using their combat training in gang activity, nor proof that gangs are sending members into the military to learn such skills. They insist the threat is low.
"We're not seeing this in this particular time – we're just not," said Colonel Gene Smith of the U.S. Army's Office of the Provost Marshal. "It's just a theory."
But there was an incident in which a disturbed Marine used his training to kill two policemen. In January, 2005, the Marine, who police say was associated with the Norteno street gang, shot to death two policeman outside a convenience store in Ceres, California.
Surveillance video shows him using a technique marines call "cutting the pie" – instead of cowering, he boldly attacks.
"Gangs are gaining strength across the United States," said Hunter Glass, a retired police detective who tracks gangs. "The numbers are increasing like crazy around the U.S. and adding this extra fuel is just not going to help matters."
---

Part One: Gangs Spreading In The U.S. Military

---
The House of Representatives has passed legislation prohibiting service members from associating with street gangs. A Senate could vote could come next month. But there are also calls to raise enlistment standards, which have slipped to such an extent that one in 10 new army recruits has a criminal record.

"We were able in the 80's and into the 90's to say, 'you have to be special to serve your country because this is difficult work'," said Lawrence Korb, a former Assistant Secretary of Defense. "But now we are saying, 'we are so desperate for people, we are going to take anybody as long as you can walk through the door'."

A short term solution for the military and a future problem, some say, for police departments in their war against street gangs.
Thanks for reading CBS NEWS.
Create your free account or log in
for more features.