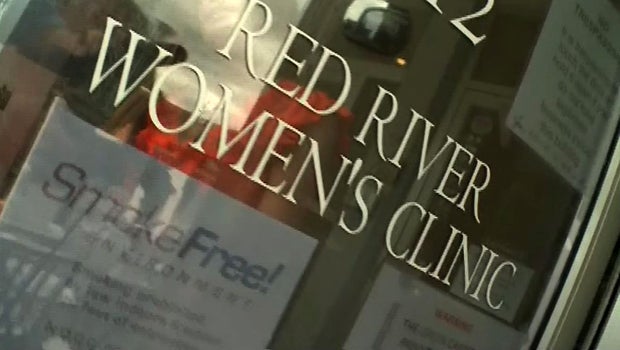 Appeals court affirms striking down North Dakota abortion law
BISMARCK, N.D. -- A federal appeals court affirmed a ruling Wednesday that struck down one of the most restrictive anti-abortion laws in the country: a North Dakota law that bans abortions when a fetal heartbeat can be detected, which can be as early as six weeks into a pregnancy.
The 8th U.S. Circuit Court of Appeals agreed with a decision last year from U.S. District Judge Daniel Hovland, who ruled the law unconstitutional. The law was approved by the Republican-dominated Legislature in 2013, though it was quickly put on hold after the state's lone abortion clinic filed a lawsuit that July.
Several conservative states have passed restrictive abortion laws in recent years, but abortion rights supporters say North Dakota's 2013 fetal heartbeat law was the strictest in the country.
Supporters said the law was meant to challenge the U.S. Supreme Court's 1973 ruling that legalized abortion until a fetus is considered viable, usually at 22 to 24 weeks. It wasn't immediately clear whether the state would appeal the case, though lawmakers have set aside $800,000 to defend the state's abortion laws.
"Because there is no genuine dispute that (North Dakota's law) generally prohibits abortions before viability - as the Supreme Court has defined that concept - and because we are bound by Supreme Court precedent holding that states may not prohibit pre-viability abortions, we must affirm the district court's grant of summary judgment to the plaintiffs," the appeals court ruling said.
The attorney general's office said it was reviewing the opinion.
"Once the review is complete, we will make a determination of what further action, if any, is advisable," Attorney General Wayne Stenehjem said in a statement.
The federal district court heard arguments in the case in January, on the same day it considered a challenge to a fetal heartbeat law in Arkansas that bans abortions at 12 weeks. The 8th Circuit struck down Arkansas' law in May.
Republican Gov. Jack Dalrymple has called the law "a legitimate attempt by a state Legislature to discover the boundaries of Roe v. Wade." But opponents say it's an attempt to shutter the state's only abortion clinic: the Red River Clinic in Fargo, in far eastern North Dakota. The clinic is backed in its legal fight by the Center for Reproductive Rights.
A spokesman for Dalrymple said he was on a flight to West Virginia on Wednesday and could not be reached.
Tammi Kromenaker, director of the Fargo clinic, did not immediately return telephone calls following the ruling.
Nancy Northrup, president and CEO of the New York-based Center for Reproductive Rights, was full of praise.
"Today's decision reaffirms that the U.S. Constitution protects women from the legislative attacks of politicians who would deny them their right to safely and legally end a pregnancy," she said in a statement.
North Dakota lawmakers set aside $400,000 to defend lawsuits arising from the new abortion laws in 2013, and the Legislature added another $400,000 this year. Records obtained by The Associated Press show the state had spent $312,861 defending the abortion laws as of June, including nearly $233,000 on the fetal heartbeat measure.
The Fargo clinic, which performs about 1,250 abortions a year, is served by out-of-state physicians licensed to practice in North Dakota. The nearest abortion clinics are four hours south in Sioux Falls, South Dakota, and four hours southeast in Minneapolis.
Kromenaker has said confusion over the new abortion laws affected procedures in 2013; she said many people thought the law banned abortions. She said abortion numbers returned to normal in 2014.
Thanks for reading CBS NEWS.
Create your free account or log in
for more features.