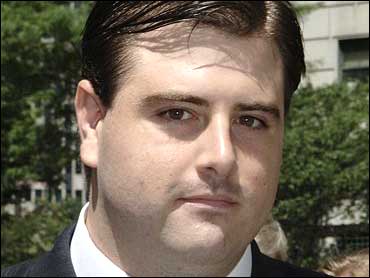 AOL Spammer Sentenced To Prison
A former America Online software engineer was sentenced Wednesday to a year and three months in prison for stealing 92 million screen names and e-mail addresses and selling them to spammers who sent out up to 7 billion unsolicited e-mails.
"I know I've done something very wrong," a soft-spoken and teary eyed Jason Smathers told U.S. District Judge Alvin Hellerstein.
The judge credited the 25-year-old former Harpers Ferry, W. Va., resident for his contrition and efforts to help the government before he pleaded guilty to conspiracy charges. A plea deal had called for a sentence of at least a year and a half in prison.
In a letter from Smathers to the court that was read partially into the record by Assistant U.S. Attorney David Siegal, Smathers tried to explain the crimes that AOL has said cost the company at least $400,000 and possibly millions of dollars.
"Cyberspace is a new and strange place," Siegal said Smathers wrote. "I was good at navigating in that frontier and I became an outlaw."
As the judge indicated he would be lenient toward Smathers, Siegal told Hellerstein that the public needs to learn from the case that the "Internet is not lawless."
"The public at large has an interest in making sure people respect the same values that apply in everyday life, on the Internet," Siegal said.
The judge imposed the reduced sentence of one year and three months, saying he recognized that Smathers cooperated fully with the government but did not have the kind of information that would have helped to build other criminal cases.
He said leniency was appropriate for "someone who tries hard to bare his soul but doesn't have the information the government needs."

In December, Hellerstein rejected the first attempt by Smathers to plead guilty, saying he was not convinced he had actually committed a crime. The judge accepted the plea in February, saying prosecutors had sufficiently explained why he had.
Smathers has admitted that he accepted $28,000 from someone who wanted to pitch an offshore gambling site to AOL customers, knowing that the list of screen names might make its way to others who would send e-mail solicitations.
The judge has recommended that Smathers be forced to pay $84,000 in restitution, triple what he earned. The imposition of restitution was delayed to give AOL a chance to prove the damages were much greater. The judge suggested the figure of at least $400,000 in damages was subjective.
Prosecutors said Smathers had engaged in the interstate transportation of stolen property and had violated a new federal CAN-SPAM law, short for Controlling the Assault of Non-Solicited Pornography and Marketing Act, which is meant to diminish unsolicited e-mail messages about everything from Viagra to mortgages.
In December, the judge said he had dropped his own AOL membership because he received too much spam.
America Online Inc., a wholly owned subsidiary of Time Warner Inc., has since launched a major assault on spam, significantly reducing unsolicited e-mails.
Smathers was fired by AOL last June. Authorities said he used another employee's access code to steal the list of AOL customers in 2003 from its headquarters in Dulles, Va.
Smathers allegedly sold the list to Sean Dunaway, of Las Vegas, who used it to send unwanted gambling advertisements to subscribers of AOL, the world's largest Internet provider. Charges are pending against Dunaway.
The stolen list of 92 million AOL addresses included multiple addresses used by each of AOL's estimated 30 million customers. It is believed to be still circulating among spammers.
The judge refused a Probation Department recommendation that Smathers be banned from his profession, saying he trusted Smathers had learned his lesson.

Thanks for reading CBS NEWS.
Create your free account or log in
for more features.