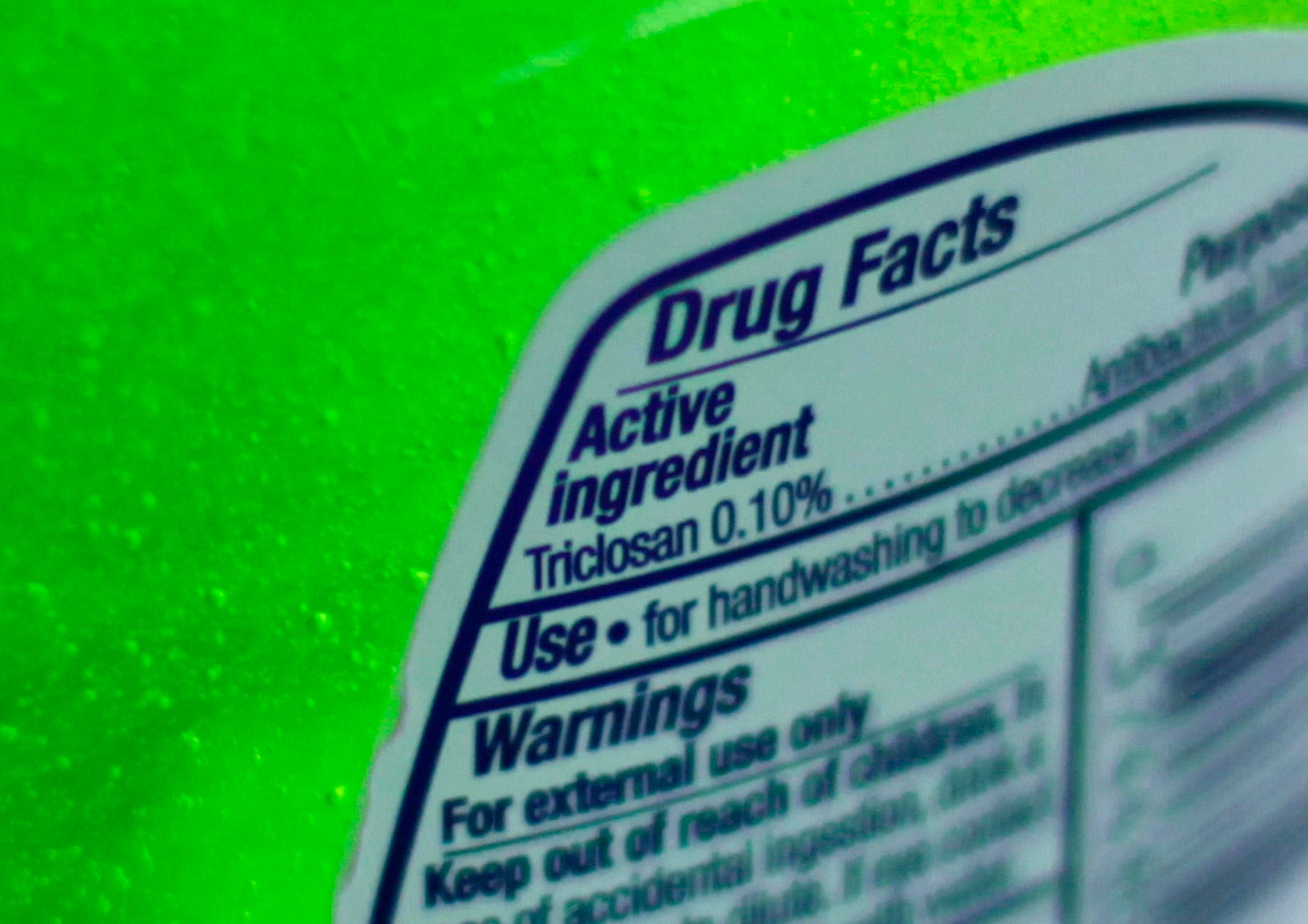 FDA stops sale of some antibacterial hand and body wash products
The U.S. Food and Drug Administration today banned the use of certain antibacterial chemicals in hand and body wash products.
The products of concern contain one or more of 19 ingredients named by the FDA, including triclosan and triclocarban. The FDA said the cleansers are no more effective than plain soap and water in preventing illnesses and reducing the spread of infections, and companies will no longer be able to market them in over-the-counter cleansers.
Manufacturers did not demonstrate that the ingredients are safe for long-term daily use, the FDA said in a statement issued today.
"Antibacterial hand and body wash manufacturers did not provide the necessary data to establish safety and effectiveness for the 19 active ingredients addressed in this final rulemaking," the statement said.
"Consumers may think antibacterial washes are more effective at preventing the spread of germs, but we have no scientific evidence that they are any better than plain soap and water," Dr. Janet Woodcock, director of the FDA's Center for Drug Evaluation and Research, said in the FDA press statement. "In fact, some data suggests that antibacterial ingredients may do more harm than good over the long-term."
The chemicals have been under scrutiny for some time, and many manufacturers had already started removing the ingredients from their products.
The move does not affect consumer hand sanitizers, wipes and antibacterial products used in health care settings, the agency said.
FDA officials announced earlier this summer that they wanted to know whether hand sanitizers​ used by millions of Americans work as well as manufacturers claim, and whether there are any health risks to their growing use, the AP reported.
At that time, the FDA was calling for new studies on how the antiseptic gels and rubs fight germs and get absorbed into the body, with a particular focus on children and pregnant women. The move is part of an ongoing government effort to review chemicals that have been in use for decades but have never had a comprehensive federal review.
Health officials have also raised the question of whether or not antiseptic ingredients in commonly used hand-cleansing products are possibly linked to the development of antibiotic-resistant "superbugs​," and if the chemicals have any affect on people's hormones.
FDA scientists began investigating ingredients in antiseptic soaps, scrubs and sprays in 1972 as part of a law designed to set guidelines for hundreds of drugs and chemicals that were already on the market but had never been formally reviewed, according to the AP. The agency agreed to complete its review under a legal settlement in 2013 with the Natural Resources Defense Council, an environmental group that accused the government of delaying action on potentially dangerous chemicals.
Environmentalists are mainly concerned about the ingredient triclosan​, which has been used in many antibacterial soaps. The FDA is collecting safety and effectiveness data on that chemical with the goal of issuing new rules on its use by early 2018.
Following today's ruling, manufacturers will have one year to comply with the new rule by removing products from the market or reformulating them without the banned ingredients.
If a consumer wants to use a hand sanitizer product when soap and water isn't available, the CDC recommends using an alcohol-based hand sanitizer that contains at least 60 percent alcohol.
The 19 ingredients the FDA says can no longer be added to consumer "antibacterial" washes are:
Cloflucarban

Fluorosalan

Hexachlorophene

Hexylresorcinol

Iodophors (Iodine-containing ingredients)

Iodine complex (ammonium ether sulfate and polyoxyethylene sorbitan monolaurate)
Iodine complex (phosphate ester of alkylaryloxy polyethylene glycol)

Nonylphenoxypoly (ethyleneoxy) ethanoliodine

Poloxamer--iodine complex o Povidone-iodine 5 to 10 percent

Undecoylium chloride iodine complex

Methylbenzethonium chloride

Phenol (greater than 1.5 percent)

Phenol (less than 1.5 percent) 16

Secondary amyltricresols

Sodium oxychlorosene

Tribromsalan

Triclocarban

Triclosan

Triple dye

Thanks for reading CBS NEWS.
Create your free account or log in
for more features.