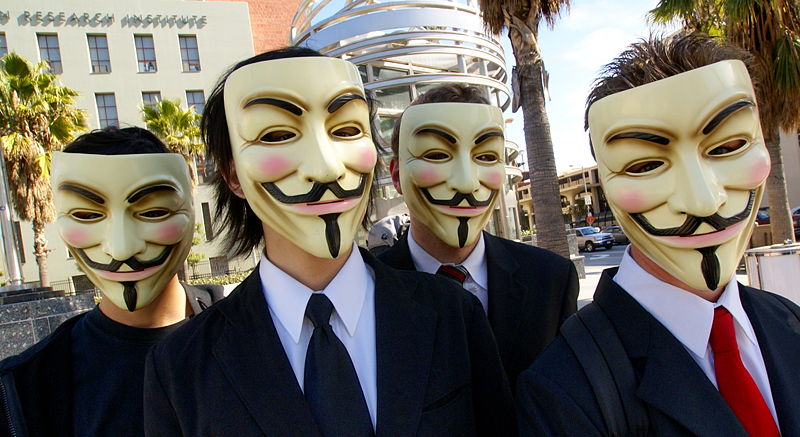 "Anonymous" hackers declare war on Orlando, Fla.
Where once "Anonymous" attacked the giants of Visa and Mastercard in support of WikiLeaks, now it has focused its cyberattacks on Florida tourism websites.
In emails and news releases to the Orlando Sentinel, the loose-knit collective of hackers who call themselves "Anonymous" announced they are taking revenge on the city of Orlando after it arrested several members of a homeless support organization.
So far, the privately-owned orlandofloridaguide.com has been targeted, as well as the websites for the Orlando Chamber of Commerce and Universal Studios. The group has said it may go after websites for Orlando police officers, state lawmakers and the Florida Democratic Party, the Sentinel reports.
Anonymous, LulzSec join forces to target "The Man"
Who's behind all these hacks, anyway?
Hacker group promises to attack Fed Reserve
The cyberattacks are said to be in retaliation for the city's arrest of members of Orlando Food Not Bombs, an anti-poverty group that has been feeding large groups of homeless people, the Sentinel reports. The arrests were reportedly made because Orlando Food Not Bombs had been in defiance of a city ordinance limiting the feeding of large groups in city parks.
Anonymous purportedly offered a "cease fire," and the city then arrested Orlando Food Not Bombs founder Keith McHenry. This prompted the group to release a statement saying: "Henceforth there will be no more cease-fires, no more attempts to get you to resolve this issue with human decency. We will now treat you like the human-rights abusers that you are. Anonymous will now begin a massive campaign against you and your city Web assets. Every day we will launch a new DDoS attack on a different target. We will continue to email millions of people in 50 countries with the 'Boycott Orlando' campaign message."
Both Anonymous and another large-scale hacker group, LulzSec, have made headlines since late last year, attacking and disabling several high-profile websites of various governmental and corporate entities. Their targets are often the perpetrators of perceived slights, and their appears to be no clear indication of why or how an organization stands out enough for them to fall under the hackers' ire.
On June 20, Anonymous and LulzSec announced they were uniting in a campaign aimed at banks, government agencies, and other high-profile targets, and they are encouraging others to steal and leak classified information. They allegedly brought down the Web site of Serious Organized Crime Agency in the United Kingdom.
Federal policing agencies around the world have responded, making several high-profile arrests, mostly of young people, in response to the cyberattacks.
Thanks for reading CBS NEWS.
Create your free account or log in
for more features.