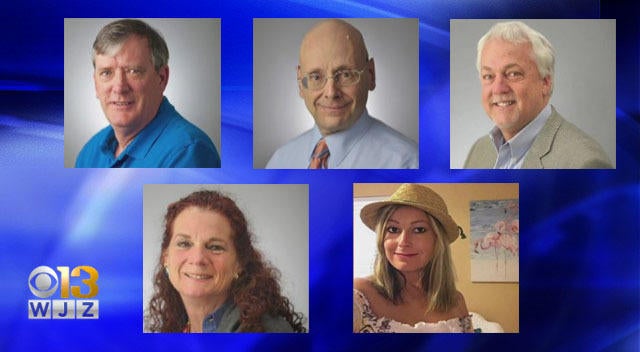 Capital Gazette remembers 5 colleagues slain in Maryland shooting
Five people were killed Thursday when a suspect opened fire in the newsroom at The Capital newspaper in Annapolis, Maryland. Authorities say 38-year-old Jarrod Ramos, armed with a shotgun, intentionally targeted the newspaper.
Hours after the massacre, police confirmed the identities of the employees who died: Gerald Fischman, Rob Hiaasen, John McNamara, Rebecca Smith and Wendi Winters.
Winters was the special publications editor. McNamara was a writer. Fischman was editorial page editor. Smith was a sales assistant. Hiassen was an assistant editor and columnist.
In a late night tweet, the newspaper posted an image of its front page for Friday:
The Capital dedicated its Twitter feed Thursday night to remember the "wonderful lives" that were lost in the shooting.
In a series of posts online, the newspaper included a link to each person's obituary, which you can read below:
Gerald Fischman, 61
Fischman, a 1979 graduate of the University of Maryland's journalism school, had worked at the newspaper for more than 25 years. He wrote editorials that the newspaper described as "scathing, insightful and always exciting."
"He was the guardian against libel, the arbiter of taste and a peculiar and endearing figure in a newsroom full of characters," The Capital wrote. Fischman was married to an opera singer from Mongolia who he had met online.
Rob Hiaasen, 59
Hiaasen, an assistant editor at The Capital since 2010 and had a column published on Sundays, had previously worked at The Baltimore Sun as a features writer.
The Capital writes that Hiaasen celebrated his 33rd wedding anniversary last week. His wife's 58th birthday was also the day of the shooting. The couple had three children together.
John McNamara, 56
McNamara, who went by "Mac," had worked at The Capital for nearly 24 years. His colleagues remember his "flexibility, concise writing and extensive knowledge of regional sports," the newspaper wrote.
He was a University of Maryland alumnus and authored two books on athletics about his alma mater. He found the love of his life while attending the university. The newspaper said they met at a bar after McNamara covered a football game. The couple didn't have children.
Rebecca Smith, 34
Smith, the youngest of the victims and a new employee at The Capital, was remembered by her boss as a "thoughtful," "kind and considerate" person who made sure the sales office ran smoothly, the newspaper writes.
She lived with her fiance in eastern Baltimore County and actively posted images documenting her social life.
Wendi Winters, 65
Winters, a mother of four, was remembered as "a prolific freelance reporter and well-known community resource," according to The Capital. After more than a decade writing articles as a freelancer, Winters became a full-time staffer in May 2013.
Her daughter Winters Geimer said her mother's life "was a gift to everyone who knew her and the world will not be the same without her."
The Capital Gazette's staff includes three people on the executive staff as well as seven editors, according to CapitalGazette.com. Eight staff writers cover topics including courts, entertainment and education.
A GoFundMe account has been set up in wake of Thursday's shooting. The account was created by a fellow journalist, Bloomberg Government reporter Madi Alexander. Early Friday morning, more than $54,000 of the $70,000 goal has been raised. The initial goal of $30,000 was eclipsed in a matter of hours.
The GoFundMe page posting urged people to give what they can to help the newspaper's journalists pay for medical bills, funeral costs, newsroom repairs and other expenses.
Thanks for reading CBS NEWS.
Create your free account or log in
for more features.