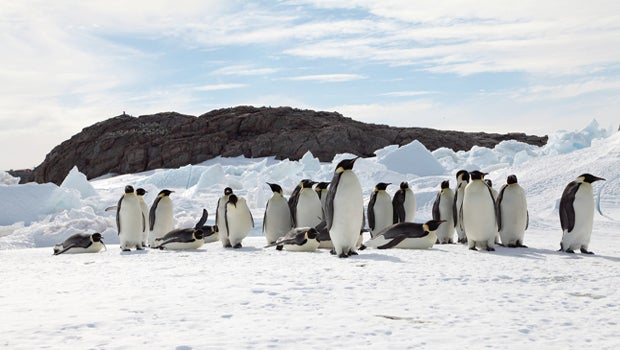 Ancient man-sized penguin may have been biggest ever
Alan Tennyson is curator of vertebrates at The Museum of New Zealand Te Papa Tongarewa
---
The emperor penguin is an impressive bird – but it would have been relatively small in comparison with some of the giant penguins that lived in the distant past.
In a paper published today we reveal an ancient giant penguin which might have been the largest to ever live.
We have named the new species Kumimanu biceae. Kumimanu means "monster bird" in Māori, and biceae honours my mother, Bice Tennyson, who fostered my interest in natural history.
Jumbled bones reveal ancient giant
Our team of researchers from New Zealand and Germany discovered the fossil in a boulder in Otago, in southern New Zealand. Painstaking extraction work slowly revealed that the rock contained a multitude of jumbled bones of a colossal penguin.
These fossilized remains of the extinct penguin help us understand the early evolution of penguins.
Flipper, body and leg bones were preserved and all are truly huge. Based on these bones, we estimate that the bird in life would have stood 1.65m tall and weighed 100kg. In comparison, the emperor penguin is 1.1m tall and weighs 23kg. The ancient penguin would have been around the same height as an average human male, and significantly heavier.
Two isolated fragments of fossil penguin bones from Antarctica reported previously may be from a larger penguin, which has been estimated to be up to two metres long. But this New Zealand specimen has many bone elements, which show that its proportions were consistently large throughout its body.
Insights into penguin evolution
The other startling thing about the new colossal fossil is its ancient age. At 55 to 60 million years old, it is nearly as old as the earliest penguin ancestors ever found. It would have lived during a geological period known as the Paleocene, just after the mass extinction 66 million years ago that wiped out non-bird dinosaurs.
Slightly older penguin fossils, found in Canterbury, New Zealand – in rocks that were 58 to 62 million years old – were from birds ranging in size from today's yellow-eyed penguin, to the emperor penguin.
Our new fossil shows that extreme gigantism in penguins, in which the size of ancient species exceeded that of the largest living penguins, evolved at the dawn of penguin evolutionary history. Giant specimens, larger than emperor penguins, are well documented from about 50 to 20 million years ago, but well preserved older examples in more ancestral lineages have been lacking.
Based on the evolutionary relationships of the new species, we conclude that Kumimanu biceae represents an independent origin of giant size, which took place soon after the origin of penguins and the evolutionary transition from flight to diving.
The new colossal bird shows that huge penguins were not unusual throughout most of penguin history. However, all these large kinds died out about 20 million years ago. We speculate that this may be because of the evolution of seals and toothed whales which ate them – or outcompeted them for food.

This article was originally published on The Conversation.
Thanks for reading CBS NEWS.
Create your free account or log in
for more features.