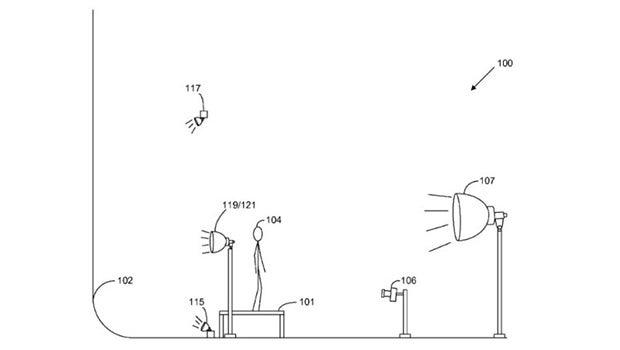 Amazon photo patent prompts Internet uproar
The U.S. Patent Office recently awarded a photography patent to Amazon. U.S. Patent No. 8,676,045 is simply titled "Studio Arrangement," and it explains exactly where to place lighting, camera position, and the subject in order to shoot photos against a white backdrop, in order to create a slight reflection near the bottom of a "near perfect" seamless backdrop.
First granted on March 18, it has just now caught the attention of everyone from Stephen Colbert on Comedy Central to bloggers around the world. The entire tech world seems to be up in arms that the patent office would even consider a patent for what is considered a basic photography technique: shooting photos on a white background and making it look seamless.
"Sorry, Wannabe Models: Amazon Now Owns the Patent for 'Photography Against A White Background,'" Time announced. "You Can Close the Studio, Amazon Patents Photographing on Seamless White," read a DIY Photography headline. The Verge called it a "patent for common photography flash setup." Colbert joked, "Amazon now has legal ownership of the idea of displaying a thing."
Petitions are making the rounds on WatchDog.net and MoveOn.org. "We don't know if Amazon is about to start sending demand letters to photo studies, or if it just wanted to be able to say that a photography 101 trick that been used for decades is something it thought up," the Watch Dog petition states, calling it an "abuse of copyright and a mockey [sic] of the patent system."
But this herd of critics is missing the main point: the patent is not just about the color of the background. The patent filing describes the specific technique and lighting placement needed to achieve a "near perfect" seamless white backdrop, including a slight reflection, in a single shot.
Photographer Ken Rockwell explained the discrepancy in a May 27 blog post. He calls it a "very clever" technique that "saves loads of time making studio shots" by eliminating the need to add or adjust the reflection using Photoshop or other programs.
If photographers don't shoot subjects just right, he explains, they need to spend time creating a fake reflection in postproduction. The new method speeds up the process, allowing photographers to eliminate postproduction time and therefore work more cost effectively.
Critics have also been pondering the point of the applying for a patent that will be nearly impossible to enforce. This point is fair -- unless studio photographers start to advertise that they're copying the technique. If they do that, Rockwell pointed out, they "might be hearing from Amazon."
Thanks for reading CBS NEWS.
Create your free account or log in
for more features.