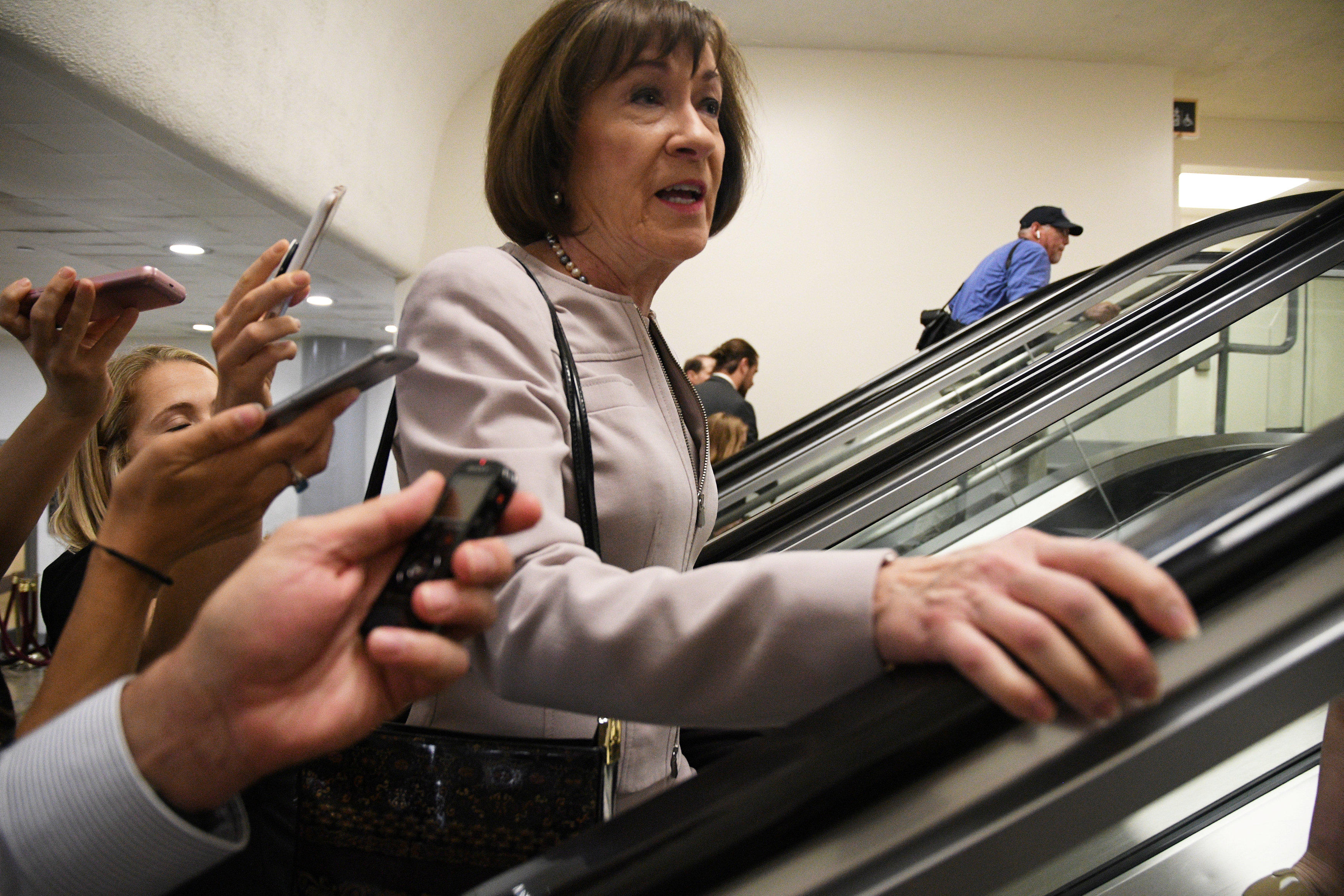 Alumni and faculty call on St. Lawrence University to rescind Susan Collins' honorary degree
Alumni and faculty at the alma mater of Sen. Susan Collins, R-Maine, are calling on university officials to rescind an honorary degree awarded to her as punishment for voting to confirm Supreme Court Justice Brett Kavanaugh earlier this month.
More than 1,800 alumni and dozens of faculty at St. Lawrence University are sending letters to university officials on Tuesday demanding they take back an honorary degree the senator received in 2017. Collins graduated from the tiny liberal arts college in northern New York in 1975, and she has received two honorary degrees from the school, mostly recently an honorary doctorate of Humane Letters.
A letter co-signed by more than 1,300 alums states that they believe Collins's support for Kavanaugh "is not in line with the core values" of the university. While Collins was awarded her honorary degree in 2017 in recognition of the fact that she was not supporting GOP attempts to repeal the Affordable Care Act, her support for Kavanaugh shows a "lack the integrity and commitment to justice that we expect from the St. Lawrence body," the alumni's letter says. They call on the university to revoke the degree "in support of truth and for all of the victims of sexual assault and violence, of which many of her fellow alumni and students have suffered."
A separate message co-signed by dozens of faculty members says that revoking Collins's honorary degree has nothing to do with partisan politics, but would help "dismantle rape culture" – what they define as "attitudes and behavior that normalize and condone sexual assault."
"While our campus has come a long way in the years since Senator Collins was a student here to educate the campus population about sexual assault and harassment, and to adjudicate it fairly when it happens, we still have much hard work before us in and outside of the classroom," the faculty wrote.
The faculty members add that since Collins is one of the school's most distinguished alums, "speaking out against her actions is an exceptional act that contains risk, which is exactly why we find it the right action to take. It communicates that we find the dismantling of rape culture more important than saving face or avoiding critique that has the potential to threaten relationships with people who wield considerable power."
Alumni and faculty state that they are only interested in revoking Collins's 2017 honorary degree and not an honorary doctorate of law she received in 1998.
A spokeswoman for Collins didn't immediately reply to a request for comment.
Collins became the final GOP holdout to announce her support for Kavanaugh's Supreme Court nomination, sealing his fate after weeks of uncertainty amid accusations that he had sexually assaulted a teenage girl he knew when he was in high school and exposed himself to a Yale University classmate. Kavanaugh strongly denied the charges in a nationally-televised Senate hearing that also included testimony from Christine Blasey Ford, who said Kavanaugh assaulted her when they were high school students in 1982.
St. Lawrence University is located in Canton, New York and has roughly 2,400 undergraduate students.
In a statement, university spokesman Ryan P. Deuel said that the school doesn't take political positions and that honorary degrees are awarded based on recognition for achievements in the arts, academia, business, contributions to society or for having close ties to campus.
"Throughout its long history, St. Lawrence University has never rescinded any earned or honorary degree, and it has no intention of doing so in this situation," Deuel said.
In a recent "60 Minutes" interview, Collins said that she would never vote for a Supreme Court nominee "who had committed sexual assault or who had lied about sexual assault – that's not a hard call for me. I would have voted no if I disbelieved Judge Kavanaugh, but given his denials and the lack of evidence that this happened, I just did not think that it was fair to ruin the life of this distinguished judge and his family over allegations that cannot be proven."
Collins in the interview also detailed how she and family members had been receiving threats of violence since her vote. On Tuesday, the FBI confirmed it had responded to a suspicious letter sent to the senator's home in Bangor, Maine, adding that preliminary testing indicated there was no threat.
Thanks for reading CBS NEWS.
Create your free account or log in
for more features.