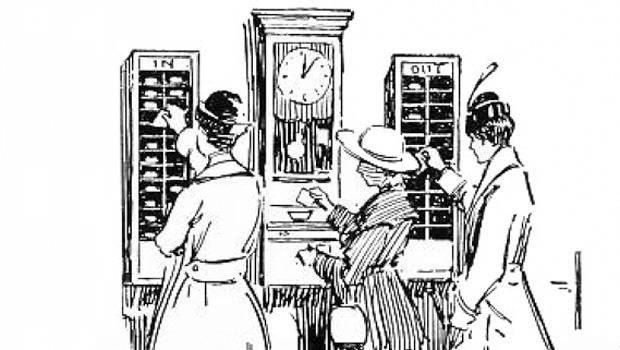 Almanac: Workplace time clock
And now a page from our "Sunday Morning" Almanac: October 30th, 1894, 122 years ago today ... the perfect day for a workplace punch.
For that was the day Daniel M. Cooper, of Rochester, N.Y., received a patent for his "Workman's Time Recorder" -- the first device to use a card to record the time at which an employee punched in and punched out from work.
The first such workplace time clock, but hardly the last.
Cooper sold his patent to a local businessman, who then created a company to market the Rochester brand time recorder ... a company that eventually became part of IBM.
Time clocks quickly became a ubiquitous part of the American industrial landscape. Factory workers were punching in at workplaces large and small ... a practice familiar enough to become a part of our popular culture.
Today's time clocks go far beyond the card technology of Daniel M. Cooper's time. With an eye toward avoiding so-called "buddy" punch-ins (having a friend punch in for you), many modern clocks use biometrics to validate identity, as with a product called Wasp Time, which uses a "fingerprint recognition window."
And though the time clock is still very much with us, the rapid growth in telecommuting is giving it a run for its money.
According to one recent analysis, the number of home-based workers "logging on" rather than punching in jumped 100% between 2005 to 2014, with nearly three percent of all employees now working from home at least half the time.
Thanks for reading CBS NEWS.
Create your free account or log in
for more features.