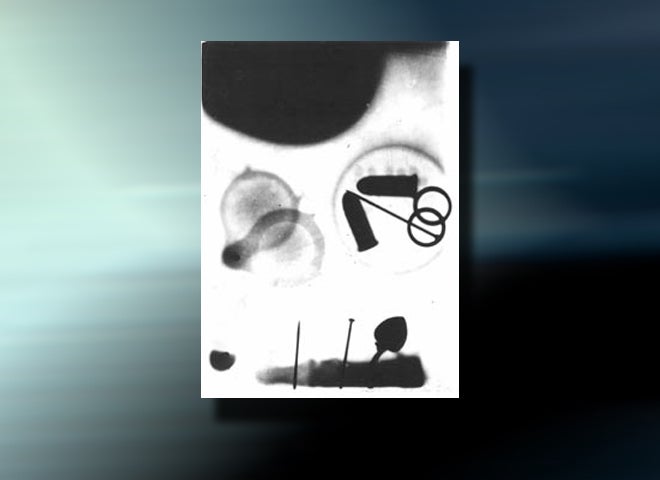 Almanac: The first American X-ray
And now a page from our "Sunday Morning" Almanac: January 12th, 1896, 118 years ago today . . . the date of an historic rogue X-ray at Davidson College in North Carolina.
On that night, three of Professor Henry L. Smith's students bribed a janitor to let them into the physics lab, where they made an experimental X-ray photograph of items that included two bullets, two rings, and a finger cut from a cadaver.
One of the first X-ray images in America, it was hardly the last.
The very next month, Professor Smith published his own X-ray photograph of a cadaver's hand.
Other, more medically beneficial uses for X-rays soon followed.
Ghostly and mysterious to the layman, X-rays captured everything from fractures to conjoined twins -- and captured the popular imagination, too.
From the 1920s to the early '70s, many shoe stores featured X-ray machines that supposedly helped to assure a perfect fit -- but also emitted poorly-regulated levels of radiation.
Michael Caine used the device to examine mysterious sealed objects in the film, "Billion Dollar Brain" ...
... while in the 1978 movie, "Superman," the visitor from Krypton showed off his X-ray vision to a perhaps too-curious Lois Lane.
Back in the real world, the debut in 2007 of airport security scanners -- called backscatter X-ray -- that produced all-too-explicit body images raised widespread safety and privacy concerns.
A health study last year by the American Association of Physicists in Medicine concluded: "The risk to the individual is thought to be close to zero" . . . while the TSA assured the traveling public just last month the scanning software now in use creates "a generic outline of a passenger that is identical for all passengers."
... and also that none of its employees is from Krypton.
For more info:
Thanks for reading CBS NEWS.
Create your free account or log in
for more features.