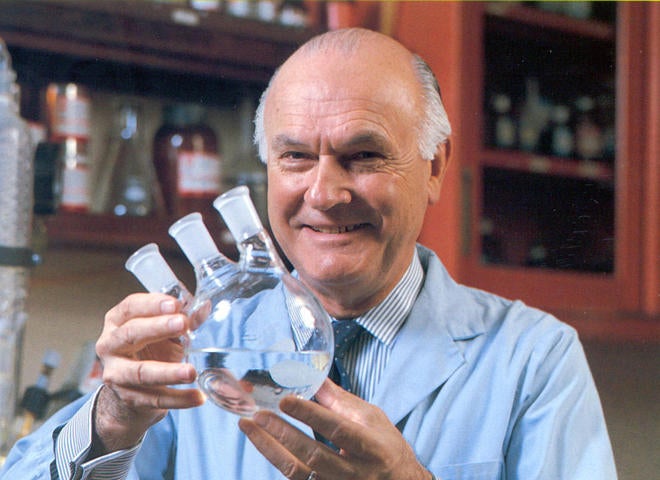 And now a page from our "Sunday Morning" Almanac: March 26th, 2011, six years ago today … the day Harry Coover died at the age of 94.
An Eastman Kodak chemist during World War II, Coover was trying to perfect a clear plastic gunsight for the military.
But during experiments with a substance known as cyanoacrylate, Coover encountered a problem, as he recalled years later in a video from the National Science and Technology Awards Foundation:
"Everything was sticking to everything," Coover said. "Finally, the government cancelled the contract."
Over time, however, Coover came to realize the value of an all-sticking adhesive.
And the result was Eastman 910 -- a product eventually re-branded as Super Glue, which Coover demonstrated for host Garry Moore on TV's "I've Got a Secret":
"Dr. Coover's secret is the the only thing between my 150 pounds and that wire, will be one drop of glue," Moore said.
Not that Super Glue's usefulness was confined to TV stunts and home repairs. As Coover explained, it had remarkable healing powers as well:
"During the Vietnam War, one of the generals came to us and said, 'I want this for us out on the battlefield. When the medics go out on the battlefield, a guy's got a big hole in his belly or someplace, bleeding. And he takes this and just sprays it, and that instantaneously stops the bleeding.'"
In the years since, a slightly different form of that very same chemical has been developed to heal wounds and to replace stitches in surgery.
As for Harry Coover, he racked up more than 400 patents during his career, and he received the National Medal of Technology and Innovation in 2010.
Making the case that, when you stumble upon an unexpected discovery, just stick with it.

For more info:
Thanks for reading CBS NEWS.
Create your free account or log in
for more features.