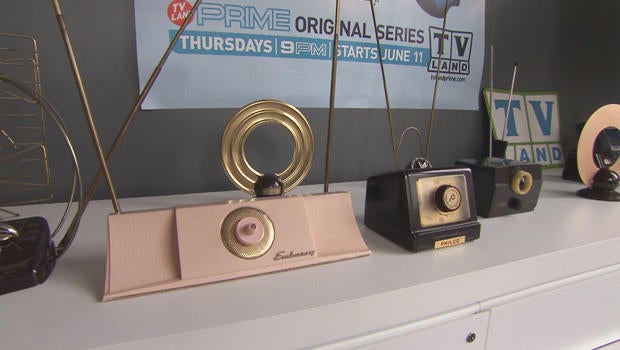 And now a page from our "Sunday Morning" Almanac: September 16, 1919, 99 years ago today … the birthday of the late Marvin Middlemark, the inventor of the TV antenna known as "rabbit ears."
Back in TV's early days, the only way to get a picture was to capture the broadcast signal out of thin air.
And one way of doing that was with rabbit ears, usually after much fiddling around with their location, as Jackie Gleason and Art Carney demonstrated in a classic "Honeymooners" episode.
Usually placed on top of or close to the TV, rabbit ears were a common sight in millions of living rooms.
"Those rabbit ears, sure, they did a function, which was to bring great reception into your house. But also on top of that, they were a major, major decorative item," said Larry Jones, who was the president of the TV Land cable channel when he shared his love of rabbit ears with "Sunday Morning" back in 2009:
"I look at them as pieces of art. Initially when I saw one, I thought they were very sculptural. Some of them are very, very intricate and very twisted. But also as a pure representation of American pop culture, it really defined an era."
A mostly BYGONE era, as it happens, now that cable, satellite and streaming have largely replaced over-the-air signals as the way most of us watch television.
Still, for the generation that grew up with them, there's no forgetting those funny-looking ears that first helped us to see.
Story produced by Cai Thomas.
Thanks for reading CBS NEWS.
Create your free account or log in
for more features.