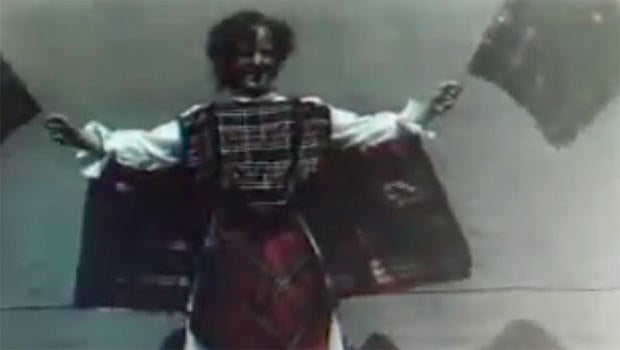 Almanac: Natural color comes to movies
And now a page from our "Sunday Morning" Almanac: February 26th, 1909, 108 years ago today … a colorful day in movie history.
For it was on that day at the Palace Theater in London that natural color movies were shown to a public audience for the very first time.
"Woman Draped in Patterned Handkerchiefs" was one of the short films on the program that day, shot in a process called Kinemacolor.
To watch "Tartans of Scottish Clans" and "Woman Draped in Patterned Handkerchiefs," from the British Film Institute, click on the video player below:
Invented by George Albert Smith, Kinemacolor used a rotating filter of red and green gels in its cameras and projectors to create its color images.
Cumbersome and expensive, Kinemacolor's two-color system couldn't reproduce blue or true white, and its images suffered from green-and-red "fringing" around the edges.
Kinemacolor was eventually overtaken by Technicolor, which had developed a three-color system that produced a more true-to-life picture.
Though not the first films shot in Technicolor, 1939's "The Wizard of Oz" and "Gone With the Wind" put Technicolor on the map for good.
And so, on this Oscar Sunday, we pause a moment to salute those polychromatic pioneers of times gone by.

For more info:
Thanks for reading CBS NEWS.
Create your free account or log in
for more features.