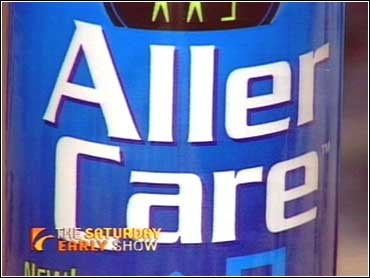 A household pesticide has been blamed for hundreds of medical problems. The product, AllerCare, has been pulled off the market. But you still may have it at home. CBS News Consumer Correspondent Herb Weisbaum reports.

---

AllerCare was supposed to make life easier for people with allergies. But in some cases, it made things a lot worse

Donna Banks told WBZ-TV in Boston what happened to her kids just a few hours after using AllerCare. "This is where I used the AllerCare spray, on the carpet and all over the sofa," she explains. "They woke up crying, saying their eyes hurt, 'my eyes are all wet.' And I looked at them. Their eyes were swollen and tearing," said Banks.

AllerCare, from S.C. Johnson, went on sale in August. There was a powder for carpets and a spray version that could also be used on upholstery.

Both promised to kill dust mites, a major cause of indoor allergy symptoms.

But almost immediately there were complaints that AllerCare was making people sick. They included 4-year-old Justin Proulx.

"He came in screaming and crying, 'Mommy, Mommy, it hurts,' with his hands over his eyes," said Justin's mother.

And then there are the Neff kids. They're fine today. But after their mom used AllerCare on the carpets, Steven ended up in the emergency room with an asthma flareup. And sister Abby, who never had allergy problems before, was left covered with hives.

Sometimes the symptoms were even worse. Twenty-one-month-old Tyler Rich, who has asthma, spent 24 hours in intensive care and four more days in the hospital.

"It just inflamed his bronchioles to the point where it would cause them to close up," said Tyler's father.

Peter Silva and his son Peter Jr. suffered burning eyes and skin after their home was treated with AllerCare. Peter Sr.'s eyes swelled so badly he went to the hospital.

S.C. Johnson paid to completely strip the family's home. Christine Silva watched as workers wearing respirators removed anything that might be contaminated, from the carpets to the cushions on the dining room chairs.

"Every piece of clothing went, draperies, everything," said Christine Silva.

S.C. Johnson now says this massive cleanup went way beyond what was needed. The company says over 99 percent of those who purchased AllerCare were well satisfied, and it claims only a tiny fraction of those who used the product had any problems.

But last month, after receiving reports of more than 400 adverse incidents and at the urging of the Environmental Protection Agency, Johnson stopped production and pulled AllerCare powder and spray off the market.

Most of the AllerCare is now out of stores. But on Thursday, the EPA issued a news release saying some consumers are not aware of the recall and are still using the product. That has resulted in more reports of adverse effects.

S.C. Johnson says it's the fragrance that is causing the problems, and that some peoplare just hypersensitive to it. The EPA is not so sure and is continuing its investigation.

If you have it in your house, the EPA is urging you to contact your physician before you use it, especially if someone in the family has asthma, allergies or some other sort of respiratory condition.

If you want to return the product, contact S.C. Johnson at the toll free number, 1-877-255-3722.

For more information go to the EPA Web site or the American Academy of Allergy, Asthma and Immunology Web site.

The number for the National Pesticide Telecommunications Network is 800-858-7378.

Go to the S.C. Johnson Web site for the company's notice regarding AllerCare.

Thanks for reading CBS NEWS.
Create your free account or log in
for more features.