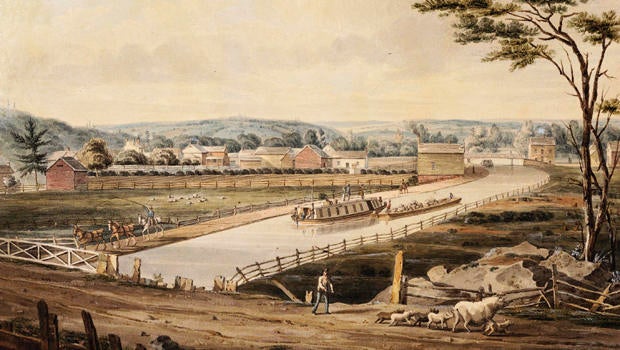 THE WAY WEST became a lot easier for 19th century Americans thanks to the canal they started to build 200 years ago this past Tuesday ... so much easier, in fact, that people are STILL singing its praises. Our Sunday Morning Cover Story is reported by Richard Schlesinger:
Even though the Erie Canal quite literally helped shape this nation, this is what so many people think of first when the canal comes up in conversation:
"I've got an old mule and her name is Sal,
Fifteen years on the Erie Canal…"
But except for the fact that mules did indeed drag boats along the Erie Canal from Albany to Buffalo, even singer and historian Dave Ruch will tell you the song actually has very little to do with it.
Was it ever actually sung on the Erie Canal? "Turns out, it's a 20th century song," Ruch said. "It's actually written by a professional songwriter who was from, of all places, Massachusetts.
"Thomas S. Allen, he comes to Rochester, New York around 1910, sees the canal for the first time, hears the phrase 'low bridge,' and he ends up composing the song. It's the only canal song he wrote. Not only was he not a canal man, but no one ever sang the song, at least on the 19th century canal."
The canal, which turned 200 years old last Tuesday, was championed by a man who was as stubborn as a mule: Dewitt Clinton, a mayor of New York City who became governor of the state. He spent 10 years fighting to sell this project to a deeply skeptical public. "It was not an easy sell," said Brad Utter, a New York State Historian.
Presidents Jefferson and Madison refused to help fund the canal, so Clinton had to raise the $7 million needed to build it.
Some people thought it was a great idea. "But not with my money," said Utter. "You're a little crazy, because you're trying to go through swamps and virgin forests, and there's no labor, there's no machinery to do that kind of thing. This is all new!"
It was a gargantuan undertaking for a nation just 41 years old. The canal would be dug by hand, every inch of it -- 40 feet wide, 4 feet deep -- for 363 miles. Eighty-three locks would have to be built.
But Clinton kept at it -- financed the project with some state money and by selling bonds -- and construction began July 4, 1817.
It was completed in just eight years -- in advance and under budget.
A trip that could have taken six weeks before the canal now took less than one week, and cost one-tenth of an overland trip. So as soon as it opened, the canal was overwhelmed with traffic, and it paid for itself with tolls in just 10 years.
"Sometimes there was a day or two wait just to get through the locks," said John McKee, who operates the locks in Lockport, N.Y. "Boats would be packed up on both sides of the banks. And of course while they were lined up, waiting to go through, they would spend their time and money in town here. And that added to the population here in Lockport."
Population grew in towns all along the canal. Rochester, N.Y. Mayor Lovely Warren traces the beginnings of her city to the canal.
"The Erie Canal was the foundation of Rochester," Mayor Warren said. "It was the foundation of our industry. We were a flour mill city, and that's the way that Rochester first started to build itself up. Population started to grow once the Erie Canal came into fruition."
But the canal also accelerated the western expansion of the nation. People and commerce were able to reach and develop what would become the American Midwest. A region that was isolated and landlocked was now connected, via the canal and the Hudson River, down to New York City and the world.
Within just a year or two, Utter said, there were calls to make the Erie Canal even bigger.
And they did. By 1862 the canal was almost twice as wide and twice as deep. People, goods and ideas flowed 24 hours a day in both directions.
"The impact that the Internet has had on our culture and our society is very similar to the impact that the canal had -- sharing ideas, making things faster," said Utter.
The canal was also a link in the Underground Railroad: "Frederick Douglass would bring slaves here and actually lead them to freedom," said Mayor Warren.
The first women's rights convention was held in Seneca Falls, a canal town; and Joseph Smith started the Mormon religion in Palmyra, along the shores of the canal.
But the progress and prosperity was not shared by all. The canal was dug right through traditional Native American land, displacing many who lived there, to make way for the commerce that grew steadily for decades ... until the next great advance: railroads.
"The Iron Horse was there to compete," said Utter. "The canal was more efficient; you could pull more with less energy, and it's cheaper. But the railroad was fast."
The railroad took passenger traffic first, leaving the canal boats to haul mostly freight. But by the 1950s, most of the freight traffic was gone, too.
Today most of the boats John McKee puts through the locks are pleasure-craft. The gates are operated by motors that are a century old.
McKee and most everyone who works on the canal system feels the history of what in its early days was derided as "Clinton's Ditch."
Josh Pagan keeps digging today to keep the canal deep enough. "I realize that I worked at a museum that's stretched from the Hudson River to the Niagara River in Buffalo and connected us to Lake Ontario," Pagan said.
The value of the canal cannot be measured anymore in tons of freight or numbers of passengers that it moves. But it is hard not to be moved by the canal itself -- and the achievement, two centuries ago, of just getting it dug.
"What it represents," said singer Dave Ruch, "is American ingenuity and American spirit. And so the fact that we still have this canal here today, I think it should be celebrated as long as we can keep it here."
Many thanks to Dave Ruch for providing the music to our story.

For more info:

See also:
Thanks for reading CBS NEWS.
Create your free account or log in
for more features.