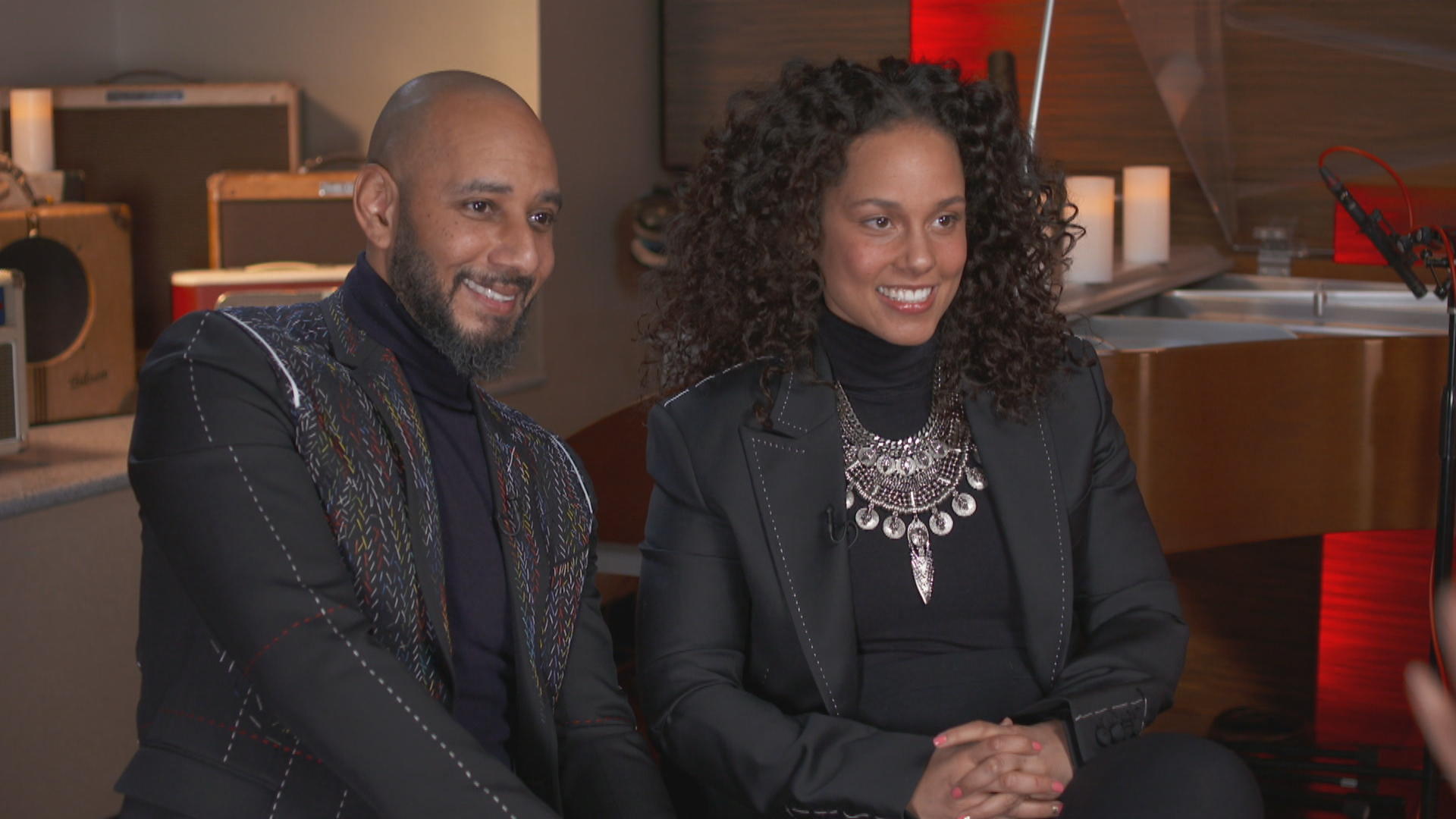 The powerful partnership of Alicia Keys and Swizz Beatz
Alicia Keys has sold more than 30 million albums worldwide and won Grammys for songs like "No One," "Fallin'" and "Empire State of Mind." Her husband, Grammy Award-winning producer Swizz Beatz, is the man behind songs like Kanye West's "Ultralight Beam," Jay-Z's "On To The Next One," and Beyoncé's "Ring the Alarm."
On Thursday night, the Recording Academy will honor the couple with the Producers & Engineers Wing Award. "CBS This Morning" co-host Gayle King sat down with them ahead of their big night, for their first TV interview together. The organization called the couple "an undeniable force in the industry" whose contributions are "paramount."
For both, music has long been a part of their world. Keys started playing piano at 7 years old and Beatz began DJing in high school.
"So what does it mean to you both, as we sit here getting ready to celebrate Grammy weekend?" King asked.
"Well, for me it's – music is the instrument of life," Beatz said. His wife agrees.
"I feel like….Music is the – it's the answer. It's the reason," Keys said. "It's so powerful. That's why we all love it. That's why we can't live without it. It's, like, Quincy Jones said, 'There's two things you can't live without. Water and music. And I was like, 'Yes.'"
He is one of hip hop's most critically-acclaimed Grammy-winning producers and she has 15 Grammy wins under her belt. But Keys says her best is still yet to come.
"The best thing I've ever done is coming," she said.
"That's a real fact," added Beatz.
Kanye West has called Beatz the best rap producer in the business and he's worked with the world's biggest musicians including Beyoncé, Jay-Z, Gwen Stefani and Madonna.
"So what do people get when they get Swizz Beatz as their producer?" King asked.
"They get super honesty. A lotta challenges. A good time," he said. "You only get positive energy when you – when you're in the studio with me."
"He really, he knows how to make you feel comfortable," Keys said.
While the two rarely find something bad to say about the other's work, that Swizz Beatz honesty can be tough to hear.

"He's brutally honest. I'm like, babe, could you, like, be a little sweeter with the way you gave that to me?" Keys joked.
"This is a thing that I like about the two of you together, because it does feel that you are each other's cheerleaders," King said. "But is there ever a healthy competition between the two of you?"
"You know, I would say no, because I feel that one of the things that really works about us is we're very different," Keys said. "Even his style of music is different from my style of music….We complement each other as opposed to kind of ever in each other's way….We don't rock like that."
"That's an unhealthy vibe for any couple, you know, a lot of men are scared of powerful women. Right? And so I know she's powerful, and she's been powerful way before – before she even got here she was powerful," Beatz said.
That power doesn't scare him. He loves it.
Beatz recently moved beyond the studio. Last fall, he earned a degree from Harvard University's Owner/President Management Program. It's an accomplishment that inspired him to create the motto: "From the Bronx to Harvard."

"The number one thing that people wanna talk to me about now when I walk around is Harvard. A lot of people said, 'Man, we – we graduated.' You know, it's not like a me thing. It's a we thing," he said.

"I was so excited," Keys said of learning he wanted to attend Harvard. "I've been so invested in this journey with him….For the first time – I'll never forget. We were literally in this room when he got the letter of acceptance. And it was, like, such a moment, because it was so powerful. Like, this dream that he had to do this. By the way, in order to do that, there's a lot that's required to even be accepted. He can't just be like, 'hey, I'm coming in.'"

He was rejected multiple times by the Ivy League university before being accepted.
"I got turned down….three times," he said. "I was like, you know what? I've tried, you know, three times. Maybe this is not for me. Bang. And – and that's why you really can't ever give up."
Ambition runs in the family. Keys is stepmom to Prince, Kaseem and Nicole. Together, the two have three-year-old Genesis and seven-year-old Egypt. He made headlines at five years old when he created an original beat for Kendrick Lamar.
"He didn't know who Kendrick was. He just seen him and was attracted….To his light," Beatz said.
The young Egypt went up to Lamar and started telling about him about music.
"'You know what guitar that is? That's electric. You hear that? That's the piano. I play piano.' Like, he's just, like, findin' his way with Kendrick," Beatz said. "It was epic….I don't even have a track on Kendrick's album. I was jealous."
What's next for the two? Maybe a new addition to the family – if the universe so wills it.

"You gotta talk to the universe. Universe. I'm not ready right now, universe. Hear me loud and clear," she joked.
"But you are open to a baby Alicia?" King asked.

"It would be pretty unbelievable."
Thanks for reading CBS NEWS.
Create your free account or log in
for more features.