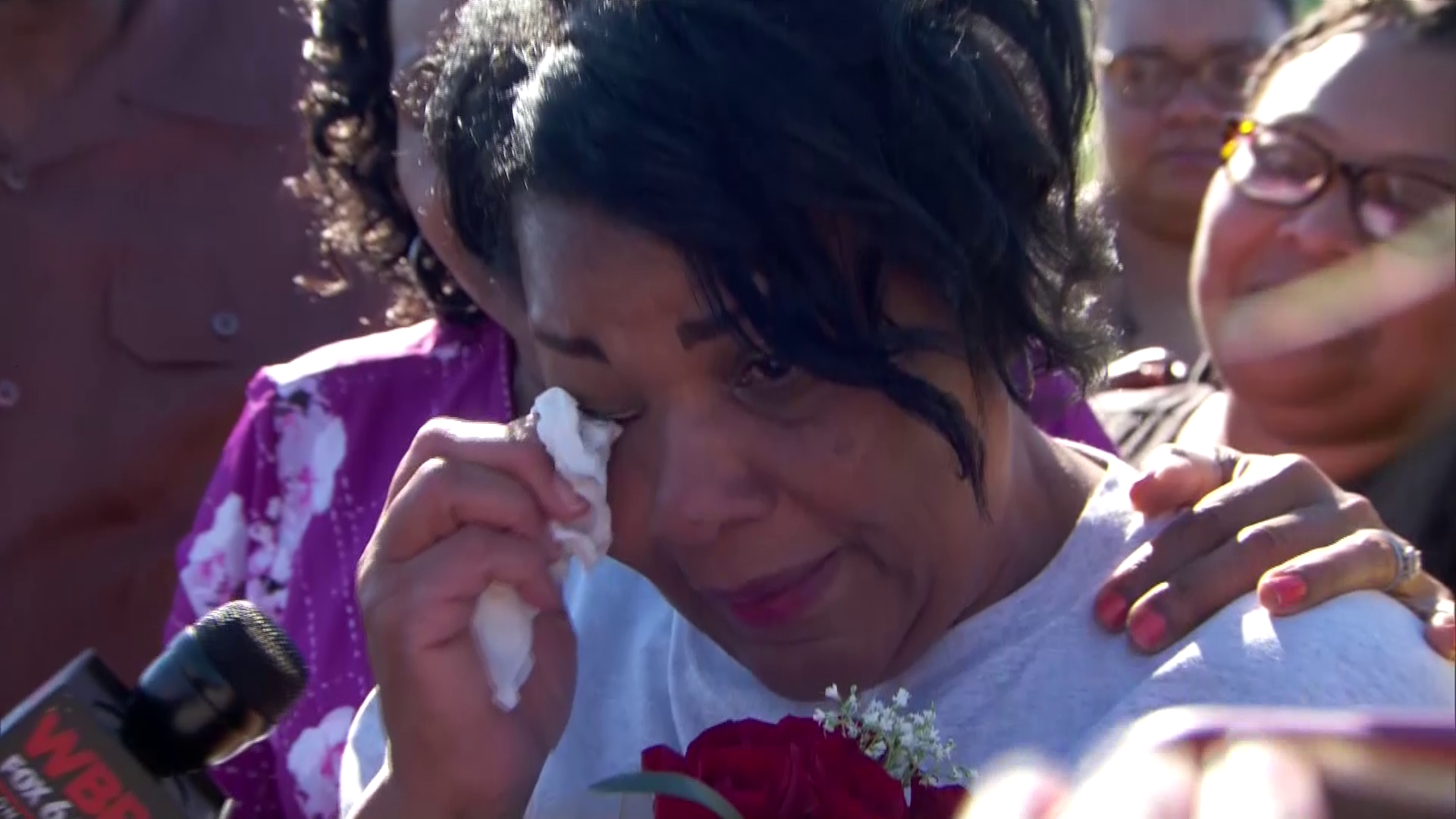 Alice Marie Johnson, championed by Kim Kardashian West, released from prison
A grandmother whose life sentence was commuted by President Trump on Wednesday was released from an Alabama prison the same night, her lawyer said. Alice Marie Johnson, 63, reunited with her family in dramatic video captured by CBS News. She was behind bars for 21 years.
Johnson's case was championed last week by reality TV personality Kim Kardashian West, who met with Mr. Trump at the White House about sentencing and prison reform.
In videos posted to Twitter by CBS affiliate WCBI-TV's Quentin Smith, Johnson is greeted by dozens of family members who see her for the first time since she was freed. She was given a bouquet of flowers too.
In video footage from the scene, Johnson said, "I want to thank Donald John Trump," with cheers and screams in the background as she wiped away tears.
"He gave me another chance in life and restoring me to my family," Johnson added. "I want to thank Kim Kardashian West ... thank you Kim ... I'm free to live life and free to start over ... I have a lot of catching up to do with my family ... I can't wait to get back on the workforce ... and get back to my community."
"She has truly been relentless in her fight for me," Johnson said of Kardashian West. "To know a woman who has never met me ... who has embraced my story and taken me into her heart ... this is not just a publicity thing for her. Kim told me when she left that White House meeting that no matter how this turns out ... she would never stop fighting for me."
It was Kardashian West who got to break the news of the commuted sentence to Johnson. One of Johnson's lawyers, Brittany Barnett said that Kardashian West joined a phone call with Johnson and her legal team. Kardashian West then tweeted, "The phone call I just had with Alice will forever be one of my best memories. Telling her for the first time and hearing her screams while crying together is a moment I will never forget."
Kardashian West became interested in Johnson after she saw a Mic interview about her case. She said she "was not only moved to tears, but moved to action."
In a statement Wednesday from Kardashian West, she thanked Mr. Trump, Jared Kushner and "everyone who has showed compassion and contributed countless hours to this important moment" for Johnson.
"Her pardon ... is inspirational and gives hope to so many others who are also deserving of a second chance," Kardashian West said. "I hope to continue this important work by working together with organizations who have been fighting this fight for much longer than I have and deserve the recognition."
Johnson was convicted in 1996 for "leading a multi-million-dollar drug ring that dealt in tons of cocaine from 1991-1994," according to the Tennessean. She was tried on charges of cocaine conspiracy and money-laundering charges.
"While this Administration will always be very tough on crime, it believes that those who have paid their debt to society and worked hard to better themselves while in prison deserve a second chance," a White House statement read. It also said that she has accepted responsibility for her behavior and has been a model prisoner.
CBS News' Washington correspondent Paula Reid contributed to this report.
Thanks for reading CBS NEWS.
Create your free account or log in
for more features.