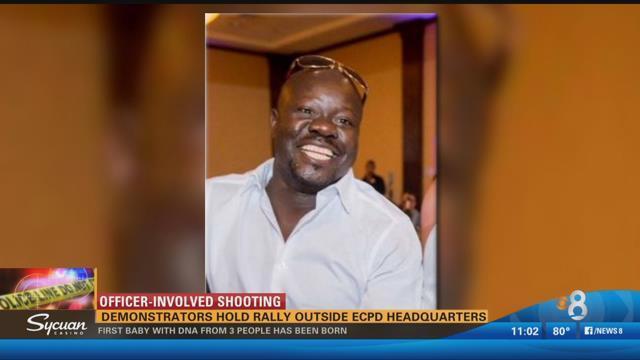 Officer won't be charged in shooting of disturbed man holding e-cigarette
SAN DIEGO -- A suburban San Diego police officer won't face criminal charges for fatally shooting a disturbed black man, a prosecutor announced Tuesday, saying the officer had reason to believe he was in danger when the man suddenly raised both hands and pointed what appeared to be a weapon but actually was an e-cigarette device.
The shooting of 38-year-old Alfred Olango last fall in El Cajon was a reasonable use of force, San Diego County District Attorney Bonnie Dumanis announced.
"The law recognizes police officers are often forced to make split-second decisions in circumstances that are tense, uncertain and rapidly evolving," Dumanis said.
Her office determined "the only reasonable conclusion was the officer's actions were justified," she said.
"The circumstances surrounding Alfred Olango's death are tragic," Dumanis told CBS affiliate KFMB. "They lost a brother."
Olango's shooting in September prompted days of protests and his relatives filed wrongful-death claims with the city, which usually precede lawsuits. They said Olango, a native of Uganda, had a breakdown after the death of a close friend.
Olango's father and others had said they doubted that the district attorney's office could conduct an impartial investigation and they called for an independent probe.
The Rev. Shane Harris of the civil rights group National Action Network, who has been in regular contact with the family, said he was disappointed but not surprised by the decision.
Harris called the decision "a slap in the face."
"We are outraged," Harris told KFMB. "We are not shocked but we're outraged."
Dumanis acknowledged that the shooting had drawn international attention and protests.
"We are living in a time where the actions of police officers are under scrutiny more than ever, especially when it comes to police shootings," Dumanis said.
Olango was shot on Sept. 27 in the parking lot of a taco shop after police received 911 calls from his sister and others saying he was acting erratically and walking in traffic.
Dumanis said Olango repeatedly refused demands by an officer and pleas by his sister to take his hand out of his pocket.
When he finally did, cellphone and surveillance camera video released by authorities showed him in a shooting stance, with both hands around a metallic, cylindrical object that turned out to be a bulky e-cigarette vaping device.
Olango extended both arms "simulating the firing of a weapon directly at the officer," who ducked and fired four shots, Dumanis said.
The officer who was investigated and another officer armed with a Taser both fired within a minute of confronting Olango.
Olango's sister had described her brother as unbalanced in multiple 911 calls and asked that he be taken to a mental health facility.
Toxicological studies performed on blood collected from Olango in a hospital emergency room tested positive for cocaine and alcohol, reports KFMB.
An attorney who announced the family's wrongful-death claim filings in November said they want to send a message that police across the nation must do better when dealing with people in mental crisis.
The El Cajon Police Department has specially trained officers to help defuse sometimes-volatile situations that involve people in the throes of mental illness. However, officials said none were available to go to the call involving Olango.
Dumanis also announced at the news conference that four other deadly law enforcement shootings in the county last year were justified.
They involved a man who fired hunting arrows at sheriff's deputies; a man who fired a gun at a deputy then stole a patrol car and carjacked a driver before being shot; a gang member who was killed because deputies thought he was reaching for a gun in his waistband and was armed with a knife, and a man who held a gun to his ex-wife's head after shooting three of her relatives, including her father, killing two.
Thanks for reading CBS NEWS.
Create your free account or log in
for more features.