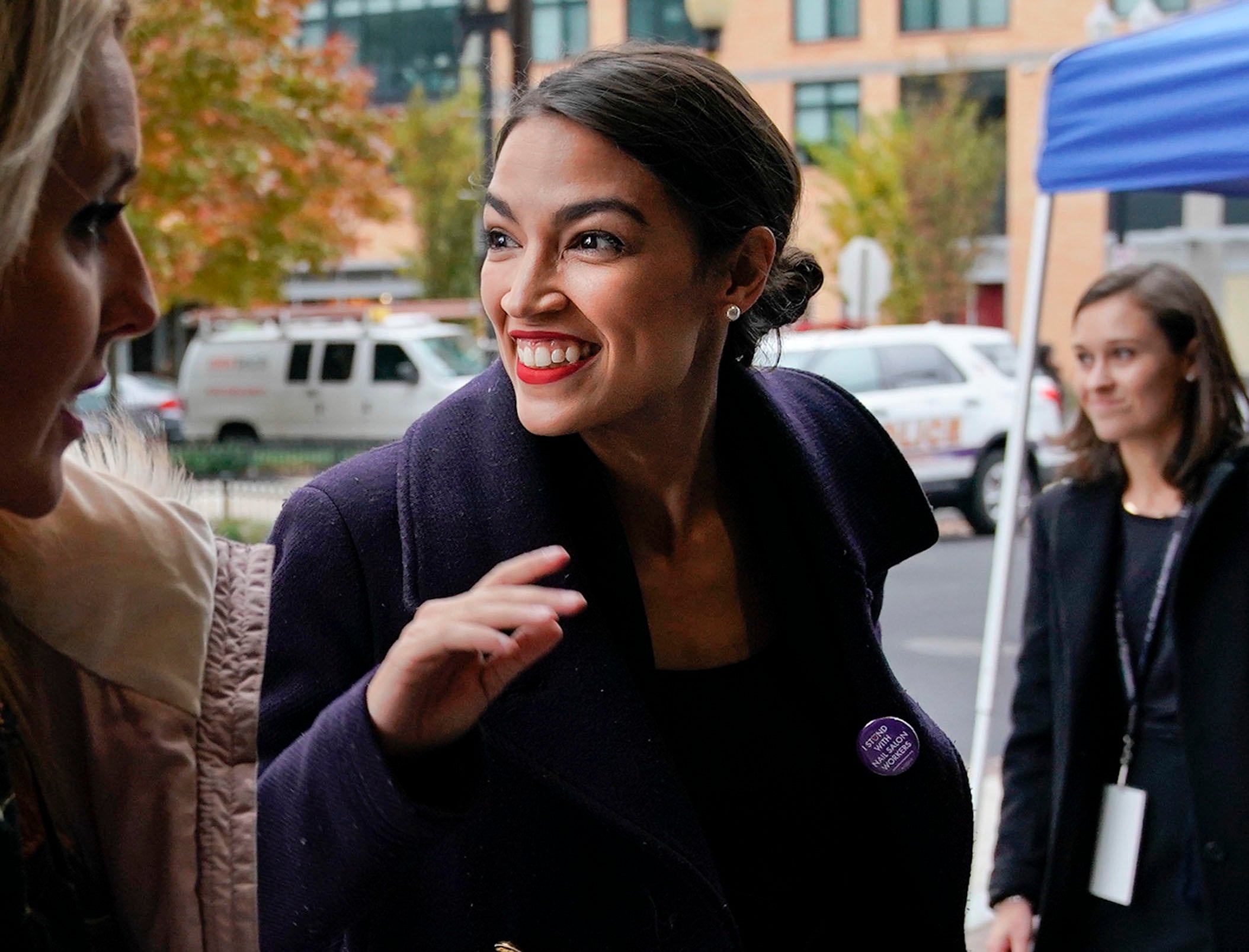 Alexandria Ocasio-Cortez participates in protest outside Nancy Pelosi's office
New York Congresswoman-elect Alexandria Ocasio-Cortez, the most prominent of the progressive millennials elected to Congress in the midterm elections, joined a protest led by left-wing groups Justice Democrats and the Sunrise Movement outside House Minority Leader Nancy Pelosi's personal office calling for House Democrats to put forward a climate plan. Protesters called for Democrats, who will have a substantial majority in the House next year, to create a select committee to develop a plan to switch to 100 percent renewable energy.
The demonstration was spurred by a recent United Nations report which showed that the world only has 12 years to limit global warming to manageable levels. Ocasio-Cortez, who is in Washington for new member orientation, spoke before a group of protesters with signs bearing slogans such as "Green Jobs For All."
"I just want to let you know how pride I am of each and every single one of you for putting yourselves, and your bodies, and everything on the line to make sure that we save our planet, our generation, and our future," Ocasio-Cortez said, as a group of protesters sat circled around her. Pelosi was not at her office at the time.
In a response to the protests, Pelosi said in a statement that she was "inspired by the energy and activism of the many young activists and advocates leading the way on the climate crisis."
"I have recommended to my House Democratic colleagues that we reinstate the select committee to address the climate crisis," she said in the statement. "We welcome the presence of these activists, and we strongly urge the Capitol Police to allow them to continue to organize and participate in our democracy."
Pelosi, who is running to serve as speaker of the House for the second time, has faced opposition from some of the younger and more progressive members of the House. Several new members promised as candidates that they would not support Pelosi as speaker. Earlier this month, Ocasio-Cortez told "Democracy Now" that she was not committed to supporting Pelosi.
Wariness by some members about the embattled Democratic leader has been met with shows of support by Pelosi allies. An open letter is being circulated by her supporters telling Pelosi that "we applaud your battle-tested record of delivering major accomplishments in the face of great challenges."
"Now that we are faced with unprecedented threats to our democracy, women, minorities, and even the most basic American values by President Trump, we need your effective leadership more than ever to advance our efforts to help hard-working families get ahead," the letter continued. It is not yet clear how many members have signed the letter.
Meanwhile, groups such as Justice Democrats remain wary of Pelosi's commitment to progressive policies.
"Nancy Pelosi and the Democratic Party leadership must get serious about the climate and our economy," said Justice Democrats communications director Waleed Shahid. "Anything less is tantamount to denying the reality of climate change. The hopeful part is that we're ushering in a new generation of leaders into the Democratic Party who understand the urgency and will help build a movement to create the political will for bold action."
Bo Erickson contributed to this report
Thanks for reading CBS NEWS.
Create your free account or log in
for more features.