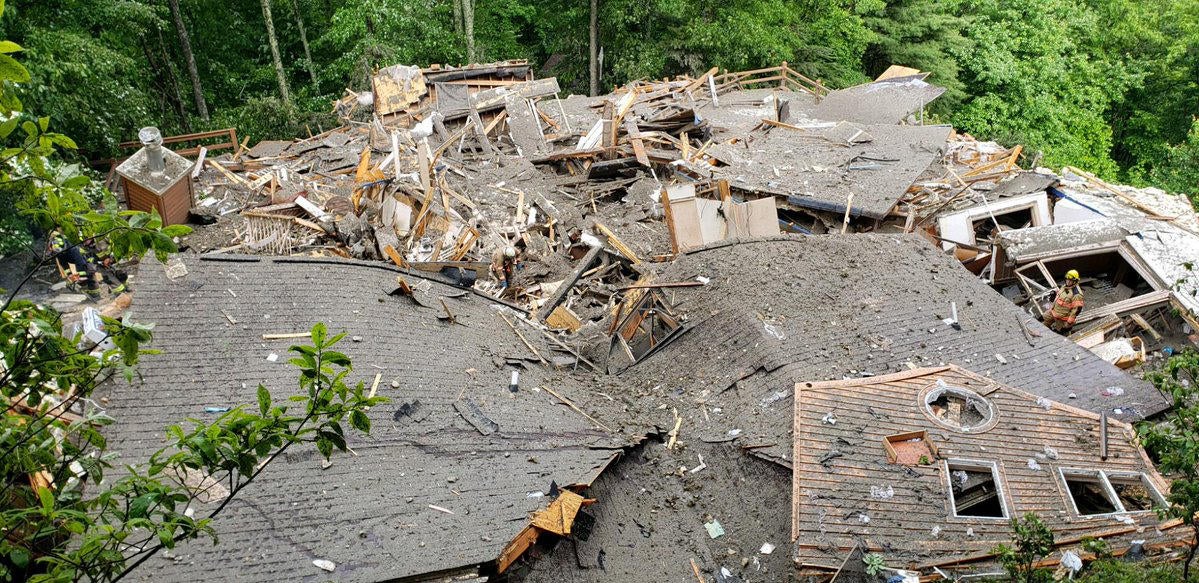 Subtropical Storm Alberto's remnants trigger flooding, deadly mudslide
As remnants of Subtropical Storm Alberto spread into the Great Lakes region, people were keeping a weary watch on dams and hillsides Thursday as rains from the storms have triggered floods and mudslides in the Appalachians of the Southeast. In the North Carolina mountains, one of those landslides was blamed for a gas leak that destroyed a home, killing two people.
Boone police Sgt. Shane Robbins said the landslide resulted in the "catastrophic destruction" of the home Wednesday afternoon because of a gas leak.
And in Virginia, rescuers were searching for three people feared to have been swept away by floodwaters.
In central Virginia, a swift water rescue team was searching for two people who were seen being swept away by a flash flood's torrent of muddy water Wednesday night, according to a news release from the city of Charlottesville. By early Thursday, was no sign of the missing couple.
North of that, authorities were searching roadside woodlands for a third missing person. The Madison County Sheriff's Office said in a Facebook post Thursday morning that rescuers were searching for a missing person after getting a report of a female in the water. The post said the person was reported missing around 8:30 p.m. Wednesday and the search had been ongoing overnight.
Elsewhere, four North Carolina dams being closely watched by a state team of special engineers were holding up, Gov. Roy Cooper said Wednesday.
But Cooper went ahead and declared a state of emergency for his hard-hit mountain counties, saying the forecast for the rest of the week calls for isolated heavy rainstorms that could instantly cause flooding in areas that have had 20 inches of rain in the past 15 days.
"This storm isn't yet over. I'm urging people to keep a close eye on forecasts," Cooper said.
Alberto, while still spinning like a classic tropical storm, has managed to make its way since a Memorial Day landfall in the Florida Panhandle to just outside of Chicago. Forecasters said it would still bring rain and gusty winds to the Great Lakes this week.
Alberto's heavy rains have been widespread. Scattered flooding was reported in several states from Alabama through Tennessee, Kentucky, Illinois, the Carolinas and Virginia and West Virginia.
In Hopkinsville, Kentucky, high winds and heavy rains gave Sherry Key a fitful night's sleep.
"I have dogs and they're terribly afraid of storms, so they were on top on top me all night," said Key, an airport office manager.
The worst of the flooding was in the Appalachian Mountains. Up to 7 inches of rain caused flooding in Helen, a mountain town in Georgia, the National Weather Service said.
CBS affiliate WGCL-TV of Atlanta, Georgia, reported that several roads in that German-styled tourist destination were shut down because of the rising water. No injuries were reported.
Two deaths had been reported during the storm's passage. A television news anchor and a photojournalist were killed Monday in North Carolina while covering the weather, when a tree became uprooted from rain-soaked ground and toppled onto their SUV, authorities said. WYFF-TV of Greenville, South Carolina, said news anchor Mike McCormick and photojournalist Aaron Smeltzer died.
In the mountains of North Carolina, two Department of Transportation workers survived a close call when their dump truck was swept away by a mudslide in McDowell County while trying to clean debris from an earlier slide. The men were able to climb from the overturned truck and stand on its side in the Catawba River until they were rescued, Cooper, the governor, said.
Authorities in Cuba say Alberto left four people dead there as the storm drenched the island in heavy rain. Interior Minister Julio Cesar Gandarilla said late Tuesday they died as a result of "recklessness" during the storm. He gave no details. The deaths occurred as authorities worked to contain an oil spill in central Cuba's Cienfuegos Bay that followed the flooding of nearby oil refinery.
Thanks for reading CBS NEWS.
Create your free account or log in
for more features.