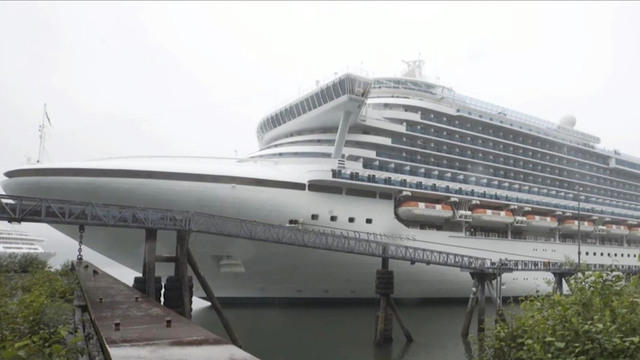 Passengers describe learning woman died aboard Alaska cruise ship
A suspect is in custody Thursday morning after a woman was found dead on a cruise ship in Alaska.
Princess Cruises said 39-year-old Kristy Manzanares of Utah died on Tuesday following what is believed to be a domestic dispute on the Emerald Princess ship.
Thousands of passengers were kept on board for hours while the FBI investigated.
Passengers said that the couple involved was traveling with a large group that included their children.
Ruby Plata was with her husband aboard the ship when she heard an announcement over the intercom.
"Whoever was talking was pretty scared because their voice was shaking," she said. "They said it was a domestic altercation."
"It became apparent last night that something serious had happened, but we didn't know how serious," said passenger Chris Ceman.
The Emerald Princess spans the length of nearly three football fields and has 19 decks. Ceman says he was on the ninth level in a room across from where it happened.
"One of the little girls from that room came running out, calling for help, that her parents had been in a fight. She sounded pretty desperate, but the crew came up as quickly as they could," Ceman said.
The ship departed Seattle on Sunday for a seven-day round-trip cruise. It had left Ketchikan, Alaska, on Tuesday around 3 p.m. The death forced the crew to divert the ship to Juneau, where it arrived just before 8 a.m. on Wednesday – about six and a half hours ahead of schedule.
The ship stayed docked there until shortly before midnight Alaska time. After eight hours of being kept on board, passengers were allowed six hours on land before the cruise continued on its route from Juneau to Skagway, Alaska.
Nicole and Brice Beckstrom used to live across the street from the family involved. They say the couple was celebrating an anniversary.
"To find out that it was her was shocking," Nicole said.
Passengers said that a "murder mystery" theme dinner was taking place when the situation started to unfold.

Some thought it was a hoax at first, but after the initial confusion they realized just how serious things were.
The FBI said it will hold a press conference to announce charges in Anchorage on Thursday.
Thanks for reading CBS NEWS.
Create your free account or log in
for more features.