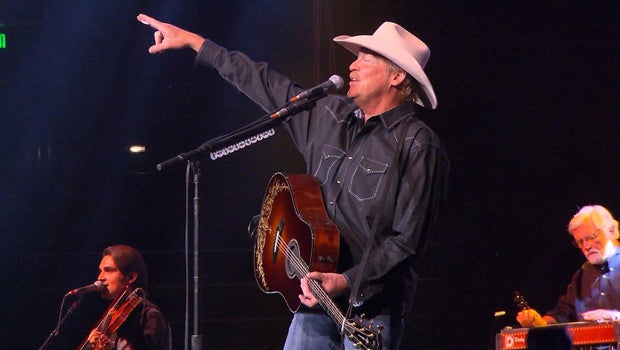 ​Alan Jackson, country's storyteller
Country music has a way of summing up summer fun, and few do it better than Alan Jackson. He's been a favorite since his breakout 25 years ago, but he's never lost touch with his simple roots, as Lee Cowan found out in Nashville:
"We've had a cold winter here in Nashville, Tennessee. I'm about ready for a little some summer time, ya'll!"
He's Nashville's nice guy -- a man with a warm-hearted baritone....
"I'm working all summer just trying to earn a dollar..."
... who could sing the phone book, and it'd probably be a hit. He's country's storyteller Alan Jackson.
"There ain't no cure for the summer-time blues."
"I'm going to sing 'em songs about life and love and heartache and drinking and dancing and having a good time," Jackson said, "all these little things that have always been in my mind when I think about country music. Basically just what makes up life, you know, what you go through."
"Makes you wonder who's doing right with someone tonight, whose car is parked next door."
There's no flash to Alan Jackson -- just a man and his guitar. But he had a blinding ascent to the pinnacle of country music, with 60 million albums sold. His latest, "Angels and Alcohol," comes 25 years after he first topped the charts back in 1990.
To listen to Alan Jackson's "Jim and Jack and Hank," from his new album, "Angels and Alcohol," click on the player below.
"My voice has gotten deeper in my old age," he said. "I don't quite sound up here like this as I did on that first album!"
At his home outside Nashville, there aren't enough shelves to house the accolades that have poured in since then. He can count among his fans even those who once lived in the White House. "Oh man, I'm out of place there, golly!"
He's never forgotten the night he ended up next to President George W. Bush at a state dinner.
"They bought out this bowl or something that had some liquid in it, and President Bush, leaned over said, 'Don't drink that. You're supposed to wash your hands in it.' I said, 'OK! Thank you!'"
"Way down yonder on the Chattahoochee, it gets hotter than a hoochie coochie."
Jackson is country through and through. He grew up in tiny Newnan, Georgia, about 40 miles southwest of Atlanta. His music speaks to life's simple pleasures -- farms, family and fishing.
He assured Cowan that all the fish on display at his home were caught by him. "Yeah, caught about everything in the ocean that I wanted to catch!" he laughed.
His attic is a place just for his toys, especially anything with a motor, like the Harley. "It's an old 1958 pan-head, which was the year I was born."
Long before he was handy with a guitar, he proved he was handy with a wrench, a love of tinkering he got from his dad, Eugene, a Ford mechanic. That pretty much explains why his desk is a '66 half-ton pickup.
How many cars has he had? "I'd be ashamed to say," Jackson replied. "Several hundred. I mean, even before I moved to Nashville, when I didn't even have a dime, I'd already had tons of vehicles. I'd buy 'em, sell 'em, you know?"
His songs are vehicles, too, in a way, to reminisce, but not in a "glory days" kind of way. In their simplicity is a certain wisdom.
"It's just the weirdest thing, I still don't know where all that comes from," he said. "You'll just be driving down the road and all of a sudden this melody, some idea will come to your head."
That's what happened with his haunting 9/11 anthem, "Where Were You":
Did you weep for the children who lost their dear loved ones
And pray for the ones who don't know?
Did you rejoice for the people who walked from the rubble
And sob for the ones left below?
Did you burst out with pride for the red, white and blue
And the heroes who died just doing what they do?
Did you look up to Heaven for some kind of answer
And look at yourself and what really matters?
"I just woke up, there was this, it was just the chorus, you know? 'I'm just a singer of simple songs,' and the melody and everything. I decided I would have forgotten it probably by morning, so I got up in my underwear, went downstairs, and taped that."
Jackson wrote it about a month after the September 11 attacks. "A lot of people were writing songs about that day," he said, "and I didn't want it to feel like we were trying to jump on the bandwagon, taking advantage of something like that. So I didn't really intentionally want to sit down and try to write anything. It's a hard subject to write about. The record ended up pretty much word for word as it came to me that night."
"As well as it did, you were sort of uncomfortable with the attention that the song brought to you," Cowan said.
"I had so many people tell me, 'I was feeling that same way' or 'I did that same thing.' People started looking at me different, putting me up on this pedestal like I was some kind of saint or something, and I'm like, 'Man, I'm just a singer of simple songs, and that's the truth."
Truth is, fame fits him like a bad pair of boots. Being the center of attention is the last place Jackson wants to be.
"If you had just ended up being a songwriter, writing for other people to go off and be rich and famous, would you have still been happy?" Cowan asked.
"You know, I really believe I would have," said Jackson. "Because I'm still self-conscious about going on stage, and things. I love singing and I love sharing my songs with people, especially if it's something that I wrote. But I still feel a little uncomfortable in front of people."
And 25 years of doing it hasn't made it any easier.
It was about an hour before he was due on stage in Nashville when the nerves starting hitting on his tour bus. "I'm pretty laid back as far as that goes. I don't do any crazy stretches, or do anything weird, you know. I might have a shot of Jack Daniels or something!"
His wife, Denise, helps calm him down. High school sweethearts, they were married at 18 and moved from Georgia to Nashville into a tiny basement apartment.
"We brought our first baby, Mattie, home to that basement apartment," said Denise.
"We were still living there when I had my first number one record," said Alan. "We stayed there until we were sure I was going to make a living!"
But the miles away from home took their toll. In 1997 he and Denise separated after he admitted to having an affair.
But they soon reconciled. Denise even wrote a book about it all, "It's All About Him" (Thomas Nelson), that went on to be a bestseller.
"I was gone a lot, and you know, vulnerable, and just made some bad choices," said Jackson. "And I think it was, I was worried about people knowing about that. But then again, it was, you know, I'm a person. Just real. I'm a human being just like anybody and make mistakes, and I think it was even better to see that we survived that and have turned it around."
Besides their three children, perhaps nothing symbolizes their romance better than the car where they had their first date -- a '55 T-Bird.
Jackson had to sell it for a down payment on their first home. But years later, Denise tracked it down and gave it to Alan as a Christmas present.
She recalled, "As the garage door comes up, he sees that it's a '55 Thunderbird. And he says, 'Oh, you bought me a car like mine!' And I said, 'No, actually Alan, that is YOUR car.' The man broke down and cried."
"Still gives me chill bumps," he added.
His passion for making the old new again is everywhere, whether it's his cars, his relationship, or his music.
At 56, the white-hatted man from Georgia can look in his rear-view mirror with pride, remembering what matters most in life while still focusing on the road ahead, which for Alan Jackson seems to have no end in sight.
To sample the title track from Jackson's new album, "Angels and Alcohol," on Spotify, click on the player below.
For more info:
Thanks for reading CBS NEWS.
Create your free account or log in
for more features.