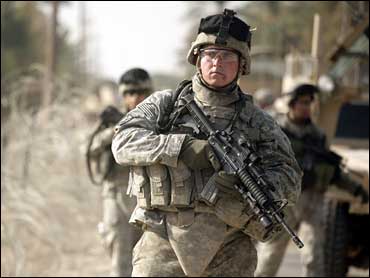 Al Qaeda In Iraq Defeated?
Many U.S. military commanders in Iraq believe they have dealt a large enough blow to al Qaeda in Iraq to declare victory over the group, according to a report in the Washington Post.
The Iraq franchise of Osama bin Laden's terror network has been deemed the deadliest threat facing American forces and their allies since shortly after the 2003 invasion that toppled Saddam Hussein.
U.S. generals tout recent successes against the Sunni militants as evidence that al Qaeda in Iraq, known by the acronym AQI, may have been dealt a blow from which it cannot recover.
The Post report sites evidence such as the dramatic reduction in suicide bomb attacks - considered a hallmark of al Qaeda worldwide - from more than 60 in January to about half that per month since July.
One senior military intelligence official told the paper that the captures of several AQI leaders during the summer had produced a "cascade effect," leading to the death or arrest of others in the ranks.
Officials also point to a reduction in the numbers of militants coming into Iraq from Syria. However, the Post reports that there is no consensus on why that movement of bodies has slowed - and some intelligence indicates it may be due to al Qaeda shifting its focus from Iraq to other areas.
The Bush administration has also touted the success of native Iraqi Sunni groups that have banded together to fight al Qaeda - which is predominantly Sunni, but seen by many Iraqis as another invading force on their land.
For months, the so-called "Anbar Awakening" has drawn official support and praise from U.S. officials. The movement was backed by American officials and saw prominent Sunni sheiks from the Anbar Province - previously one of the most deadly areas in Iraq - take up arms against AQI.
Anti-al Qaeda sentiment in the Sunni areas of Iraq appears to be growing, with the announcement last Thursday of another coalition pledged to fight foreign militants on Iraqi soil.
In a video first broadcast on an Arabic news channel and then found by CBS News on an extremist Web site, six of the most prominent domestic Sunni jihadist groups declared the formation of the "Political Council of the Iraq Resistance".
The Council is not, like the Anbar group, a U.S.-allied coalition of tribal leaders, and is not in any way supported by America or its allies - it is a coalition of militant jihadist groups who still vow to fight U.S. forces in Iraq.
However, the Council pledges in its introductory announcement to battle all "foreign occupation and foreign influence" in Iraq. Very few al Qaeda militants are Iraqis, and there presence is increasingly seen as an effort to divide the country and exacerbate sectarian strife.
The statement vows that militant operations will target only "the occupiers and their agents, and do not target the innocents and the vulnerable ones". This declaration is a move to label al Qaeda, whose chief tactic has been suicide attacks which leave scores of civilians dead, as an enemy.
Despite facing growing animosity from the native population, and the recent successes of the American military and its allies, some intelligence experts warned the Washington Post that a declaration of victory over the group could be inaccurate, and even dangerous.
"I think it would be premature at this point," a senior intelligence official told the paper, adding that AQI still has "the ability for surprise and for catastrophic attacks".
The Post reports that "earlier periods of optimism… not only proved unfounded but were followed by expanded operations by the militant organization." One example mentioned was the period after the killing of Abu Musab al-Zarqawi in 2006.
In Other Developments:
Suspected Shiite militiamen fired mortars at two military bases and shot at a Polish helicopter south of Baghdad, prompting clashes Monday in fighting that left as many as five Iraqi civilians, including two children, dead and some 20 wounded, officials said. The Polish Defense Ministry said two Polish soldiers suffered minor injuries.
A court-martial began for a former commander of U.S. military police at the detention facility in Baghdad where Saddam Hussein was housed until his execution last December. Lt. Col. William H. Steele, a U.S. Army reservist from Virginia, already pleaded guilty at a pretrial hearing Oct. 7 to three of seven charges he faces. He also pleaded not guilty to the remaining charges of aiding the enemy by providing an unmonitored cell phone to prisoners, giving special privileges to detainees, acting inappropriately with an interpreter and failing to obey an order, the military said. If convicted, Steele could face life in prison.
A second Iraqi journalist in as many days was killed Monday in an ambush north of Baghdad that left his two security guards wounded, according to police and relatives. Dhi Abdul-Razak al-Dibo, a 32-year-old freelance reporter, was driving his BMW with his guards near Kirkuk, 180
miles north of Baghdad, Kirkuk police spokesman Brig. Gen. Sarhat Qadir said. Al-Dibo's family said he lived in Kirkuk and contributed stories to at least two weekly newspapers in Tikrit, 80 miles north of Baghdad.
Pope Benedict XVI made a public appeal in Rome on Sunday for the release of the two priests who were ambushed, dragged out of their car and taken away on their way home from a funeral. The pope asked the kidnappers to "let the two religious men go" during his traditional Sunday blessing to pilgrims and tourists gathered in St. Peter's Square. The Christian community in Iraq is about 3 percent of the country's estimated 26 million people.
After months of frustration and bureaucratic hurdles, a N.J. mother has found a shipper to deliver 80,000 cans of Silly String to troops in Iraq, who have discovered the foam-spraying toy's usefulness in detecting trip wires for bombs. Many shippers, and even the military, had balked at transporting the donated toys because the aerosal cans are considered a "hazardous material."

Meanwhile, the Turkish government has decided to send a motion to Parliament seeking approval for a military operation against Kurdish rebels in northern Iraq, a government spokesman said Monday.

The move was not a clear signal an attack was planned following weekend fighting along the border. Prime Minister Recep Tayyip Erdogan's government twice acquired similar authorizations from the Parliament in 2003, but did not act on them.

The government will immediately send a motion to Parliament with the hope of a vote this week, said government spokesman Cemil Cicek said. "Our hope is that there will be no need to use this motion," Cicek said.

The spokesman said any military operation would target the rebel Kurdistan Workers' Party, known by its Kurdish acronym PKK.

The statement appeared to be aimed at reassuring Iraq's central government as well as Iraqi Kurds, who run their own administration in northern Iraq.

"The only target of this motion is the PKK, which is a terrorist organization," Cicek said.

"We have always respected the sovereignty of Iraq, which is a friendly and brotherly country to us," Cicek said.

"But the reality that everyone knows is that this terrorist organization, which has bases in the north of Iraq, is attacking the territorial integrity of Turkey and its citizens."
Thanks for reading CBS NEWS.
Create your free account or log in
for more features.