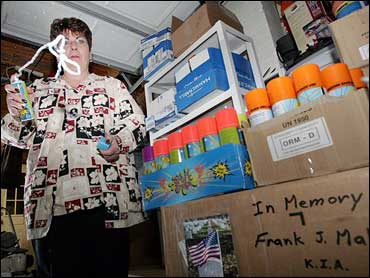 Troops Will Finally Get Their Silly String
A children's toy that has been refashioned by some U.S. soldiers as a bomb detector will be shipped by the thousands to troops in Iraq, the mother of a soldier behind the effort said.
Soldiers can shoot Silly String, which travels up to 12 feet, across a room before entering. If the foamy string hangs in the air, that indicates a possible trip wire.
The effort to ship the Silly String has taken months because its aerosol can is considered a hazardous material, and only certain companies can ship it.
After months of frustration, Marcelle Shriver has found someone to ship about 80,000 cans.
"I'm just thrilled," she said. "I couldn't sleep too well this whole weekend thinking about it."
Shriver's Silly String campaign began after her son, Todd, a soldier in Ramadi scheduled to leave Iraq in November, asked his parents to send cans of the product, which troops were using to detect trip wires on bombs.
After sending some cans to her son, Shriver decided to collect more for other troops. The campaign started with a collection box at her church last year and quickly ballooned, as people sent her donations of Silly String and money.
But after one shipment of about 40,000 cans went to Iraq, Shriver struggled to find someone to ship the rest. One problem: Silly String is an aerosol and it's considered a hazardous material, meaning only certain companies can ship it.
She also encountered problems sending more shipments through the military. McGuire Air Force Base wouldn't take it, citing Department of Defense regulations. And the Naval Air Station Joint Reserve Base Willow Grove in Pennsylvania, which sent the first shipment, didn't know when they'd have more flights headed to Iraq and didn't have space to store the boxes.
Some private shippers volunteered their services, but for a multitude of reasons, couldn't deliver.
Thom Campbell, one of the founders of Capacity LLC, a New Jersey-based shipping company experienced in hazardous materials, heard about Shriver's struggles and decided to help out.
"It seemed like the right thing to do," Campbell said. "We're quite lucky to have an opportunity to help her."
Working with a transportation company called Yellow Transportation, the boxes were to be picked up Monday in Deptford Township where Shriver has been storing them.
The thousands of cans of Silly String are boxed and addressed to individual servicemen and servicewomen in Iraq. The boxes will be taken to Capacity LLC's storage facility in North Brunswick, inspected and then delivered to the United States Postal Service for delivery with other letters and packages bound for Iraq.
Shriver said she's still working with a local support group to gather supplies for the troops, but she's focusing on items that are less complicated.
Thanks for reading CBS NEWS.
Create your free account or log in
for more features.