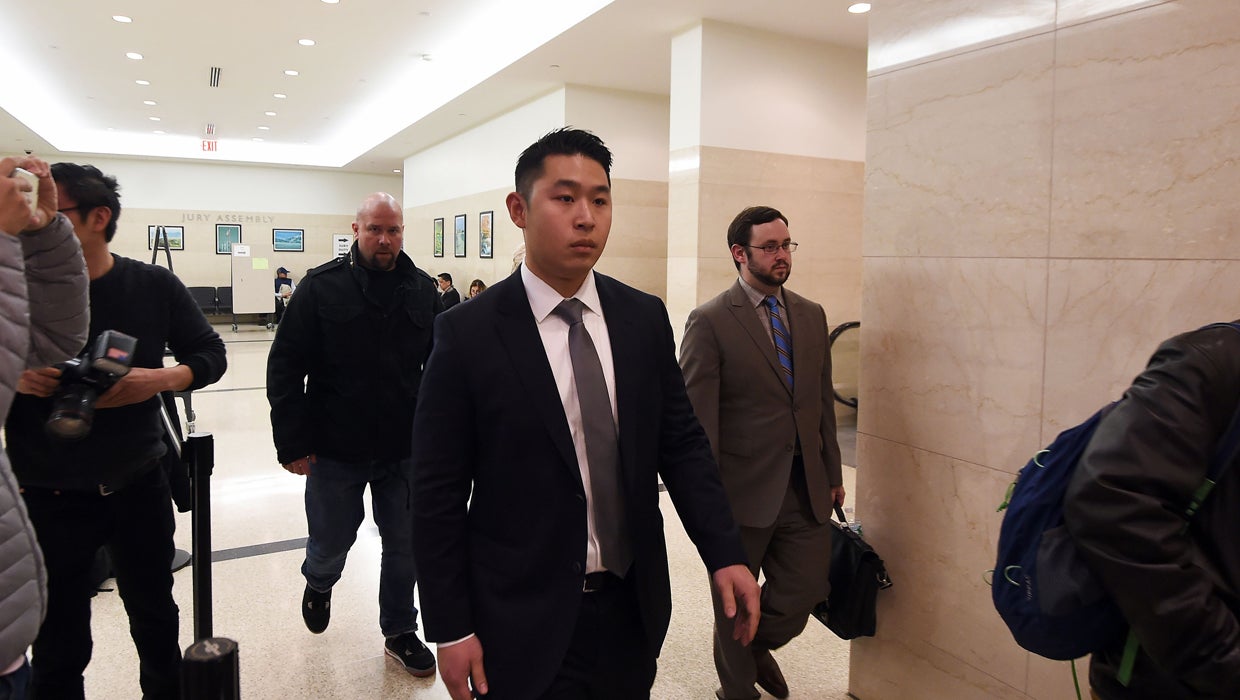 NYPD officer convicted on manslaughter charges in stairwell shooting
NEW YORK -- A rookie New York City police officer who fatally shot an innocent man in a dark public housing stairwell was convicted Thursday of second-degree manslaughter and official misconduct, CBS New York reported.
NYPD officer Peter Liang claimed he accidentally fired after being startled by a noise while patrolling the stairwell in 2014. Prosecutors said he was reckless and did little to help the dying victim, Akai Gurley.
The shot ricocheted off a wall and hit Gurley, who had decided to take the stairs with his girlfriend instead of waiting for an elevator.
"Instead of shining a light, he pointed his gun and shot Akai Gurley," Brooklyn Assistant District Attorney Joe Alexis said in his closing argument.
Liang acknowledged not helping Gurley's girlfriend try to revive him, but explained he thought it was wiser to wait for professional medical aid.
NYPD spokesman Peter Donald said Liang was fired from the police force after the verdict was delivered.
During their deliberations, jurors asked to rehear testimony from Liang and other witnesses, CBS New York reported. They also handled Liang's unloaded weapon in the courtroom, pulling the trigger to gauge how much pressure it takes to fire.
Liang said his finger was never on the trigger, but prosecutors dispute that saying pressure must be applied for the bullet to discharge.
"I just turned, and the gun went off," Liang testified.
He said he initially looked with his flashlight, saw no one and didn't immediately report the shot, instead quarreling with his partner about who would call their sergeant. Liang thought he might get fired.
But then, he said, he went to look for the bullet, heard cries and found the wounded Gurley, with his weeping girlfriend trying to tend to him.
"I was panicking. I was shocked and in disbelief that someone was hit," said Liang, who said he was so overcome that he needed oxygen as he was taken to a hospital for ringing in his ears.
The shooting happened in a year of debate nationwide about police killings of black men, and activists have looked to Liang's trial as a counterweight to cases in which grand juries have declined to indict officers, including the cases of Michael Brown in Missouri and Eric Garner in New York. Like Gurley, Brown and Garner were black and unarmed.
While Liang's trial unfolded, two other New York police officers, Patrick Espeut and Diara Cruz, were shot and wounded during a similar stairwell patrol in a different public housing complex. The gunman later killed himself. The judge barred any mention of those shootings in Liang's trial.
Jurors were considering five criminal charges against Liang, including criminally negligent homicide, assault, reckless endangerment and official misconduct counts.
The manslaughter charge carries up to 15 years in prison. Liang's sentencing is set for April 14.
Thanks for reading CBS NEWS.
Create your free account or log in
for more features.