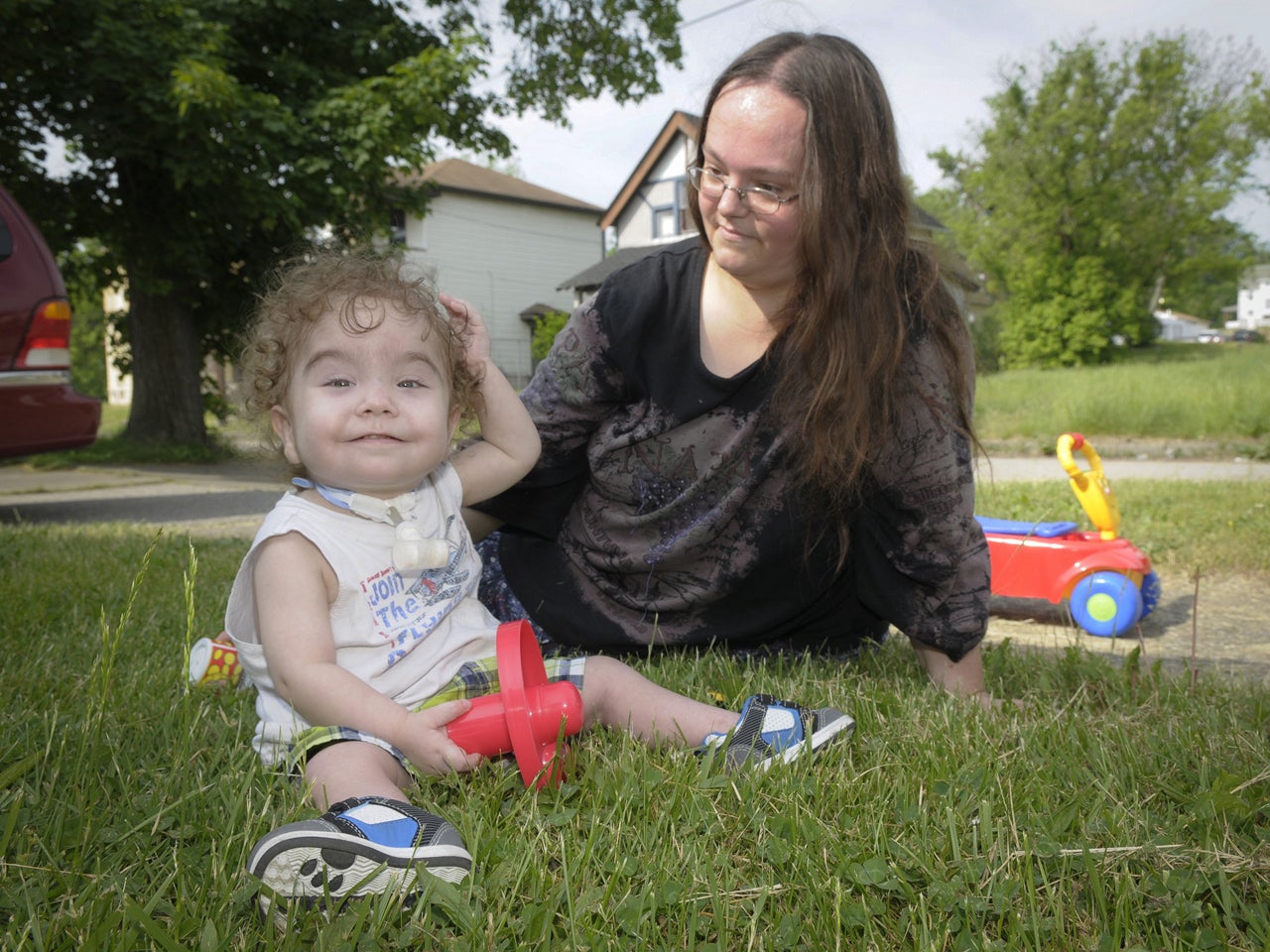 Airway made by 3D printer saves infant's life
A 3D printer saved the life of a baby boy with a rare disease that kept him from breathing properly, doctors are reporting in the New England Journal of Medicine.
The boy, Kaiba Gionfriddo of Ohio, had been diagnosed with severe tracheobronchomalacia, a rare respiratory condition that caused his airways to collapse, blocking the flow of air to his lungs daily.
About 1 in 2,200 babies are born with the condition, but only 10 percent of them have cases as severe as Kaiba's, according to his doctors. The boy's parents, April and Brian, learned something was wrong when he was 6 weeks old, when the family went out to eat and the infant turned blue.
By the age of 2 months, Kaiba had to be intubated in order to breathe. Despite the breathing tube and a ventilator he also required, his breathing could not be maintained sufficiently. He needed to be resuscitated on a daily basis.
"Quite a few doctors said he had a good chance of not leaving the hospital alive," April Gionfriddo, mother of the now 20-month old Kaiba, said in a written statement. "At that point, we were desperate. Anything that would work, we would take it and run with it."
Kaiba's doctors reached out to Dr. Glenn Green, an associate professor of pediatric otolaryngology at the University of Michigan in Ann Arbor. Green and his colleague Dr. Scott Hollister, a professor of biomedical and mechanical engineering at the university, had been developing a "bioresorbable device" that might help the infant.
The device was made using a CT scan of Kaiba's airways, which was then used to custom-fabricate an airway splint with the help of a polymer called polycaprolactone and a 3D printer. The design was similar to the hose of a vacuum cleaner in that it's strong enough not to collapse while at the same time it's flexible enough to expand with growth, the doctors wrote in the May 23 letter to the editor published in the journal.
With little time to spare, the researchers turned to institutional review board of the University of Michigan, which sought an emergency exception from the Food and Drug Administration to implant the airway.
The surgery took place in Feb. 2012 at C.S. Mott Children's Hospital in Ann Arbor, Mich. The splint was sewn around the boy's airway in order to expand it and aid its natural growth. Doctors saw a change immediately.
"It was amazing," said Green. "As soon as the splint was put in, the lungs started going up and down for the first time and we knew he was going to be OK."
Seven days after the surgery, doctors began to wean Kaiba off the ventilator and two weeks later, he was sent from the hospital. He hasn't turned blue since, his mom said.
"We are so thankful that something could be done for him. It means the world to us," April said in the statement.
The splint is supposed to reabsorb into the boy's body over three years as his windpipe remodels and grows healthily, Hollister explained.
"Kaiba's case is definitely the highlight of my career so far," said Hollister, who is also an associate professor of surgery at U of M. "To actually build something that a surgeon can use to save a person's life? It's a tremendous feeling."
The two researchers have been testing out other 3D-printed bone structures including ears and noses.
"It's the wave of the future," Dr. Robert Weatherly, a pediatric specialist at the University of Missouri in Kansas City who was not involved in the boy's care, told the Associated Press. "I'm impressed by what they were able to accomplish."
3D printers have been used increasingly in medical care in recent years. Cases of 3D printers making implants of jawbones, portions of skulls, ears and bones for dental work have been reported.
Thanks for reading CBS NEWS.
Create your free account or log in
for more features.