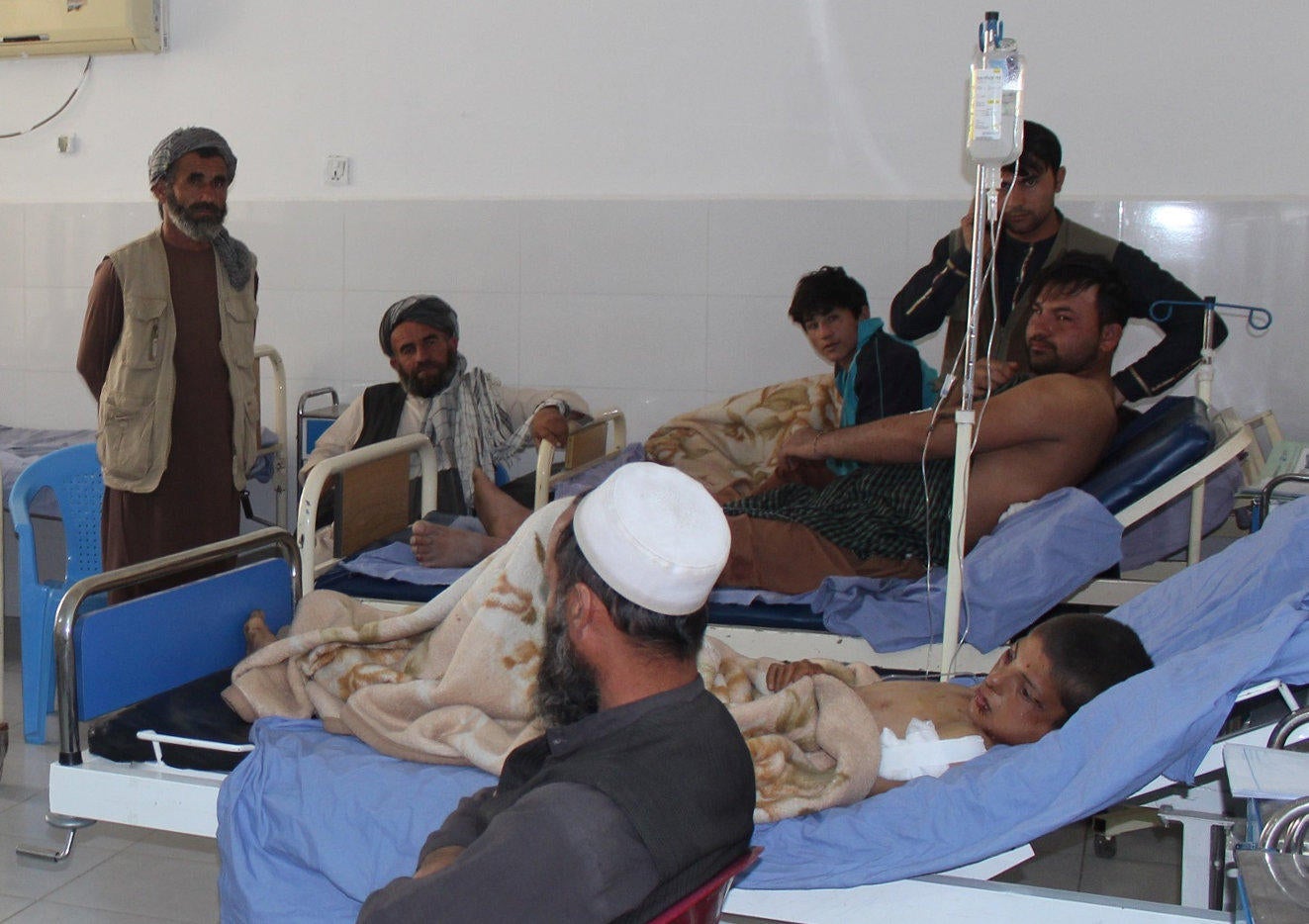 Carnage as airstrike hits boy's school in Taliban territory
The United Nations said Tuesday it was investigating "disturbing reports of serious harm to civilians" in an Afghan airstrike on a religious school which, according to security sources, left dozens of children dead or wounded. Hundreds of people were attending a graduation ceremony at the madrassa in a Taliban-controlled district in northeastern Afghanistan on Monday when Afghan Air Force helicopters struck, witnesses have told AFP.
"Human Rights team on ground establishing facts. All parties reminded of obligations to protect civilians from impact of armed conflict," the United Nations Assistance Mission in Afghanistan said in a brief statement.
At least 59 people, including Taliban commanders meeting at the compound in the Dashte Archi district in Kunduz province, were killed in the attack, Afghan security sources told AFP on condition of anonymity.
Most of the civilian victims were children, they said.
An team of tribal elders and provincial council members was assigned to investigate the incident, Kunduz police spokesman Imamudin Rahmani told CBS News on Tuesday. He confirmed that about 50 victims, dead and wounded, had been brought to Kunduz hospital following the strike, but added that the death toll could still rise.
"I myself counted 35 bodies," Abdul Khalil told AFP at the hospital in the provincial capital Kunduz where health officials said 57 injured had been taken.
"I arrived at the scene right after the airstrikes -- it was like a butcher's shop. Everywhere was covered with blood, the ground was littered with body parts, heads, limbs and other parts."
A man called Yousuf, who was at the ceremony when the airstrikes happened, told AFP he saw "blood and body parts everywhere".
The wounded were driven more than 30 miles to hospital for treatment.
So far the defence ministry has denied civilians were among the casualties.
"Twenty Taliban, including the commander of their Red Unit in the district, and also a key member of the Quetta Shura were killed," defence ministry spokesman Mohammad Radmanish told AFP on Monday.
Witnesses who spoke to CBS News on Tuesday angrily denied that any Taliban leaders where present.
"I have not seen such devastation in my life, it was horrible," local tribal elder Jamal Khan Bajuri told CBS News in a telephone interview. "There was no meeting of Taliban at all. Why would the Taliban hold a summer military meeting at a public gathering with kids and locals? It is a nonsense argument by the Afghan government."
The Red Unit is the insurgent group's elite unit and the Quetta Shura is its leadership council.
The same number were wounded, Radmanish added.
The Taliban confirmed Monday the attack on the madrassa but denied militants had been meeting at the religious school.
The madrassa was run by Islamic scholars sympathetic to the Taliban but the facility was open to the public, a senior Taliban commander speaking from an unknown location in Pakistan told AFP on Tuesday.
He said as many as 2,000 people were at the school on Monday, including 750 students, for a graduation ceremony but denied senior Taliban leaders were present.
He estimated that 400 people had been killed and an unknown number wounded. The Taliban are known to exaggerate battlefield claims.
Several boys with their arms and legs bandaged were seen lying in beds and along the corridors of the hospital.
One of the security sources said the Taliban had started meeting at madrassas in the hope of avoiding airstrikes.
U.S. and Afghan forces are increasing ground and air offensives against Taliban and Islamic State of Iraq and Syria (ISIS) insurgents as they try to get the upper hand in the 16-year war.
Thanks for reading CBS NEWS.
Create your free account or log in
for more features.