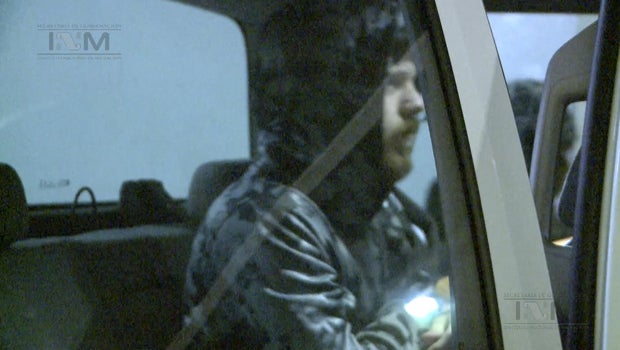 Ethan Couch, "Affluenza" teen, arrives back in Texas
MEXICO CITY -- A commercial flight carrying "affluenza" teen Ethan Couch arrived Thursday morning at Dallas/Fort Worth International Airport, hours after uniformed Mexican immigration agents escorted the teen from a Mexico City immigration detention center.
Couch and his mother, Tonya, were detained in the resort of Puerto Vallarta in December. His mother was quickly sent back to the U.S. She was released after posting bail. But lawyers for Ethan Couch filed an appeal against deportation, delaying his return.
Video released by the immigration institute showed Couch, wearing a bluish camouflage-print hoodie, being escorted out of the detention center before dawn and being escorted onto the plane by four agents.
The agents did not appear to be armed. He had been in immigration custody for 28 days.
Couch is seen with a full, light-brown beard on the institute's video, showing little emotion as he is placed aboard a pickup truck and driven out of the gated detention center.
The institute said that upon arrival in Dallas, Couch "will be met by U.S. authorities and face various charges."
Couch's Mexican lawyer, Fernando Benitez, said Tuesday that Ethan Couch formally ratified his decision to drop the appeal on Monday.
"I gave him several options, but he decided to go to Texas to face whatever charges he faces," Benitez said.
While the appeal had centered on whether Couch should have been afforded a longer extradition process rather than deportation, in the end the Mexican government simply called it "an assisted return."
Tonya Couch's arrest affidavit alleges that she and her 18-year-old son fled the state in December as Texas prosecutors investigated whether he had violated his probation in the case of a 2013 wreck that killed four people. Mother and son were taken into custody later that month in Puerto Vallarta, after a call for pizza delivery tipped off authorities to their whereabouts.
Tonya Couch is charged with hindering the apprehension of a felon and could face up to 10 years in prison if convicted.
During Ethan Couch's trial, a defense witness said the teen was coddled into a sense of irresponsibility by his wealthy parents, a condition the expert called "affluenza." The condition is not recognized as a medical diagnosis by the American Psychiatric Association, and its invocation drew widespread ridicule.
Upon his return to Texas, Ethan Couch will be held in a juvenile detention center. A juvenile judge will hold a hearing to decide whether to continue to hold him there, book him in an adult jail or let him go, said Tarrant County Sheriff Dee Anderson.
A separate hearing is scheduled for Feb. 19 to determine whether Couch's case is transferred to the adult system.
The advocacy group Mothers Against Drunk Driving, commonly known as MADD, earlier this month collected tens of thousands of signatures on a petition demanding that Couch's case be moved to adult court. In a statement Thursday, the group's president, Colleen Sheehey-Church, said Couch should be sent to prison.
"Ethan Couch is in route back to the U.S. and is expected to attend his February 19th transfer hearing in person - and so will MADD," Sheehey-Church said. "It's more than overdue for Couch to be held accountable after taking the lives of four people, and injuring several others."
If Couch's case is transferred to adult court and he violates his probation again, he could face up to 10 years in prison per death.
Thanks for reading CBS NEWS.
Create your free account or log in
for more features.