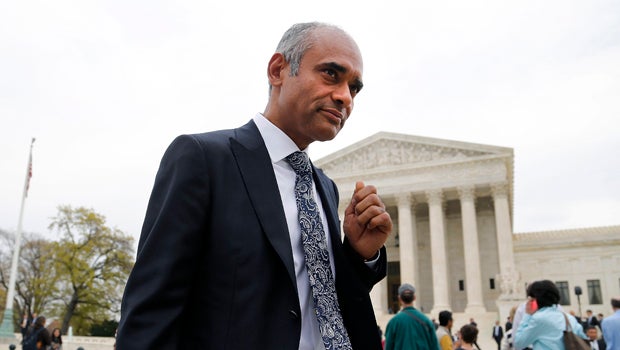 Aereo suspends service after U.S. Supreme Court ruling
NEW YORK - Online-streaming service Aereo Inc. is temporarily closing down its operation, three days after it was dealt an unfavorable ruling by the U.S. Supreme Court.
"We have decided to pause our operations temporarily as we consult with the court and map out our next steps," Aereo's Chief Executive Officer Chet Kanojia wrote in a letter to customers posted on its website Saturday.
"The spectrum that the broadcasters use to transmit over the air programming belongs to the American public and we believe you should have the right to access that live programming whether your antenna sits on the roof of your home, on top of your television or in the cloud."
The Supreme Court dealt Aereo, backed by Barry Diller, a major setback on Wednesday in ruling that the television-over-the-Internet service operates much like a cable TV company. As a result, the service violates copyright law unless Aereo pays broadcasters licensing fees for offering TV stations to customers' tablets, phones and other gadgets.
In a 6-to-3 decision, the justices rejected Aereo's argument that it is only a provider of equipment and decided that, for purposes of copyright law, the service should effectively be treated like a cable company.
The ruling states that, "given Aereo's overwhelming likeness to the cable companies targeted by the 1976 amendments, this sole technological difference between Aereo and traditional cable companies does not make a critical difference here."
But although the Supreme Court expressed its thinking on the law, it's the U.S. District Court in New York that must issue a preliminary injunction stopping the service, as requested by broadcasters.
"We are pleased with today's decision which is great news for content creators and their audiences," CBS, the parent company of CBSNews.com, said in a statement on Wednesday.
Aereo launched in 2012, allowing consumers to access broadcast TV over the Internet. The company assigns customers an individual, remote antenna to pick up broadcast, cable or satellite signals. Programs can also be recorded to a DVR.
Thanks for reading CBS NEWS.
Create your free account or log in
for more features.