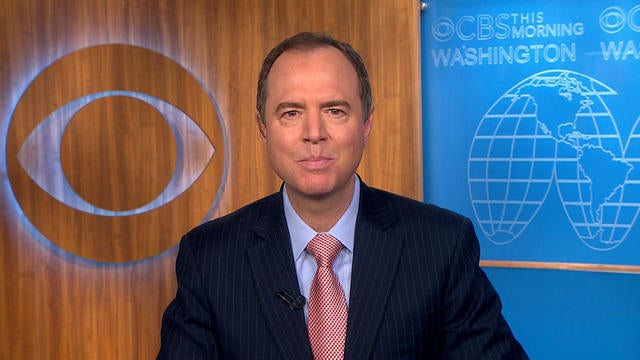 Adam Schiff weighs in on cancellation of House Intel hearing with Sally Yates
The top Democrat on the House Intelligence Committee suggested Wednesday that the cancellation of a second public hearing on Russian interference in the election had something to do with former Acting Attorney General Sally Yates being scheduled to testify.
In an interview with "CBS This Morning," Rep. Adam Schiff, D-California, was asked if he has any evidence that the White House took part in denying Yates the opportunity to testify.
"I don't have any particular evidence. The timing certainly raises a lot of questions and the fact that the hearing was canceled abruptly without any explanation causes us a lot to ask," he said.
Schiff suggested that the hearing his committee held last week, which was unfavorable to the administration, might have also played a role in the cancellation of the second hearing, which was also supposed to include testimony from former Director of National Intelligence James Clapper and former CIA Director John Brennan.
"I have to think that the hearing that we had on Monday of last week in which the FBI director acknowledged for the first time that the Trump campaign associates were under investigation for possible coordination with Russia and the fact that the directors rebutted the White House claims about illegal wiretapping by Barack Obama had something to do with the cancellation of the second open hearing," Schiff said. "I think the White House probably thought that didn't go well for them, but it's otherwise hard to explain why the sudden cancellation of the hearing and I think it probably had a lot to do with Sally Yates."
Schiff reiterated that the chairman of the panel, Rep. Devin Nunes, R-California, should recuse himself from the investigation into Russian meddling in the election, especially since he was a member of President Trump's transition team and he claimed he's seen evidence that their communications were collected by the intelligence community.
Asked what he'd like to hear from Yates, Schiff said, "I certainly wanted to hear the events that led up to Michael Flynn's firing."
The White House on Tuesday said it exerted no pressure on whether Yates should testify in the intelligence investigation.
CBS News' Arden Farhi contributed to this report.
Thanks for reading CBS NEWS.
Create your free account or log in
for more features.