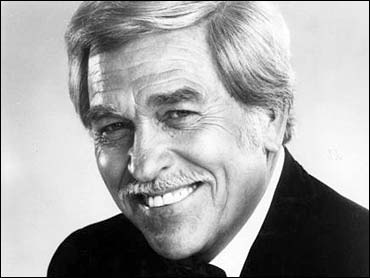 Howard Keel, who lent his good looks and rich baritone to such movie musicals as "Seven Brides for Seven Brothers" before reinventing himself as the macho star of westerns and later aboard TV's "Dallas," has died.
Keel died Sunday morning of colon cancer at his home in Palm Desert, according to his son, Gunnar. He was 85.
Keel starred in Rodgers and Hammerstein musicals in New York and London before being signed to an MGM contract after World War II. He became a star with his first MGM film, playing Frank Butler to Betty Hutton's Annie Oakley in "Annie Get Your Gun."
Keel's size and lusty voice made him an ideal leading man for such stars as Esther Williams ("Pagan Love Song," "Texas Carnival," "Jupiter's Darling"), Ann Blyth ("Rose Marie," "Kismet"), Kathryn Grayson ("Show Boat," "Lovely to Look At," "Kiss Me Kate") and Doris Day ("Calamity Jane"). His own favorite film was the exuberant "Seven Brides for Seven Brothers."
When film studios went into a slump, MGM's musical factory was disbanded. Keel kept busy on the road in such surefire attractions of "Man of La Mancha," "South Pacific," "Annie Get Your Gun" and "Seven Brides for Seven Brothers."
Keel was in his early 60s and presumably nearing the end of his career when he suddenly became a star in another medium.
From its start in 1978, "Dallas" with its combination of oil, greed, sex and duplicity had become the hottest series in television. Jim Davis, who had played the role of Jock Ewing, died in 1981, and the producers needed another strong presence to stand up to the nefarious J.R. Ewing Jr. (Larry Hagman). They chose Keel.
"The show was enormous," Keel reflected in 1995. "I couldn't believe it. My life changed again. From being out of it, I was suddenly a star, known to more people than ever before. Wherever I went, crowds appeared again, and I started making solo albums for the first time in my career."
As Clayton Farlow, husband of "Miss Ellie" Ewing, Keel remained with "Dallas" until it folded in 1991.
When Keel was born in Gillespie, Ill., his name was Harold Clifford Leek. His father, once a naval captain, became a coal miner and drank to soothe his bitterness. During drunken rages, he beat his children. His mother, a strict Methodist, forbade her two sons from having any entertainment.
"I had a terrible, rotten childhood," Keel commented in 1995. "My father made away with himself when I was 11. I had no guidance, and Mom was six feet tall, bucktoothed and very tough. I was mean and rebellious and had a terrible, bitter temper. I got a job as an auto mechanic, and I would have stayed in that narrow kind of life if I hadn't discovered art. Music changed me completely."
At 20 he was living in Los Angeles and he was taken to a Hollywood Bowl concert featuring famed baritone Lawrence Tibbett. Keel was inspired, and he started taking vocal lessons at 25 cents an hour. His first semiprofessional opportunity came as a singing waiter at the Paris Inn Restaurant in downtown Los Angeles at $15 a week and two meals a day.
He sang in recitals and opera programs and was summoned to an audition with Oscar Hammerstein II, who was looking for young singers to play Curly in the growing number of touring "Oklahoma!" companies. Hammerstein approved, and soon under a new name Howard Keel he was singing "Oh, What a Beautiful Morning" in New York eight times a week. He played "Carousel" for eighteen months in London.
Rodgers and Hammerstein were notorious for underpaying their actors and denying them billing. Keel rankled at being paid $250 a week for the unbilled starring role in a sellout musical. As soon as his contract expired, he hurried back to Los Angeles.
Desperately in need of handsome, virile actors who could sing, MGM signed Keel to a contract that paid $850 a week.
He made it big in musicals, but also appeared in westerns: "Waco," "Red Tomahawk," "The War Wagon" (with John Wayne and Kirk Douglas) and "Arizona Bushwhackers."
Keel was married and then divorced twice: to actress Rosemary Cooper and dancer Helen Anderson, with whom he had three children: Kaija, Kristine, Gunnar. In 1970 he married former airline stewardess Judy Magamoll. They had one daughter, Leslie.
He continued singing in the 1980s, explaining: "As long as I can sing halfway decent, I'd rather sing (than act). There's nothing like being in good voice, feeling good, having good numbers to do and having a fine orchestra."
Thanks for reading CBS NEWS.
Create your free account or log in
for more features.