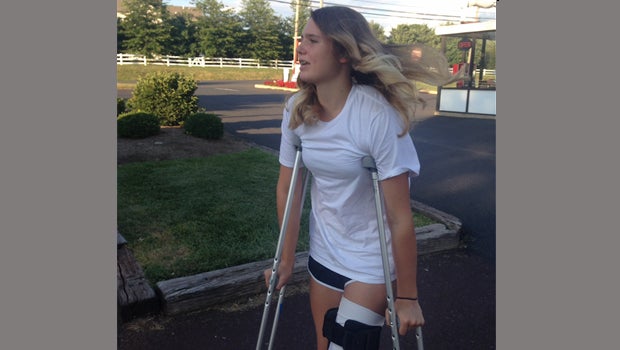 ACL injuries are on the rise in kids and teens
Last year, Alexa Blaszczynski had a banner year when it came to sports. The 7th grade soccer player from Ambler, Pennsylvania, played on club soccer and basketball teams, ran a youth triathlon, and learned to wakeboard, play tennis, and swing on a flying trapeze.
This year, it's been a whole other, err, ballgame.
"I was running on the soccer field in a game on May 17 and my ACL just tore and it popped. I just went down," said the 12-year-old striker. "I was just running with the ball and we were losing and I was trying to score."
The rest was a blur: sprawled on the ground, grabbing her knee in pain, paramedics weighing in.
After a trip to the emergency department, two orthopedist opinions, and an MRI, she ended up getting ACL surgery in July at The Children's Hospital of Philadelphia.
"The orthopedist told her she would be out of sports for six to nine months," Blaszczynski's mom, Marilyn, said. "Her reaction to him was, 'You mean six to nine weeks, right?'"
Alexa Blaszczynski is among a growing number of school-age children and teens needing treatment for anterior cruciate ligament (ACL) injuries, according to experts. The ligament, which helps connect and stabilize the knee, can be hurt by overextending the knee, a sudden twisting motion, or from a collision on the playing field. If torn, it will not heal properly on its own.
A new study presented at the 2015 American Academy of Pediatrics National Conference in Washington, DC, found that over the past two decades, the overall incidence of ACL tears among patients ages 6 to 18 increased by 2.3 percent per year.
The researchers analyzed billing data from a large, metropolitan insurance company's 1994 to 2013 records. When they broke down their findings by gender, girls showed an increase of ACL injuries of 2.5 percent per year and experienced most ACL tears at age 16, although all female age groups showed an increased incidence of ACL tears over the past 20 years.
The researchers found that boys had an overall increase of 2.2 percent per year and experienced peak rates of ACL tears at age 17. Among males, only the 15- to 16-year-olds had a significant rise.
"The data we were able to get from this database is the first true incidence data to prove that what we've been seeing and observing in our practices for the past ten to 20 years is indeed going on. That is to say, the incidence of ACL tears is increasing," study author Dr. John Todd Lawrence, an attending orthopedic surgeon at The Children's Hospital of Philadelphia, told CBS News.
Lawrence said the math is simple: ACL injuries are going up because kids and teens are playing more sports.
"It has been fairly well-established that the more you play and the higher level you play at, the higher your overall risk is. It's what I call the taxicab effect. There's a reason why taxicabs have a lot of dents and Ferraris don't. Taxis are on the streets 24 hours a day," said Lawrence.
Like Blaszczynski, kids no longer play team sports for just one season out of the year. "Their exposure is really high and they play physically at a much higher level compared to twenty years ago," Lawrence added.
He said injury prevention programs in the schools and sports clubs show promise. Such programs may help by emphasizing strength training and stretching exercises, teaching proper technique, and enforcing safety rules. "They're not perfect and there's some variability in how they work and there's some barriers to implementation. But that's a place where we could and should start," he said.
After ACL surgery in July, and now three months into physical therapy, Blaszczynski is itching to get back on the playing field, but she's determined to follow her doctor's orders so she doesn't damage her healing knee.
When it comes to jumping back into team sports or competitions, Blaszczynski said, "The doctor said probably next fall."
The hospital has a sports readiness program that will assess when she's recovered enough to play, after she completes physical therapy.
"It's nice to know we're going be cleared by medical professionals," said her mom.
In the meantime, she attends practices and games to support her team and stay connected. And mom Marilyn said the break has given her time to pursue a few activities she might not have tried otherwise, including voice and piano lessons and songwriting.
Thanks for reading CBS NEWS.
Create your free account or log in
for more features.