Produced by Taigi Smith, Clare Friedland, Michelle Feuer and Alicia Tejada
It's hard to imagine the picturesque seashore of Marks Landing on Florida's Space Coast as a beachside grave. But on the morning of Feb. 16, 2010, chopper pilot John Coppola of the Brevard County Sheriff's Office spotted a body on the ground.
"We noticed her leg stickin' out from the bushes a little bit. And kinda the lower part of her torso...." Lt. Coppola told "48 Hours" correspondent Peter Van Sant. "We landed, I got out of the helicopter and ran over to her ... I saw a lot of trauma to her head. ...It's a very sad moment to see somebody dead like that."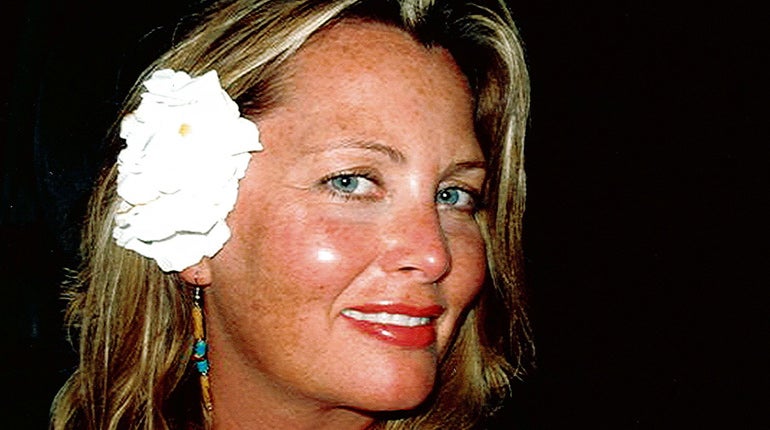 It was 46-year-old Kelly Brennan, who had vanished from her home in Indialantic less than 24 hours earlier.
"There was no saving Kelly Brennan?" Van Sant asked Coppola.
"Unfortunately, No. There was no saving her," he replied.
Lou Iervasi and Kelly were close friends and nurses at a local hospital. They often kayaked together.
"She was so alive," Iervasi said. "She was always running around ... doing things ... so it was hard to know that she was dead. It was just a total shock."
"When you think about Kelly Brennan, what do you miss the most?" Van Sant asked Iervasi.
"Her friendship. Working with her was good, cause she is a good nurse ... she knew her stuff, but also just as a friend," he replied.
"Kelly was beautiful ... when she came into the room it was like glamorous," Iervasi continued. "She was patient oriented ... wasn't afraid to take charge. ...We called her 'The Sarge.'"
Kelly Brennan was committed to her patients even after she was diagnosed with an incurable disease, multiple sclerosis.
"It would flare up at times," Iervasi explained. "But she would just keep working and work right through it...which was another thing that I admired about her."
Sheila Trott, the woman at the center of this murder, says Kelly Brennan was her friend as well.
"We had the type of friendship where we wouldn't see each other for four or five years and then something would bring us together. She hosted parties and liked to be the center of attention. Kelly was a great girl."
So how did it come to this: Sheila Trott suspected of brutally murdering and dumping Kelly Brennan's body? It's a complicated tale full of secrets, lies and intrigue -- a story that starts with Sheila Trott's eerie dream and ends like a Shakespearean tragedy.
"This is a murder case that began with a nightmare and a woman who had visions of violence," said defense attorney Tod Deratany.
"Does this case have an affair?" Van Sant asked lead investigator Major Tod Goodyear.
"Yes," he replied.
"Sex?"
"Sure."
"Jealousy?"
"On both sides," said Goodyear.
"Nightmares and visions and who knows what -- clairvoyance?" Van Sant asked.
"[Of] course that's our suspect saying she's clairvoyant. For us, that's somebody trying to live with what they've done," said Goodyear.
Sheila Trott, a mother of two living in central Florida, says she was awakened one night in 2010 by a horrific dream.
"I don't know if it was a dream or a memory or what ... but I woke up and it just startled me." she told Van Sant. I said, 'I'm worried about Kelly, I think Kelly's hurt.' ... "Everything was black ...She was arguing with somebody and I saw the sign for Marks Landing..."
"In this dream was Kelly dead?"
"No," she replied.
"Did you see her bloodied body?"
"No."
"Did you see her body at Marks Landing?"
"No."
"You did not kill Kelly?" Van Sant asked.
"No, I would never hurt Kelly. I would've never hurt Kelly," Sheila replied.
To truly understand just how strange this story is, you have to go back in time 20 years. Kelly Brennan, a nursing student, and Sheila Trott were friends. Sheila was working three jobs to put her husband, Daniel, through flight school.
"Dan was an upwardly mobile kinda guy. He kinda liked the limelight a little bit," Goodyear explained. "We heard he was a little narcissistic ... one of those people who liked to believe he had a little more power and a little more status."
Alison Bartlett remembers when her best friend, Sheila, fell for the tall, handsome aspiring pilot.
"She was head over heels," Bartlett recalled. "I never heard or seen that spark in her that I did when she talked about Dan and sent photos of Dan ... I could see that they would be getting married."
"And what did she tell you about his personality?" Van Sant asked.
"Fun, liked the same things that she did. I think in a lot of ways, she found a soul mate," Bartlett replied.
"At least she thought she did?" Van Sant noted.
"At least she thought she did," Bartlett affirmed.
Sheila and Dan were married on Aug. 26, 1989. The couple had two sons, Creighton and Graham. Sheila became a real estate agent and Daniel Trott achieved his dream of becoming an airline pilot. In 2002, his political career also took off when he was elected mayor of their small town, Indialantic.
"Based on your investigation, were Dan and Sheila Trott considered a power couple in Indialantic?" Van Sant asked Goodyear.
"I think in the community with his status being formerly in political circles and her being a real estate agent ... being fairly well-to-do," he replied. "I think they were in that social circle to where they would be ... well known throughout the community."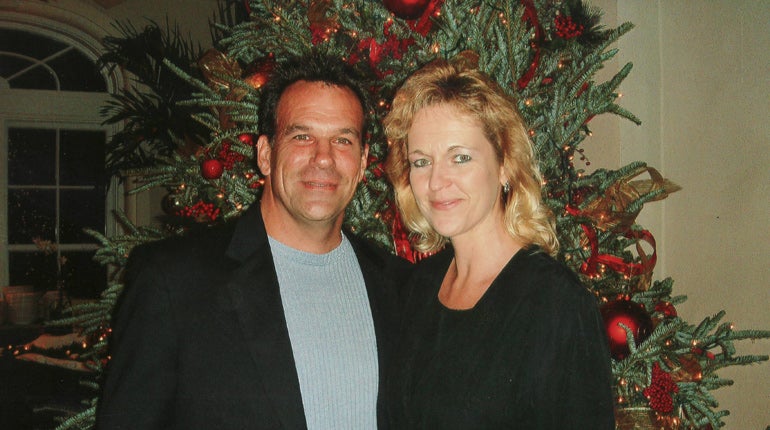 From the outside, Sheila and Dan Trott seemed to have the perfect life. But images can be deceiving.
"What do you see in his behavior? What happened?" Van Sany asked Sheila.
"He began having affairs. ...I would notice his ring on the counter ... He wasn't wearing his ring," she replied. "'Look, we need to talk, what's going on?' He would swear and cuss at me."
That's Sheila's story. "48 Hours" reached out to Dan Trott about these allegations, but he refused to comment. By January 2009, Sheila had had enough.
"So you asked for the divorce?" Van Sant asked.
"Absolutely. Yes. I said, 'I'm done,'" Sheila replied.
While her marriage was crumbling, Sheila Trott and Kelly Brennan met for a girls night out. It wasn't long before Sheila realized that Kelly's six-year marriage to restaurant manager Gino Rallo was on the rocks, too.
"She had made a point of saying that she wouldn't care if Gino had an affair. Which I thought was a really strange thing to say," Sheila explained.
Dan Trott moved out and joined a cycling group where Kelly Brennan was a member. And soon they were going out on more than long bike rides.
"Dan and Kelly were both lying to everybody, saying that they weren't having an affair," Sheila said. "And while this whole thing was going on I was having my problems with Dan. ...he was just being very belligerent."
Sheila's mother repeated to investigators her daughter's claims of other affairs. But Major Goodyear says it was Dan Trott's admitted relationship with Kelly that led to murder.
"She's going to lose Dan. 'I'm going to kill the thing that he now loves. ...I'm gonna take that away, and I'm gonna hurt him as bad as he's hurt me,'" Goodyear explained. "And then you get the third thing of, 'If I can't have him, nobody's gonna have him.'"
"You've been portrayed as being obsessed with him, with Dan," Van Sant commented to Sheila.
"I'm sure he wishes I was obsessed with him," she laughed. "No, absolutely no."
"That you couldn't bear the thought of losing him to another woman," Van Sant continued.
"Well, the fact that I set him up with Kelly would, you know, that would be a little different," Sheila replied.
"With Kelly Brennan? You set them up?" Van Sant asked.
"Yes, absolutely," Sheila replied. "She was my ticket out of a bad marriage."
But police aren't buying one word of Sheila Trott's story and they want to question her about Kelly Brennan's murder.
"In God's honest truth, if I was gonna kill anybody, it would've been him," Shield said of her husband.
"THE DREAM"
Sheila Trott had a lifelong love affair with the water.
"Yeah, I shoulda been born with gills, I suppose," she laughed.
Long before she was accused of murder, Sheila spent carefree summers on a picturesque Canadian island.
"That's the place, that's the place that she loves. That's where her heart is, right there," her mother, Margret Byers said, pointing to a nearby lighthouse on Penetanguishene Bay, Canada.
"This is where she learned to swim, and this was her favorite place in the whole world."
Margret Byers says her daughter doesn't belong at the center of this murder investigation --but back with her family in Canada.
"Sheila just used to love to run through these rocks," Byers continued. "If she could see this right now she'd be in tears. ...This is where she belongs."
It was Sheila's love of the water that drew her to live on the Florida coast, where she was a diving instructor and went to college. Now, she swims in a sea of suspicion.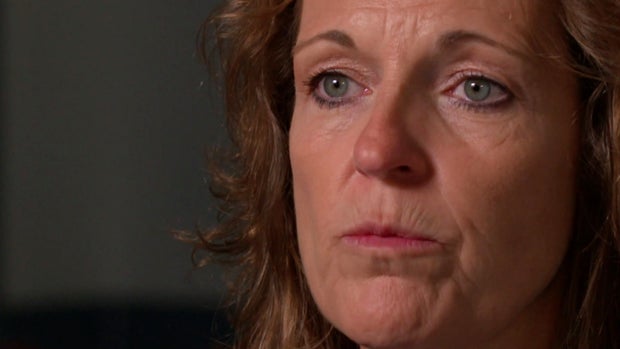 "I did not kill Kelly Brennan. She was the best thing that could've happened to me," Sheila Trott told Van Sant.
In fact, Sheila says she orchestrated the relationship between Dan and Kelly one night over dinner to speed up her own divorce.
"I said, 'You know something Kelly? You and Dan would be perfect for each other.' And she just perked up and she said, 'Really?' And I said, 'Yeah,'" Sheila explained. "'But Kelly, you're gonna have to lose weight.'"
But Prosecutor Samantha Barrett says Sheila is making up the matchmaker story. Barrett says Sheila was simmering with anger and jealousy over the relationship -- anger that finally boiled over when she savagely killed Kelly on Kelly's front lawn.
"It was horrific. ...She was lying in wait for Kelly when Kelly came out of her house," Barrett explained. "I believe that once she started the attack and she knew that Kelly wasn't gonna be able to fight back, that's when it looks like the rage came to the surface."
Authorities begin building a timeline that prosecutor Jim McMaster says started on the night of Feb. 15, 2010, when Kelly misses an appointment with her personal trainer.
"And they couldn't find her?" Van Sant asked Barrett.
"Couldn't contact her, couldn't find her," she replied.
Kelly's roommate files a missing persons report two hours later.
"They checked every police department, every hospital, the fire rescue, highway patrol. They went to her residence ... and were clueless as to where Kelly Brennan was," said McMaster.
Meanwhile, according to her sons Graham and Creighton Trott, Sheila arrives home after a four-hour trip to Walmart. She was dizzy, shaking and acting strangely. So her son's girlfriend calls 911.
"The paramedics arrived, they couldn't find anything physically wrong with her, so they left," said Barrett.
There was another call to 911 an hour later: "My boyfriend's mom just had a seizure about an hour ago and they said to call back if she's been acting weird or anything and she's acting very strange."
"She was then transported to the hospital. And they ran routine tests and nothing of medical significance is identified. She was released from the hospital and came home," said Barrett.
When they return from the hospital in the wee hours of the morning, Sheila begins talking about "the dream."
"She called her younger son, Graham, into the bedroom. She told him she had a bad dream. She kept seeing Kelly's face in dark and that she believed that she hurt Kelly," Barrett continued.
Sheila's worried sons telephone their grandmother.
"Graham just said to me, 'Margret, we need you! We need you!'" said Byers.
Byers drives from her Florida condo to Sheila's house, where she finds her daughter curled up in a fetal position on her bed.
"She was shaking from head to toe. ... She said, 'Call the police.' And I said, 'What happened?' She said, 'Mom, everything's black. Everything's black and all I can see is Kelly's face,'" Byers explained. "It was Graham that said to me, 'Margret, I think Mom's killed Kelly.'"
Fearing her daughter was having a nervous breakdown, Margret Byers makes yet another 911 call -- a call would change Sheila's life forever:
Margret Byers: Um, we just need a policeman please....

911 operator: What's the problem please?

Margret Byers: I think there's been a murder ... my daughter has had a nervous breakdown and she's saying she killed somebody....

911 operator: Your daughter's telling you she killed somebody?

Margret Byers: Yes....

911 operator: All right. She didn't tell you who she's saying she killed?

Margret Byers: She's saying ... I don't know, Kelly.

911 operator: Did she tell you where this happened?

Margret Byers: It's down ... Marks Landing.
"It's sort of the defendant's own words through her mother and through her sons. I mean, she's basically confessing to the crime in the 911 call," said McMasters.
After that explosive call, officers rush to Sheila Trott's home and she continues rambling about the dream.
"She's making some statements ... 'I believe I hurt someone, I keep seeing Kelly's face' ... to the point that the Indialantic Police believe, 'We may have a homicide on our hands,'" said Goodyear.
Then, detectives put two and two together.
"'Wait a minute, we had a missing person report last night of Kelly Brennan,'" said Goodyear.
"And when you make that connection, what are you thinking?" Van Sant asked.
"You're talking to the killer," Goodyear replied.
Shortly afterward, Kelly Brennan's body is spotted from the air and cops on the ground rush to Marks Landing.
Local news report: Detectives have been at the Indialantic home for some time after the body of 46-year- old Kelly Brennan was found 10 miles away.
Kelly Brennan's body was found exactly where Sheila Trott dreamt it would be. Less than two days after Kelly disappeared, Sheila is arrested for murder.
Sheila Trott calls her son, Creighton: "I'm gonna be in jail for a very long time, OK? ...They're charging me with first-degree murder."
Sheila hires defense attorney Todd Deratany, and even though that dream led to Kelly's body, Deratany insists the prosecution's case isn't so ironclad.
"She says, 'But it's not true. I didn't do it,'" Deratany said. "The police didn't have DNA, they didn't have fingerprints, witnesses. ...They didn't have any blood that matched to Sheila Trott."
"Looks like you've got, at a minimum, a case of reasonable doubt," Van Sant commented.
"Absolutely reasonable doubt, it's a dream case," said Deratany.
There was so little physical evidence, prosecutors say, because Sheila Trott planned it that way.
"...it's not like she all of a sudden found out Kelly had been having an affair with Dan Trott and confronted her immediately, beat her to death," Barrett said. "...she'd known this had been going on for months and months and months ... she planned to the last detail. ...She's a murderer."
"You don't believe that she has some supernatural ability -- that all these facts came to her in a dream?" Van sant asked Barrett.
"No," she replied. "I don't think she's clairvoyant. I think she's a killer."
ON TRIAL FOR MURDER
"Did you kill Kelly Brennan?" Peter Van Sant asked Sheila Trott.
"No, I didn't kill Kelly Brennan, absolutely not," she replied.
Sheila Trott remains behind bars for four-and-a-half years awaiting trial for the brutal murder of her friend, Kelly Brennan.
"She said, 'All I want to do is hug my boys," Margret Byers said. "And I understand that, 'cause all I wanna do is hug my girl."
"Today you absolutely believe in your daughter's innocence, correct?" Van Sant asked Byers.
"Absolutely -- 110 percent," she replied.
As the trial finally begins in September of 2014, investigators believe they've built a strong -- but admittedly circumstantial - case, beginning with that bizarre dream.
"The defendant began saying that she'd had a dream that she may have hurt Kelly and that it happened at Marks Landing," Prosecutor Jim McMasters told the court in his opening statements.
"Do you have an eyewitness to this murder?" Van Sant asked Major Tod Goodyear.
"No," he replied.
"Do you have a murder weapon?"
"No."
"So you don't have a murder weapon with Sheila Trott's fingerprints on it. Do you have Sheila Trott's DNA on Kelly Brennan?" Van Sant asked.
"No, I don't believe so," said Goodyear.
But Major Goodyear does have a theory of the murder based on bloodstains and divots in the grass in front of Kelly's home.
"Peter, this is the house where we believe that Sheila Trott laid in wait, waited for Kelly Brennan to come out to her vehicle, snuck up behind her at nightfall, hit her in the back of the head. And then, continued to hit her in the head multiple, multiple times with some type of object, we believe a hammer," he explained to Van Sant outside Kelly's home.
Goodyear believes Sheila then put Kelly's body inside Kelly's own SUV, where CSIs found her blood on the passenger side floor. He says Sheila then drove Kelly's SUV to Marks Landing, where she dumped the body. Then she abandoned the SUV at a nearby condo.
"What kind of a murderer could I have been that I didn't leave fingerprints, I didn't leave hair," Sheila asked Van Sant. "I had no bruises. I had no broken nails, no cuts on me or anything like that. Nothing connects me to this crime whatsoever."
"This was not a physical fight. This was an ambush where she bashed in this woman's brains with a hammer. She probably didn't have to break a nail to do that," Prosecutor Samantha Barrett told Van Sant. "What the lack of physical evidence means to me is how premeditated the crime actually was."
Defense attorney Todd Deratany couldn't wait to bring this case to trial.
"I was absolutely certain that this was an 80 percent chance I coulda won this case working at half speed. It was that good of a case," he said.
But as the trial begins, Deratany won't be able to show how good a case he thought he had. He's nowhere near the courtroom. Instead, he's selling used cars across town at a dealership he now owns, Big Boy Motors.
Deratany has had his own legal troubles. Florida's State Supreme Court has permanently disbarred him for harming clients by taking their money and then failing to represent them.
So while Deratany's counting the cash from his car business, Sheila Trott is fighting for her freedom. The prosecution plays that damning 911 call from Sheila's mother:
911 operator: She didn't tell you who she's saying she killed?

Margret Byers: I don't know, Kelly.

911 operator: Did she tell you where this happened?

Margret Byers: Marks Landing.
Daniel Trott, the man at the center of this alleged love triangle, takes the stand.
It's Sheila's husband and Kelly's boyfriend at the time of the murder.
Clearly annoyed, Dan Trott wishes he could be anywhere but here:
Prosecutor McMasters: Do you recall the date of February 15 of 2010?

Dan Trott: Yeah.

Prosecutor McMasters: You have a specific memory of that day?

Dan Trott: I've been spending nearly the last five years trying to forget it but yes, I suppose I remember a few things.
Prosecutors need to establish Dan Trott's affair with Kelly Brennan as the motive which pushed Sheila to kill:
Prosecutor McMasters: You were looking forward to seeing her that evening?

Dan Trott: Absolutely, very much so.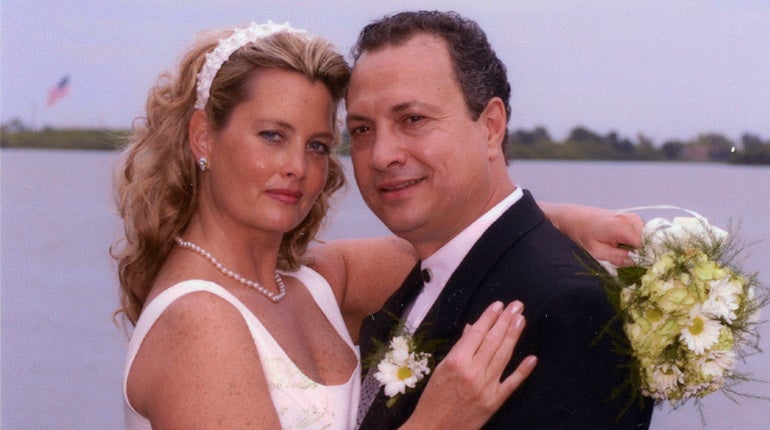 Sheila Trott's new attorneys - public defenders -- see an opening. They use Dan Trott to point the finger at a man they believe had the strongest motive to kill Kelly--her jealous husband, Gino Rallo, who reacted with violence when he learned of the affair.
Defense attorney: He physically shows up at your house and confronts you both?

Dan Trott: He physically broke through the door and came up and essentially assaulted me, yes.

Defense attorney: Did he have a weapon in his hand when he barged through the door?

Dan Trott: Yes he did.

Defense attorney: Describe that weapon.

Dan Trott: It was some sort of jack.
Dan Trott suffered injuries to his face and neck. He says, moments later, Kelly followed Rallo home, where Rallo turned his rage on her.
"He attacked her in the garage, essentially was choking her. And it was a rather, rather violent encounter," Dan Trott testified.
Less than two months later, Kelly was murdered.
Gino Rallo testifies Sheila Trott was the master manipulator who taunted him into attacking Dan.
"She would call me from time to time and say, 'Hey, this is going on, and they're having an affair,'" Rallo testified.
Prosecutor McMasters: How many times was the defendant calling you about this?

Gino Rallo: A lot.

Prosecutor McMasters: Did you believe it at the time?

Gino Rallo: I did not.
Prosecutors say Sheila used emails to light Rallo's fuse as well, but they also revealed her own, deep-seeded anger. In one email she wrote, "He was sitting in front of you lying to your face."
"Were you hoping that Gino was going to go over and attack his wife or attack your husband, putting an end to this affair so you could have Dan back?" Van Sant asked Sheila.
"Oh no, oh no," she replied. "I wasn't upset that Dan was having an affair with Kelly. I was upset that he was spending the money that he was."
Still trying to prove no one was more upset than Gino Rallo, Sheila's attorneys want the jury to hear an voicemail that he left DanTrott two months before Kelly's murder: "You m----- f----- . You want to f--- with this marriage ... I'm going to kick your f---ing ass."
But the judge refuses, declaring it irrelevant.
"Gino's the only person who knew where Kelly specifically was that evening," said Sheila.
"It sounds like you think Gino's the killer," Van Sant commented.
"I'm not gonna say who I think it is," Sheila said. "Gino could absolutely do it ... Kelly wanted out of that marriage."
Prosecutors say Rallo has a strong alibi. They say security video from a drug store in another town proves he couldn't have been at the murder scene. And Kelly's next door neighbor, Scott Vickers, testifies that he saw a blond woman, not a man, on Kelly Brennan's lawn that night.
"It was a light-colored outfit or else I wouldn't have been able to see, but it was some kind of light outfit," Vickers told the court.
That light-colored outfit, detectives theorize, could be a reason why none of Kelly's blood was found on Sheila.
"What do you think about their contention that you were wearing some sort of Hazmat suit?" Van Sant asked Sheila. "That's the most ridiculous thing I've ever heard. We're next to Disneyworld. Why didn't they just put me in a Mickey Mouse suit?" she replied. "Are you serious?"
Things are about to get very serious at Sheila Trott's trial. Her two sons are about to take the stand against her, and what they have to say is another nightmare for their mother.
SCATHING TESTIMONY
In a tragedy that seems to know no bounds, Sheila Trott's two sons are about to testify at her murder trial -- for the prosecution.
With his mother watching and listening just 15 feet away, Graham Trott first describes helping her when she seemed to be having a seizure the night Kelly Brennan was killed.
"I picked her up and put her on the couch. 'Cause she was hitting her head against the wall," he testified.
Prosecutor Samantha Barrett quickly cuts to the chase, asking him what happened after his mother came home from the hospital a few hours later.
Graham Trott: She was telling me she was seeing things.

Prosecutor Barrett: What did she say she saw?

Graham Trott: She saw Kelly's face. And she said she thinks she's hurt in a beach.

Prosecutor Barrett: Did you ever hear her say 'I think I hurt Kelly?'

Graham Trott: No.
Despite the prosecutor's efforts, Graham Trott won't repeat what he initially told investigators in a recorded interview:
"...and she says, 'I think I hurt Kelly. ...I keep seeing her face and that I hurt her,' and I was like 'Well, that's not good," Graham told police.
But what he does reveal next is a bombshell. And it's something he did not tell law enforcement until shortly before the trial.
"I said, 'Do you wanna drive down to this beach that you're seeing and we can see there's nothing there, and then we can call it a night and go to sleep?'" Graham Trott told the court.
Sheila agreed, taking her sons and Graham's girlfriend on a macabre field trip to Marks Landing. And there, with Sheila leading the way, the boys - 16 and 18 years old at the time -- saw Kelly Brennan's bludgeoned body.
Graham Trott: You could see. I mean, it was just a lifeless body, just lying there.

Prosecutor Barrett: Was your mother with you when you saw that?

Graham Trott: Yes.

Prosecutor Barrett: What did she say?

Graham Trott: Nothing really, she was just in shock.
"Why would you take your two teenage sons out to Marks Landing and show them where the body was?" Van Sant asked Sheila.
"The kids took me," she replied.
"You led them to that place."
"No. I didn't take them right to the body," Sheila explained. "We walked around and we were just on our way out when we saw her feet."
"Why is it when your mother came over to the house, you didn't tell her ... 'we just got back from Marks Landing where we saw a dead body?" Van Sant pressed.
"You'd have to ask the kids that. I don't know it ever really came up ..." Sheila replied.
"Sheila, didn't come up? You'd just been to see a dead body, a woman whose skull was crushed."
"Well, when my mom came in, I was in bed and she woke me up," Sheila said. "I don't remember the conversation very well."
As inexplicable as that seems, the horror of the night didn't end there for Sheila's sons. She told them she also had visions of a nearby vacant lot. And that's where, Creighton Trott tells the court, they made a second damning discovery -- a bag.
Creighton Trott: Mom ... opened it up, went into the purse and saw -- opened up the wallet and we saw Kelly's driver's license.

Prosecutor Barrett: What did you do next after you saw the bag with Kelly Brennan's driver's license and the wallet?

Creighton Trott: Told her that we didn't wanna have anything to do with it, that me and Graham were gonna go to sleep and that she had to deal with it on her own.
"How important are these boys to your case?" Van Sant asked Barrett.
"Their testimony is absolutely critical," she replied. "It seemed that they were determined to do what was really the right thing and tell the truth."
After her sons scathing testimony, Sheila's defense team faces a huge uphill battle. They try to poke holes in the forensic evidence gathered at Marks Landing.
"We know that Kelly's body comes out of the car and comes down this way. And we know that because there's blood transfer found on this pole right here," Major Goodyear said to Van Sant at Marks Landing.
The defense says, not so fast.
Defense attorney: The spots on the fence post. Did you forward them for forensic testing?

CSI Candice Mathews: They were not.

Defense attorney: So as to whether those items are blood or a kid's a red Slurpee, we're left to guess, right?

CSI Candice Mathews: If you would like to put it that way.
And the defense tries to tear apart the alleged motive -- that Sheila was jealous and murderously angry over her husband's affair with Kelly.
Elizabeth McHugh was Sheila's divorce attorney. She says Sheila seemed fine with the affair.
"...and that she really didn't have a problem with Kelly because she knew her and so she knew she'd be very good with the children and really wouldn't be a problem in the divorce," McHugh testified.
Motive aside, Sheila's dream about Kelly lying hurt at Marks Landing and that field trip with her two sons are by far the strongest evidence against her. Now there's a new twist to this tale. Sheila now says her dream was a memory of witnessing Kelly being killed by a strange man.
"She was arguing with him and I heard him say, 'but Kelly.' And she said, 'enough,'" Sheila explained. "And then she went and bent into the car to do something and I saw him hit her."
While behind bars awaiting trial, Sheila says her memory has come back to her and she's written a detailed account of what happened.
"Then you write, 'He dragged her into the grass and kept hitting her," Van Sant read. "Is that what you saw."
"Uh huh," she affirmed in tears. "Yes, yes, and I didn't do anything."
"You didn't call police. Why not?" Van Sant asked.
"I don't know," Sheila replied with tears streaming down her face.
Sheila shared this memory in a letter to a friend. She claims that she had decided to stop at Kelly's house that night to ask Kelly to stop driving by her house--looking for Dan. And at the exact moment she arrived, Sheila saw a strange man attack Kelly.
"How would you describe this man who was with Kelly?" Van Sant asked Sheila.
"It was too dark. It was too dark," she replied.
"This letter, prosecutors say this is a confession," Van Sant points out.
"It's not a confession letter. That's my account of what happened that evening," Sheila replied.
But Sheila's new account becomes even more bizarre. Instead of running for her life or to the nearest police station, she followed the stranger's car all the way to Marks Landing and watched him dispose of Kelly's body and belongings.
"Do you understand, as you sit across from me now, that your story is a fantastic story? You follow the killer, which doesn't make a lot of sense to anyone. And then you don't tell cops what happened, what unfolded. You don't even tell your own mother. All these things are consciousness of guilt, are they not?" Van Sant asked Sheila.
"Well, if they're consciousness of guilt why would we call the police?" she said. "If I committed this crime and I had killed her, I would've taken off. I'm not stupid enough to stick around."
And Sheila Trott believes this new memory could set her free. But the question is -- will the jury get to hear her version of what happened the night Kelly Brennan was killed?
WITNESS OR MURDERER?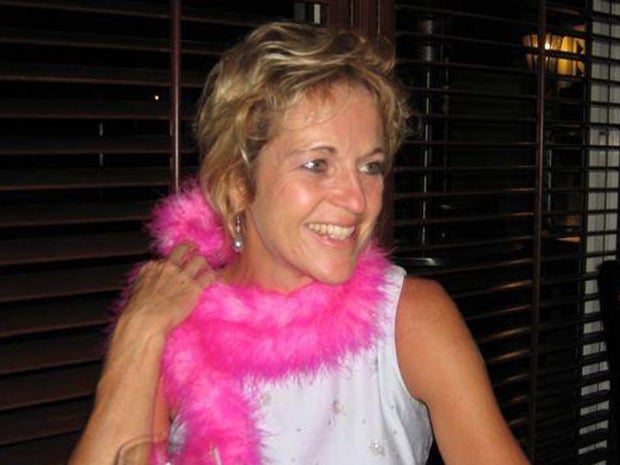 "Is Sheila clairvoyant? Has she had visions throughout her life? Dreams that have come true?" Peter Van Sant asked Margret Byers.
"I don't think so, Peter," she replied.
With her daughter's dream now being described as an eyewitness account of Kelly Brennan's murder, "48 Hours" brought Margaret Byers a copy of that document Sheila Trott wrote.
She reads, for the first time, from its 22 pages:
"'He dragged her-- into the grass and kept hitting her,'" Byers read aloud. "'I felt the blood rush out of my arms and legs and I started to shake.'"
"Are these the writings of an eyewitness to a murder or the writings of a murderer describing what she has done?" Van Sant asked Byers.
"I think she must have seen it. She couldn't have done it, Peter," she replied.
"I did not murder Kelly. I witnessed it," Sheila told Van Sant.
Now came the moment in court where Sheila Trott could take the stand and persuade the jury her new story is true. But on the advice of her attorneys, chooses not to testify.
Sheila's first lawyer thinks he knows why she didn't testify and explain that letter.
"Obviously this was just her confessing to the crime. She needed to get it off her chest," said Todd Deratany.
"Todd Deratany? Todd Deratany's a liar," Sheila said with a laugh.
So the case goes straight to closing arguments with prosecutors zeroing in on what Sheila did say after Kelly disappeared.
"The smoking gun in this case is the defendant's own words telling the police where the dead body is," said Jim McMaster.
They play Margret Byers' damning 911 call one last time:
Margret Byers: My daughter has had a nervous breakdown and she's saying she killed somebody.

911 operator: You daughter's telling you she killed somebody?

Margret Byers: Yes.
Defense attorneys make no mention of Sheila's new claim she saw Kelly's killer. Instead, they try to pick apart the State's case.
"You're being asked to believe a 115-pound person is gonna be able to pick up a 146-pound person, probably deceased at this point, and no pun intended, but there's dead weight," defense attorney Michael Pirolo addressed the court. "She's gonna pick her up from the floor, lift her up, and place her in the seat of not of a Honda Civic, but of an SUV, place her in there, with no neighbors hearing a thing, no neighbors hearing blow after blow after blow. ...Does that make any logical sense?"
They end by pointing the finger at Kelly Brennan's jealous husband.
"She had no ill will, no spite, no evil intent, no premeditation," Pirolo continued. "You saw the person. You heard from the person that had all those things, and how he acted on those feelings. Ladies and gentlemen, the decision that you need to speak is that Sheila Graham-Trott is not guilty, thank you."
Less than three hours after beginning their deliberations, jurors reach a verdict. Margret Byers can't wait to hear the good news.
"I was dancing. I was dancing in the elevator. I was so excited 'cause I knew -- I knew, and I kept sayin', 'We're gonna bring our girl home,'" she said.
Instead, the jury finds Sheila Trott guilty of first-degree premeditated murder. She was immediately sentenced to life in prison.
For Margret Byers, who wishes she never made that 911 call, the embers of blame burn deep within her heart.
"You are a loving mother and grandmother and you love Sheila dearly," Van Sant noted. "Does it tear you up at night to think, "Did I put my own daughter in jail'?"
"Yes, it sure does. It just tears me up," Byers replied. "To think I put my kid in jail for the rest of her life? Absolutely."
"Isn't it time for you to stop telling these stories and tell the truth? Don't let your loved ones suffer thinking that you're innocent when you did this?" Van Sant asked Sheila.
"I told the truth and I'm continuing to tell the truth and I'm gonna keep telling the truth," she replied.
"She killed Kelly Brennan. She's a murderer," Deratany said. "She's finished. As well she should be."
For Kelly Brennan's mother, the taste of justice is bittersweet.
"What tragedy for that family as well," she told reporters following the verdict.
Almost five years after her death, Kelly's friend, Lou Iervasi says her kind spirit lives on.
"When she did come to work, she was always happy, and she had her little corner," he explained.
It was called "Kelly's Corner," a place in the hospital where Kelly gave extra care and attention to her patients.
"And even after she died ... that was an area of reverence," Iervasi said. "If you went there -- it was -- it was comforting."
"Why shouldn't this audience believe you're just a clever sociopath, that you are a killer? You know the difference between right and wrong," Van Sant stated to Sheila. "But in the case of Kelly Brennan, you don't care."
"Oh I do care. I do care," she said. "When would her body have been discovered? You said yourself, who led them to the body? ...It was us saying that it was at Marks Landing. They would never have checked at Marks Landing."
But despite leading her sons to Kelly's battered body and being found guilty by a jury of six, Sheila Trott is unrepentant. The real killer, she insists, still walks free.
"I have to live with a lotta guilt for not stopping the attack. And now I'm paying the price," Sheila told Van Sant in tears. "Kelly's family has closure, but they don't have justice, 'cause I didn't kill Kelly."
---
Creighton and Graham Trott recently visited their mother in prison.
In a statement to "48 Hours" they said "...we unequivocally believe in our mother's innocence and stand by her."
Thanks for reading CBS NEWS.
Create your free account or log in
for more features.