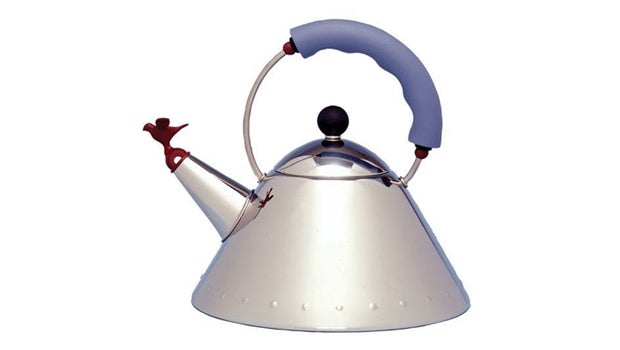 ​A tea kettle design that's spot-on
Whistling tea kettles have been letting off steam for at least a hundred years, and for Donald Strum, that's music to his ears. "It's primal," he told CBS News' Susan Spencer, "to be able to put something on a stove and start with fire. It's just so elemental."
And instrumental -- a happy melody telling you the water's boiling.
"It just always makes me smile," gushes Strum, who heads up product design at Michael Graves in Princeton, N.J. "And it does it's job really well."
And in 1984, Strum did his job really well. His boss, design legend Michael Graves, set out to improve on the classic whistling tea kettle.
He enlisted Strum, who was fresh out of college: "Michael called me down to his office, and he asked, 'Would you be interested in working on a project this summer? The Alessi Whistling Bird Tea Kettle?' I was planning on going on a bike ride cross-country, and I quickly squashed that notion."
Smart choice. The Alessi whistling bird tea kettle, named after Italian designer Alberto Alessi, who commissioned it, has since sold well over a million.
Strum says an Alessi tea kettle "anchors the kitchen. Otherwise the kitchen, it's just running amok."
"You don't want kitchen to run amok, though."
"No, you don't!"
For starters, consider the unusual contour: "The conic shape was brought about because the water actually boiled faster."
Then, there's the handle: "We wanted something that would speak to the hand, and those little undulations, said, 'Hold me here.'"
And did we mention the color? Red spout, warning hot; blue handle, cool enough to touch.
Strum said they looked at 15 to 20 different shades of blue. "We ran the spectrum of all different types of blue!"
And let's not forget that trademark little bird. "It looks like the hood ornament of a luxury vehicle," he said. "If you look at the relationship of the bird whistle to, let's just say, the figure at the end of a Rolls Royce, they actually carry the same gesture, if you take a close look at it."

"Next time I get in my Rolls, I'll be sure to check!" Spencer laughed.
No Rolls? No problem. Just enjoy your tea. But take a sec, and enjoy the kettle as well.

For more info:
Thanks for reading CBS NEWS.
Create your free account or log in
for more features.